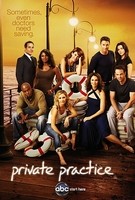 TV Info
---
Episode Premiere
October 21, 2010

Distributor
ABC

Genre
Drama, Comedy

Show Period
2007 - 2013

Production Company
ABC, ShondaLand


Cast and Crew
---
Director
Ed Ornelas
Screenwriter
Ayanna A. Floyd
Main Cast
Additional Cast
Albert Hall
Cristian de la Fuente
David Guintoli
Linara Washington
Synopsis
---
Addison is zipping along during a routine delivery until the baby comes out and isn't crying. Amelia takes a look at the newborn. The parents, Daniel and Tracy, are understandably nervous. We're not feeling so hot either when Amelia asks, "How can someone this small have a tumor this big?" Addison, Sam and a team of others will have to operate if there's any hope of saving this baby girl.
Dr. Rodriquez (guest star Cristian de la Fuente) is an oncologist who believes chemotherapy is the best course of action. This ticks off Addison, who knows surgery is the way to go. But first they have to help Tracy, who suddenly starts hemorrhaging. Addison is able to control the bleeding and is shocked when the Daniel makes the solo decision to do chemo on their baby. Needless to say, Addison is a bit peeved at both Charlotte and that handsome oncologist, Dr. Rodriguez.
Addison settles down a bit after having a little chat with Rodriguez. She still thinks surgery is the best option, as does Tracy once she wakes up. Sam knows why Daniel wants to make the safe choice. There's nothing harder for a parent than to watch the child they love go through those OR doors and not come out alive. But Sam says their baby's best chance for a happy healthy life is to have the surgery.
Addison and Sam run into some complications while operating on the baby, but manage to pull her through. The entire tumor is removed and both parents are beyond relieved. We are, too. Dr. Rodriguez congratulates Addison on her success and then asks her out to dinner. She declines while spewing out gobs of info about all her failed relationships and the good, successful one she's in now.
Sheldon and Violet head off to prison to assess some inmates who are up for parole. Lewis, a lifelong model prisoner, believes he'll be swallowed up by the outside world if released. He asks Violet to lie to the parole board so that he can remain in lockup. But she can't do it and this scares Lewis to death. That's why Violet is waiting for him as he takes his first step outside.
Pete is concerned about Violet getting involved with an ex-con. Lewis murdered someone and he doesn't believe someone like that can be rehabilitated. Violet still insists on trying to help Lewis, but the guy makes it clear that he doesn't want anything to do with her.
Lewis later shows up at the office. He explains that he only intended to go "in and out" when he robbed that store so many years ago. But when a woman started screaming, he shot her twice in the stomach. Violet realizes that because this girl died, Lewis believes he shouldn't be allowed to live his own life. Violet tries to make him believe that it's okay to live. Thankfully, her words seem to help.
Back at home, Violet tries to share her day, and her good feelings about how things are working out with Lewis, with Pete, but he's not interested. When she pushes Pete about what's really bothering him, he admits that his own mother is in jail, and his brother might be as well. Violet's a little shocked, but wants to know more and so do we. Pete doesn't want to talk about it. We're guessing Pete doesn't have plans for a Wilder family reunion anytime soon.
A sex-starved Amelia is intrigued when both Violet and Charlotte comment on Sheldon's expertise in the bedroom. Amelia flirts at first but then comes right out and propositions Sheldon for sex. Much to her surprise, he says he'll think about it. He then promptly exits the room leaving a dazed and confused Amelia behind. Well played, Sheldon. Well played.
Amelia can't believe Sheldon didn't jump at the chance - and neither can we! But when she confronts him about it, he plays through exactly what their potential rendezvous would lead to - mainly meaningless sex for her and a broken heart for him. He tells her to look him up when she decides she's ready for something real, because he is as good as the ladies say. Think she'll take him up on that someday?
Cooper and Charlotte have been going back and forth on the issue of kids. He wants them. She doesn't. Charlotte is afraid she'll screw up their children. She's also afraid Cooper will leave her now that he knows how she feels. Yeah, that's not going to happen. They don't have to decide the kid thing right now. Cooper just wanted to have the conversation. They can continue the discussion at a later date. Right now, they can distract themselves with sex. Good plan.
At the end of the day, Sam tells Addison that the reason she always looks five steps ahead in her relationships is because she expects to get hurt. He assures her that won't happen with him. Sam says, "You're gonna have to trust me. I will not hurt you. Okay?" Yeah, that's about as okay as it gets.