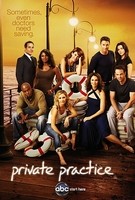 TV Info
---
Episode Premiere
September 23, 2010

Distributor
ABC

Genre
Drama, Comedy

Show Period
2007 - 2013

Production Company
ABC, ShondaLand


Cast and Crew
---
Director
Mark Tinker
Screenwriter
Craig Turk, Steve Blackman
Main Cast
Additional Cast
Currie Graham
French Stewart
Shane Johnson
Katie Lowes
Stephen Lunsford
Porter Kelly
Jensen Leflore
Synopsis
---
You are cordially invited to a wedding. And it may not be for who you think.
Now, we all know Cooper proposed to Charlotte, but they're not the ones getting married. At least, not until they can decide whether the nuptials should take place at the hand of a priest or a rabbi. Actually, it's Pete who pops the question to Violet. She can't wait to get married. No, she really can't wait. Violet hopes to walk down the aisle this weekend!
A few other things have changed since we last left our friends from Oceanside. Remember how Addison and Sam finally got together? Well, they sure don't look like they're together now. Naomi isn't with Dr. Fife either. He quit. And Amelia took up smoking after brother Derek got shot in the chest up in Seattle. Sadly, some things can't ever change as the gang gathers at the cemetery for the unveiling of Dell's headstone. Still hard to believe he's gone.
Charlotte's patient, Ryan, is a successful, self-centered man who needs a kidney transplant pronto. The only match is his mentally-challenged brother, Kevin, who Ryan shuffled into a home after their folks died. Charlotte worries that Ryan will take what he needs from the brother who idolizes him and then cast him aside again.
After the operation, Ryan promises he'll change his ways regarding Kevin. Unfortunately, he won't get the chance, as his body rejects Kevin's kidney. He's going to die. Kevin is devastated by the news but Ryan promises to tell their mom and dad what Kevin did for him when he gets to heaven. He says they'll be so proud. This seems to comfort Kevin. Guess Ryan did have enough time to change.
Dink hasn't been spending a lot of time with Maya and his new baby. Naomi has made it clear that she's better suited to care for both her daughter and her grandchild. Sam challenges Dink to a little one-on-one basketball game. There are gobs of personal fouls. When Sam pushes a little too hard, Dink pushes back. Sam suggests he also push back with Naomi when she tries to shut him out. So the new daddy does just that.
Naomi and Sheldon help a couple who want to have a child through a surrogate. Addison recognizes the name of the prospective dad. She tried to save the couple's first baby when the dad unintentionally left him in the car on a hot day. The tragic accident left the father destroyed and the mother numb. Now they want a second chance and Addison is the only person who can give it to them. Unfortunately, she's not all that hip to the notion.
Sheldon realizes that Addison is reluctant to help because of all that's happening in her life. Pete and Violet worked out; she and Sam didn't. The mom approaches Addison saying she knows she'll never be the person she was the first time around. But if they have another child, she can start over. She only hopes Addison believes in second chances. Turns out she does.
Pete and Violet's wedding day arrives. Violet is a vision as she walks down the aisle. Then she's a blur as she takes off in the other direction. Cooper tries to talk to her, but words aren't going to do it. Only Pete's reassuring look of love can ease her fears. Seriously, Pete doesn't say a word to his bride-to-be. He simply stares into her eyes, caresses the back of her neck and takes hold of her hands. Violet's now ready to try that "walking down the aisle" thing one more time. But this time she does it with the man she loves right by her side.
After the "I do's" are done, Cooper and Charlotte decide to have both a pastor and a rabbi at their wedding. Sheldon decides to drown his single guy woes by drinking heavily at the reception. And when Sam looks over at a lovely-looking Addison, he decides to order up a Scotch on the rocks for himself.
Addison notices an unsure look on Pete's face. He's a little concerned because he's never been good at marriage. Later, Addison wonders aloud if people do things better the second time around. Sam says, "I hope so." Oh, and we should probably mention that this conversation takes place as Addy and Sam sit across from each other in a bubble bath. Hmm.