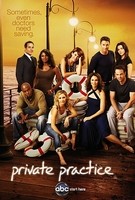 TV Info
---
Episode Premiere
May 13, 2010

Distributor
ABC

Genre
Drama, Comedy

Show Period
2007 - 2013

Production Company
ABC, ShondaLand


Cast and Crew
---
Director
Jeannot Szwarc
Screenwriter
Debora Cahn
Main Cast
Synopsis
---
Sam tries to calm a man who was in a car crash before he operates on him. Little does he know, this is the drunk driver that plowed into Dell and his pregnant daughter. In another section of the hospital, Dell is diagnosed with minor injuries. Maya, however, has no feeling below the waist. She thinks it's because of the epidural. Unfortunately, she hasn't had one yet.
Addison begins an emergency C-section to deliver Maya's baby, but something is wrong. Maya's pressure is dropping fast. They need to keep the baby inside her until Amelia can determine what's happening. The news is not good. If they save the baby, there's a good chance Maya will never walk again.
William visits Fife to say he's not proceeding with the experimental treatment for his illness. He's going away to make amends with his estranged daughter before he dies. He asks Fife to cover for him so that Naomi can focus solely on her daughter. He's doing this because he loves her. William realizes that Fife also loves Naomi and gives him some parting advice. He says, "Be a better man than you have been."
When Fife arrives at the hospital, he suggests using hypothermia to save both Maya and the baby. For this procedure to be successful, Amelia will have to work fast. It's a long shot, but one Sam thinks is worth taking. He asks Addison to just stand with him for a minute before he heads back to operate on the drunk driver. He still has no idea it's the person who hurt Maya. When Sam does finally figure things out, Pete lies to him by saying this is a different drunk. It's the only way he could be sure Sam would save the guy's life.
Amidst all the chaos inside the hospital, Cooper finds a quiet moment outside to have a chat with Charlotte. Actually, it's more than a chat, it's a proposal. Cooper was planning on asking Charlotte to marry him over dinner tomorrow, but he didn't want to chance waiting any longer. This isn't a heat of the moment decision. Cooper's had the ring for awhile now and he presents it to a stunned Charlotte.
Inside, Naomi apologizes to Addison for how she's behaved. She wanted get that out of the way before Addison went into the OR to save her daughter and her baby. Addison assures her that's just what she plans to do. In the waiting room, everyone does their best to cope with the situation by engaging in some small talk. The conversation comes to an abrupt end when they realize Dell has passed out and is unresponsive.
Dell is rushed to the OR where they determine he has a bleed in his head. The pressure is relieved but Dell is far from out of the woods. Another bleed erupts and it's expanding. They need to crack open Dell's skull to fix it, but Amelia is in the middle of her procedure with Maya. Dell asks that someone bring Betsey to his bedside. He's scared and unsure about all that's happening to him. Frankly, so are we.
As frightened as Dell is, he exhibits nothing but wisdom and bravery during a touching talk with Betsey. With his voice quivering ever so slightly, Dell says, "If anything ever happened to me, I want you to remember, that would just mean that all the bad stuff that's ever going to happen to you already happened." These are near perfect words. Dell doesn't want Betsey to be scared. He doesn't want her to be sad. The only wish this heroic dad has for his little girl is for her to be happy. It's both inspirational and heartbreaking.
Amelia finishes the procedure on Maya and heads off to help Dell. Addison works feverishly to save the baby. Amelia has a rough time trying to contain the bleeding in Dell's brain. When all is said and done, Maya and the baby are saved but the damage to Dell is just too severe. Addison chokes back her grief long enough to tell the others that Maya and the baby will be fine. Everyone is overjoyed until they notice the somber look on Amelia's face. They instantly know that their dear friend Dell is gone.
As Violet consoles Betsey, Addison tells Pete that she's ready. Not for Lucas, but for him. Violet loves Pete and he loves her. As for Addison, she loves someone, too. She asks Sam if she makes him happy. Of course, the answer is yes. Sam makes her happy, too. It's a breakthrough moment as they kiss each other passionately and lovingly. It appears that after all they've been through, Addison and Sam may finally have a chance to be happy together.