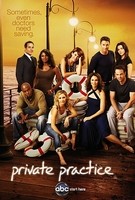 TV Info
---
Episode Premiere
February 18, 2010

Distributor
ABC

Genre
Drama, Comedy

Show Period
2007 - 2013

Production Company
ABC, ShondaLand


Cast and Crew
---
Director
Kenny Leon
Screenwriter
Craig Turk
Main Cast
Synopsis
---
Pete, Naomi and Addison treat a patient, Sharon, who delivers an extremely premature baby. Addison tells Sharon and her husband, Matthew, that their baby boy will need a series of surgeries. Even if the child survives the operations, he'd likely live a life of suffering and pain. The parents, Pete and Naomi all cling to hope for a miracle, as slim as it may be. Only Addison believes that surgery would simply prolong the suffering.
Conceding to the wishes of the parents, Addison operates on the infant. The baby survives the surgery, but he'll need a permanent feeding tube and there's likely brain damage. The child is in pain but the parents are still hoping for a miracle. They want more procedures. This is something Addison just can't do.
Cooper suspects the new man in Charlotte's life, Dr. Scott, is abusing painkillers. It sounds like he's jealous of this handsome fellow. At least, that's what Charlotte thinks. But Cooper is adamant that Scott has a problem. The only way he won't make waves is if Scott can convince Violet that he's not a pill popper.
When a patient of Dr. Scott's develops complications, Charlotte asks him if he's taken any drugs. Scott refuses to answer the question. He has a patient waiting. Actually, he had a patient waiting. Charlotte benches her new boyfriend until he gets some help for his addiction, which he does. That's the good news. The bad news is that Charlotte no longer has a date for Maya's wedding. We're thinking she should go with a certain single pediatrician. The only problem is that Cooper has already asked another woman to be his Plus One.
Maya is upset because Naomi refuses to attend her wedding to the Dink-ster and Sam seems to be phoning-in his father of the bride duties. Sam claims he's trying to make the best of things, so Dell tells him to try harder. Sam is, however, taking one thing seriously: his toast. He wanted to ask Addison for some help with the speech, but she wasn't around. Addison admits that she's seeing someone and it doesn't take long for Sam to figure out that Pete's the guy. And the hits just keep on comin'.
When Naomi tells Sam that she's going to Napa with William during their daughter's wedding, Sam unloads on her. He says, "Grow up. Do your job. Be a mother." It's part of a harsh speech, but we believe it's exactly what Naomi needs to hear. It helps her console Sharon when she asks if she could let go of her child. Naomi says, "I'd hope that I had the strength to do what my child needed no matter what the cost to me."
When Maya's big day arrives, Sam tells her that this is going to be a wonderful thing. And, believe it or not, he actually means it. How do we know? Well, we don't for sure. But Maya does. This is the first time we've seen her smile in days.
That smile gets even bigger when Naomi shows up to give her little girl a bracelet that serves as something old, borrowed and blue. For something new, Naomi gives her daughter a monogrammed ring in the hopes that she'll keep the name Maya Bennett. It'll help her remember where she came from. As for where she's going, well that's down the aisle with her parents' blessing.
The reception is at Addison's place. We're not sure what hors d'oeuvres were being served, but we do know there's bruschetta in the house. See, Cooper's date spilled some on Charlotte's dress. Nice guy that he is, Coop offers to help her clean up by unzipping her outfit while kissing her passionately. Weddings can be such fun.
Remember how we said Sam was working diligently on his toast? Well, all that hard work paid off. The speech is aces. He talks about a time when a young Maya said she wanted to marry him because he was her "anyway friend." Maya went on to explain to her daddy that "an anyway friend is the one person in your life who no matter what they say or do, no matter what they've been through with you, they love you anyway." He hopes that Maya and Dink will be forever "anyway friends." Told ya the speech was aces.