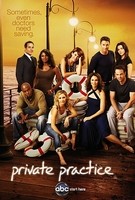 TV Info
---
Episode Premiere
October 22, 2009

Distributor
ABC

Genre
Drama, Comedy

Show Period
2007 - 2013

Production Company
ABC, ShondaLand


Cast and Crew
---
Director
Allison Liddi-Brown
Screenwriter
Ayanna A. Floyd
Main Cast
Additional Cast
Synopsis
---
Addison tells the team at Oceanside that they all need to pony up $50,000 to buy out Naomi's share of the practice. Everyone agrees, but the look on Cooper's face suggests that coming up with the cash may be easier said than done.
Cooper catches Charlotte doing an extreme makeover on his bathroom. We're talking sledgehammer extreme! She has plans for new marble counters, hardwood floors and recessed lighting. No word on whether or not she wants a new toilet brush yet. For now, she just needs Cooper to write her a check to pay for all the renovations. Again, Coop seems to be stressing over funds.
Cooper finally admits to Charlotte that he's broke. She's his girlfriend and that's something a girlfriend should know. Surprisingly, Charlotte takes the news in stride. Even more surprising is the fact that she coughs up the 50k Cooper needs for the buyout and gives an additional blank check to Addison. Charlotte wants to work there, too. You heard us. Charlotte King will be working at Oceanside Wellness! Thankfully, she won't be bringing the sledgehammer, as Cooper hid it at Violet's place.
Pete brings baby Lucas to the office and makes excuses to leave him with Violet for some bonding time. Sheldon realizes that Violet can't look at Lucas. Unbelievably, his solution to help her is to suggest that Naomi hire Pete. When Violet sees Pete every day, it's like she's having failure thrust in her face, so Pete takes the job.
Violet treats a couple, Collette and Ty, who are dealing with the aftershocks of a rape. Collette discovers that she is pregnant by the rapist. Violet gives Collette advice that is, in our opinion, way out of line. She basically says she shouldn't have the baby because it'll be a constant reminder of the truly awful thing that happened to her. It doesn't take a genius to see that Violet is actually talking about her feelings toward Lucas.
A horrified Collette rushes out of Violet's office. Ty stops by later to thank Violet for whatever she said to Collette, as she has scheduled an abortion. Violet is able to meet with Collette and Ty before the procedure. She admits that she was talking about herself when she last saw Collette. Ty says he hates that he couldn't protect Collette and asks her what she truly wants to do. We don't know what her answer will be. But we do know that, whatever it is, it'll now be from the heart.
While volunteering at a shelter, Addison treats Danielle, a 15-year-old homeless mother of a young boy, Elliott. The child is diagnosed with a serious heart condition. Sam wants to fix the problem. Addison opts to call the girl's mother first. Big mistake. When mom arrives, Danielle freaks. She grabs her son and runs.
Cooper and Addison find them not far from the hospital. Elliott has taken a turn for the worse. Sam offers to do bypass surgery. Complications arise during the operation and Addison wants to call for someone to help Sam. But Sam pulls Elliott through. Cooper has a heart-to-heart chat with Danielle and convinces her she can't go it alone. She reconciles with her mom. Looks like Danielle and Elliott will be homeless no more.
Dell returns to work worried about Betsy who was crying on her first day at school. He also deals with Kimmie, a patient with repeated bouts of false labor. An overwhelmed Dell yells at her for not being more patient, causing her to run away in tears. She returns to tell him that he was out of line and he agrees by saying he's the one who needs to be more patient. Just then, Kimmie's water breaks. Baby time has finally arrived!
Violet has been trying to remove the blood stain from the floor of her home, but none of the cleansers she uses seem to be making a difference. She chats with Cooper about the Pete situation while trying out yet another stain remover. Violet can't believe Pete walked away even though she admits to pushing him away. Then she loses her cool and tosses the stain remover across the room. Violet grabs hold of the sledgehammer and goes to town on her hardwood floor. Cooper tries to tell her it's going to get better. As she swings the hammer down, wood splinters and Violet wonders just when that will truly be.