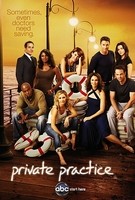 TV Info
---
Episode Premiere
December 10, 2008

Distributor
ABC

Genre
Drama, Comedy

Show Period
2007 - 2013

Production Company
ABC, ShondaLand


Cast and Crew
---
Director
Jeff Melman
Screenwriter
Elizabeth J.B. Klaviter
Main Cast
Additional Cast
Synopsis
---
Violet defines her lack of sex as sign of strength. Hmm. Wouldn't the sex deprivation have to be voluntary in order for this to apply?
On their way to work, Addison, Violet, and Naomi are discussing non-existent sex lives. And although Violet begins by telling the others that in some cultures celibacy is considered a sign of strength, by the end of their walk she admits she needs a man, especially when the only man in her life is Cooper, who is constantly moaning about Charlotte. To make matters worse, they run into Charlotte, the "source of all evil," as Violet calls her, in the lobby. She is standing under a banner advertising the new fourth floor medical practice she is heading (Pacific Wellcare) as well as offering free breakfast. Who would fall for such cheap gimmicks, you wonder? Well, apparently Sam and Pete.
In their defense, Sam and Pete are there to scope out the new practice. And in the process they meet Sheldon Wallace, the fourth floor psychiatrist, who asks them if Violet is single. To Pete's dismay, Sam informs him that she is. Afterward, Sam accuses Pete of being jealous, but Pete attributes his negative reaction to the fact that Sheldon is trying to take one of their women after already taking their floor. Hmmm, we're not really sure we believe that!
Meanwhile, when Addison tells her patient, Leah Hudley, that she has stage II ovarian cancer and will have to remove both ovaries, Leah refuses the surgery and demands a second opinion. Addison later overhears her patient's medical files being requested by a Dr. Wyatt Lockhart from Pacific Wellfare, and realizes that her patient has gone to the fourth floor for a second opinion. When Addison confronts Charlotte and Wyatt and storms off with her patient's medical file, Wyatt decides to add more fuel to her anger by saying "You know Charlotte said you were brilliant, she didn't say you were this hot." And he doesn't stop there, when she runs into Wyatt in the elevator, he further irritates her by calling her "Monty" and asking her to dinner. Later, Charlotte comes to Addison for help because there were complications with Wyatt's clinical trial protocol and Leah requires surgery. During the surgery, Addison finds that the tumor is gone and although there were complications, it seems that Wyatt's protocol is working. Later that evening, Addison runs into Wyatt in the elevator and once again he asks her to dinner and calls her "Monty." But this time she lets him have it and threatens to plunge a scalpel through his hand if he calls her that again. We definitely don't want to mess with Addison after a hard day!
As if the drama between the two medical practices wasn't heating up enough, Cooper asks Charlotte if she is pregnant after she vomits in her office trash can. Charlotte is furious with his questions and informs him she just has a 24 hour bug. But Cooper's paranoia begins to make her wonder if she is pregnant and decides to pee on a stick. Before taking the test she threatens to make him suffer every step of the way if she is in fact pregnant. While they are waiting for the pregnancy results, they start to imagine the possibility of having a baby, but are quickly brought back to reality when the result is negative. Later, Charlotte tells Cooper that it was nice spending time with him, but Cooper straightens her out by telling her he was caught up in thinking she was pregnant and not to mistake that for forgiveness. Such a tempestuous couple.
Dell announces to the group that he has an idea to help the practice by starting a fee-based service matching up mothers who want to give up their babies for adoption with prospective parents as an in house alternative to failed fertility. His pregnant patient, Judy, can be the test case. But midway through the process, Judy informs Dell that she is now feeling empowered and feels like she might be able to keep the baby and still finish school. She tells him that during the initial interview, Violet informed her she can change her mind legally right up until the end. Dell starts to feel he may have rushed into thinking Judy was ready to give her baby up for adoption. When he brings it up to Violet, she tells Dell what Judy said during the interview, and he realizes he may have unknowingly coached Judy to give Violet the answers she wanted to hear. Dell later tries to tell Naomi that he may have made a mistake but decides against it when Naomi tells him she is proud of him for making this happen. Seems Dell will just have to wait and hope that Judy will make the right choice for her baby.
When Violet invites Pete to the symphony, Pete admits to her that Sheldon is interested in her. Violet seems surprised and happy to hear, but Pete can't believe she would consider going out with him. She admits to Pete that it has been a long time since she's had a date. Then she goes to the fourth floor to casually run into Sheldon. Sheldon asks her out and she accepts. At the end of the date one thing leads to another, but unfortunately for Sheldon, he is unable to perform. Since they are both psychiatrists, Violet tries talking to him about it but that causes him to leave. The following day, Violet asks Pete if he has something to help with erections and ends up telling him about Sheldon's problem. She feels that his inability to perform is due to him not finding her attractive, but Pete is quick to say that any guy would find her attractive and gives her a potion to help Sheldon out. Violet calls Sheldon to tell him she wants to go out with him again and offers him the potion. He refuses it and tells her that the problem is nothing an elixir can cure. His inability to perform is due to him realizing she is out of his league, which makes him feel inadequate. Since a potion can't make her less beautiful, he asks if they can just be friends.
Violet and Pete find themselves relaxing in Pete's office after a hard day. Violet admits to being lonely and Pete admits he is too. He kisses her on the forehead and sure enough they end up in liplock. For Pete's sake, why didn't he just open up about his feelings in the first place!?