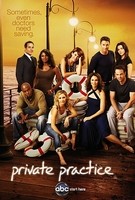 TV Info
---
Episode Premiere
December 03, 2008

Distributor
ABC

Genre
Drama, Comedy

Show Period
2007 - 2013

Production Company
ABC, ShondaLand


Cast and Crew
---
Director
Mark Tinker
Screenwriter
Shonda Rhimes
Main Cast
Additional Cast
Synopsis
---
One of Violet's patients shoots his wife and claims he did it for her own sake. Yeah right, if only it were that easy to get rid of an unwanted spouse....
Violet gets a little "elevator" therapy, Meg joins the Oceanside staff and to our surprise, Charlotte and Addison work together to help a patient. What?!
Violet receives a call from a frantic patient named Doug that interrupts her reality TV viewing time. Violet arrives at Doug's place only to discover he has shot and killed his wife. Doug claims he shot his wife in the head to help her; she was suffering from Kidney failure. Although Violet believes his alibi about assisted suicide at first, she struggles to side with Doug. Addison recommends that she speak with Kevin about Doug. That was the best advice anybody could have given her. Kevin tells Violet that in all his years on the force, not once has he seen a woman kill herself or asked to be killed with a gun. In the meantime, while working through her Dr. Kevorkian case, Violet receives therapy of her own during a few elevator run-ins with a new therapist named Sheldon Wallis.
Meg tells Pete that he is bored of staying at home, Pete tells her to get a job. Sound advice, only Meg ends up securing a position at Oceanside Wellness, and to the dismay of Dell and Naomi, she will be performing abortions. Understandable that Naomi would be opposedXXXXXXshe runs a fertility clinicXXXXXXbut what's up with Dell? Dell takes his protest too far when he shames one of Meg's patients out of getting an abortion. We soon learn that Dell has a personal reason for his strong attitude toward pro-choice. Now a dad, Dell takes great pride in having a daughter, but he originally tried forcing his baby's mother into getting an abortion. Could one of the two shrinks running around the practice please offer this guy some free therapy!
Charlotte seeks Addison's assistance with a patient named Elaina who is comatose, pregnant and now in early labor. The baby is in a breach position and Addison wants to perform a Caesarean section. However, Elaina's husband Sean wants her to have the baby naturally. Sean is still holding on to hope that his wife will come out of her coma and believes that giving natural birth to their baby will bring her back. Ironically, Sean and Elaina are not married and Elaina's parents, having legal authority, step in and give the okay to proceed with the c-section. But baby daddy Sean refuses to take this laying down and gets an injunction. Addison and Charlotte team up and successfully change Sean's mind about the C-section and although Sean's fiance doesn't make it, Sean discovers comfort in the miracle that is his new baby.
In the meantime, Charlotte also asks Addison for advice about Cooper. Addison tells her that Cooper is angry and he won't be getting over it anytime soon and implies she needs to give him time. Addison unveils that Charlotte is in love with Cooper and Charlotte reacts defensively by making it known that their little exchange does not make them friends. Whoa, even cold-hearted Charlotte needs a little "friendly" advice every now and then.