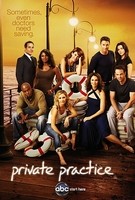 TV Info
---
Episode Premiere
March 12, 2009

Distributor
ABC

Genre
Drama, Comedy

Show Period
2007 - 2013

Production Company
ABC, ShondaLand


Cast and Crew
---
Director
Donna Deitch
Screenwriter
Shonda Rhimes
Main Cast
Additional Cast
Josh Hopkins as Dr. Noah Barnes
Amanda Detmer
Sharon Leal
Amber Benson
Kathe Mazur
Vince Grant
Lyrica Woodruff
Brian Benben
Synopsis
---
"Finishing or starting?" An innocent question can lead to all kinds of possibilities.
A cute surgeon, Dr. Noah Barnes (Josh Hopkins), asks that very question of Dr. Addison Montgomery while they both scrub up in the OR. She's finishing up a procedure while he's about to remove a tumor from an 12-year-old girl's heart. By the way, did we mention Dr. Barnes is cute? Like, way cute? Are these two flirting with each other?
At Oceanside, Sonya continues to give Sam the cold shoulder after he moaned out his ex-wife's name in bed. So, of course Sam turns to Naomi for advice on how to handle the situation. Really? His ex-wife? She advises him to take his new girlfriend to their old favorite restaurant. Uh, why?
Also, Addison treats a new patient, Morgan, a newly pregnant woman still feeling the sting of a previous miscarriage. She just can't lose this fetus, too. Happily, Addison reports that the baby will be fine-as long as Morgan abstains from sex with her husband for the rest of the pregnancy.
As for Dr. Barnes' young patient, Annie, her tumor was too large to be fully removed. She cries because her regular doctor promised she'd be ok. The doctor who made that promise? Dr. Cooper Freedman.
One month later...
Noah and Addison bump into each other again in the OR. There's tons more flirting between them and it looks like something nice is developing. Why doesn't he ask her out already?
Cooper checks in on Annie and gets a heartbreaking request. The young girl is tired of all the surgery. She'd rather leave the hospital and live happily for a year or two than have another procedure and live the rest of her life in and out of hospitals. Yet, Noah insists that he can help her with one more operation. Annie's bewildered parents don't know what to do.
Eventually, they decide to honor their daughter's request. But before they can get Cooper to remove her catheter, a judge steps in and says the law is clear in this case. Annie's parents are forbidden to do anything to harm their child, so Annie must have the surgery that can save her life.
One month later...
Noah and Addison soap up again. They look so good together, but he still doesn't ask her out. He must be dead or...?
Addison performs a routine amnio on Morgan to check her baby's status. The nervous mom-to-be wants to hear all about this cute doctor who won't make a move, so she advises Addison to make a move on him. Hey, good advice!
And Addison's chance comes when she runs into Noah again in the doctors' lounge. Noah is torn about what to do with Annie. He wonders if he's made a tragic mistake pushing so hard for more surgery. Spontaneously, Noah holds Addison's hand and asks her to sit with him for awhile. Yay, they're hookin' up! Until Addison finally tells Noah her name. He gets a look of horror on his face and runs out of the room. Weird.
One month later....
Noah has given up fighting for Annie's surgery. He removes the girl's catheter so she can go live as a normal little girl.
Addison has happy news for Morgan: The amnio results are in and the baby is fine! She's going to be a mom! Morgan is thrilled and can't wait to share the news with her husband who comes rushing in. Take a guess who her husband is. You're right. It's Noah! We knew he was married!
After continuing to take dating advice from his ex-wife, Sam eagerly asks Naomi what her next suggestion is. But Naomi finally comes to her senses and, like a mama bird pushing a baby bird out of the nest, says Sam is on his own. Except Sam realizes that he didn't call out Naomi's name in bed without reason and tells Sonya that it's over between them.
Later, Addison waits at a bar. She's waiting for Noah. He sits next to her and says he just can't get her out of his head. But she tells him she's been in this situation before and doesn't want to make the same mistake.
Noah leans in real close and asks her, "Starting or finishing?" She answers, "Finishing." And walks out without kissing him.