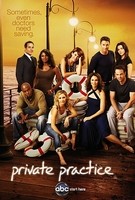 TV Info
---
Episode Premiere
November 26, 2008

Distributor
ABC

Genre
Drama, Comedy

Show Period
2007 - 2013

Production Company
ABC, ShondaLand


Cast and Crew
---
Director
James Frawley
Screenwriter
Jon Cowan, Robert L. Rovner
Main Cast
Additional Cast
Geffri Maya Hightower
David Sutcliffe
Synopsis
---
Addison is busy with a religious couple while others are just plain "getting busy."
Addison receives a surprise visit from her brother, Archer (Grant Show), Naomi has meaningless sex (and it isn't with Sam) and a pedophile is roaming the halls of Oceanside Wellness. Meanwhile, Cooper is offered a candy-covered Charlotte-we're in for a real treat!
Kevin and Addison come home to a partially open front door. Kevin's SWAT training takes over and he moves in-gun drawn-only to find Addison's brother, Archer (a world famous neurologist), getting busy on the kitchen floor with who he presumes to be one of Addison's neighbors. Archer brushes off his intrusion and quickly focuses on the fact that a Forbes-Montgomery is dating a cop. Turns out Archer is in town for a book release party (emphasis on party), but we'll come back to Archer later.
Violet has been court appointed a pedophile patient named Hal Jarvis. A sex offender in a pediatric office doesn't sound like a good idea to us and the staff seems to agree. They quickly boast their objection, Dell leading the charge. This alludes to some Dell and Violet bonding, Dell relives being physically abused as a child and Violet opens up to him about her own brush with abuse-being raped in her college dorm room at age 20. Even though Hal is reaching out for help, some of the details he shares with Violet sound all too well thought-out for her to overlook. After Hal is caught conversing with Sam and Naomi's daughter, Maya, Violet decides that Hal indeed requires court intervention.
In the meantime, Violet must also deal with Charlotte, who has yet to tell Cooper about her competing practice. To make matters worse, Cooper asks Charlotte to move in with him and she accepts. Violet realizes that Charlotte isn't going to come clean and breaks the news to Cooper herself. Cooper is extremely upset by the news, not only with Charlotte but with Violet for not telling him sooner. He storms out of the room, slamming a glass door open and shattering it to pieces-drawing the attention of the rest of the staff. With everyone gathered, Violet seizes the opportunity and lets everyone else in on Charlotte's scheme. Later that night, in an attempt to make up with Cooper, Charlotte offers herself to him sporting only edible undies. Cooper apparently has a sweet tooth and goes for it, but the next day he tells her that he is done with their relationship. Guess he had his cake and ate it too!
Addison meets with a couple, Gregory and Tess, who are expecting triplets. Addison notices complications with two of the babies and must perform a surgery that puts all three babies at risk. The religious couple refuses surgery, having already put aside their beliefs by using IVF to get pregnant, so they are unwilling to further interfere with "God's plans." The couple eventually comes around but not until the only healthy baby dies. In Addison's words, "prayer is good but so is medicine." Well said, Addison!
...and now, back to Archer. Shortly after being introduced to the medical staff by Addison, Archer invites the group to his book signing party. While at the party, Archer continues to focus on Kevin's career choice and accuses him of being after Addison's $25 million trust fund-something Kevin knew nothing about. Archer seeds doubt in Kevin's mind about his social status compatibility with Addison. No longer in the party mood, Kevin makes an early departure with Addison loyally at his side. But Archer isn't done partying yet and graciously offers Naomi a lift home. We all know what happens next; yup, Archer does the no-pants dance with Naomi.
The next day, Addison learns of Naomi and Archer's rendezvous. Naomi quickly admits to having greatly enjoyed the meaningless sex and Violet condones her actions by exchanging high fives. Sam overhears the conversation between the girls and as Archer walks up to greet him; Sam welcomes him with a knuckle sandwich that drops him to the floor. We Cheer!
After not hearing from Kevin for a while Addison receives a call from the hospital, Kevin has been shot. Kevin makes it out of surgery, recovering physically but haunted mentally by Archer's words. Kevin tells Addison that he is a cop and could easily get shot again and that he doesn't think this fits in her life. Addison asks him not to quit on their relationship. Addison goes home and confronts Archer, tells him that Kevin is real and makes her happy and she knows he loves her for who she is and tells Archer to leave. Boys over Bros!