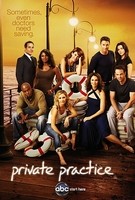 TV Info
---
Episode Premiere
November 19, 2008

Distributor
ABC

Genre
Drama, Comedy

Show Period
2007 - 2013

Production Company
ABC, ShondaLand


Cast and Crew
---
Director
Joanna Kerns
Screenwriter
Emily Halpern
Main Cast
Additional Cast
Billy Dee Williams
David Sutcliffe
Synopsis
---
Addison has to treat two pregnant women who unknowingly share the same husband. Yup, smells like polygamy to us too!
The boys (Pete and Cooper) try to get Sam back in "the game," Addison is faced with relationship trust issues, and the entire staff at Oceanside Wellness Center is on edge due to loud construction noises coming from the newly-leased lower floor. Let's find out who the bigger player is--Sam or the guy with two wives.
Addison is turned on by Kevin's recap of his day chasing down a bad guy, dodging bullets and taking the scumbag into custody. Kevin recognizes the opportunity and lifts her on to the nearby counter and in the heat of the moment whispers "I love you." Addison's shocked expression quickly reveals the message didn't sit very well, triggering hidden insecurities and trust issues stemming back to her prior relationship/marriage. Addison is eventually forthcoming about her inability to trust because she cheated on her husband and he returned the favor, but not before nearly getting arrested while spying on Kevin. We can't entirely blame Addison for tailing her man after peeking over at his phone and finding five missed calls from someone named Leslie, but after learning that Leslie is Kevin's male SWAT captain, we think it might have been a better idea to have simply asked him about it.
Pete, Cooper and Sam are hanging at a bar, scoping out the ladies and trying to get Sam back in the game. Cooper offers to "take one for the team" and goes over and picks up on Charlotte, who they didn't recognize at first from behind. Pete and Sam are left mouth-open in disbelief when Cooper walks right past them and out the door with Charlotte. The next morning Pete, Sam and the rest of the staff put two and two together and realize that Cooper has actually been dating Charlotte.
The incessant ruckus coming from the construction floor is driving most of the staff insane, in particular Violet, who is fed up and decides to investigate the source. She quickly arrives at the epicenter and finds Charlotte (aka Cruella) sporting a hard hat. Turns out Charlotte is the new lessee and is up to no good, planning to open up a competitive practice within the confines of Oceanside Wellness, something she has failed to mention to Cooper and the rest of the staff.
Addison and Pete meet with a couple, Daniel and his pregnant wife Laura. After performing a routine sonogram to find out the baby's gender, Addison discovers that the baby has DiGeorge syndrome, a rare genetic disorder. Learning that the disorder could've been passed down from either parent, Daniel panics, makes a knucklehead move and brings in his second and also pregnant wife to be examined by Addison. Umm, we all know Addison--there is no way she is just going to sit around and let this guy get away with this, right? Pete thinks otherwise and threatens to report her to AMA if she reveals anything to either wife. Well, Addison finds a loophole and schedules to see both women at the same time and oops, they "accidentally" end up in the same examination room. To no surprise, there is animosity between the two women at first but they soon learn that they are better off trusting in each other in lieu of that two timing husband of theirs.
All the while, Dell has been busy moving boxes and converting a storage room into his office. He is being very secretive about the operation but continues with his plan, against Addison's strong suggestion to hold off for now. As it turns out Dell has a daughter named Betsy and she is the motivation for his urgent office space needs. We learn that Dell had Betsy when he was only 17, during a brief courtship with her mom. Betsy's mother is an addict and recently relapsed, so Dell wanted to make sure his daughter knew one of her parents had it together. You can't argue with that!
Back at the bar, Sam continues struggling to regain his player status and Pete makes it his mission to help him out. Sam eventually shows signs of recouping his "mojo" after locking his eyes on an attractive woman but Pete quickly realizes that getting Sam back on his game is an uphill battle when Sam blankly asks, "So what happens next?"--Talk about clueless!