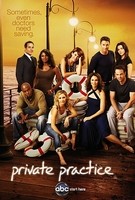 TV Info
---
Episode Premiere
December 05, 2007

Distributor
ABC

Genre
Drama, Comedy

Show Period
2007 - 2013

Production Company
ABC, ShondaLand


Cast and Crew
---
Director
Wendey Stanzler
Screenwriter
Ayanna Floyd
Main Cast
Additional Cast
Carl Gilliard
David Sutcliffe
Nina Siemaszko
Christopher Wiehl
George Segal
Synopsis
---
Cooper and Charlotte, sitting in a tree, k-i-s-s-i-n-g. Ok, they're not in a tree and they're doing waaaay more than just kissing. Talk about strange bedfellows!
Addison makes a strong effort to remain "friends" with Pete, despite their tricky past. We can tell Pete still wants her, but he has competition from Officer Kevin, who keeps making excuses to drop by Oceanside. Fortunately for Pete, Addison has work to do.
Repeat patient Jeffrey has a low sperm count and can't get his wife, Kathleen, pregnant. Not wanting to go the adoption route, they have to pick a sperm donor. Jeffrey has found the perfect pinch hitter. It's his brother Mark. To us, Mark looks like a bad seed (no sperm pun intended). Our instincts are on the money. Mark is a jerk and when the actual "donation" time comes, the future parents call the whole thing off.
Addison has another plan. She can do an experimental procedure where she will root around in Jeffrey's testicles, pluck out a healthy sperm and mate it with one of Kathleen's eggs. A little icky, but maybe it'll work. Addison hustles Jeffrey into surgery and finds one viable little swimming sperm. She extracts it carefully, places it into a petri dish with Kathleen's healthy egg and ... Presto! Time to start arguing about baby names!
Dell has Sam examine his grandfather, Wendell (guest star George Segal), who is covered in bruises. The feisty old man insists nobody is abusing him at his nursing home. Sam and Dell decide to investigate anyway. They catch the nursing home staff looking the other way as Wendell and his best friend, Nate, pummel each other in a bare-knuckled boxing match.
"This is for the championship!" Wendell exclaims before landing a solid shot to Nate's chin. Boom! Nate is down for the count. Sam can barely find a pulse. Rushed to the hospital, we discover Nate has suffered a heart attack. Wendell swears he didn't mean to hurt his friend. Not that much, anyway. Nate eventually passes away but it wasn't from the fight. He had a bum ticker that was going to stop beating no matter what.
At the office, Sam has a confrontation with Naomi over their on-again/off-again sexual liaisons. After she runs away in tears, Dell professes his love for Naomi to Sam. We always knew he had a crush on her, but timing is everything when you declare your love for another man's wife.
Later, Naomi is getting ready to head home. Dell holds up her coat so she can slip into it, then spins her around and slips his tongue into her mouth! He kisses her fiercely, and then professes his love (thankfully, to her this time). A stunned Naomi staggers out of her office and gets an even more powerful kiss from Sam as others look on. Guess he's no longer going to hide the fact that he still loves her. Looks like the ball is in Naomi's court. Who will she choose? Dell or Sam?
Finally, Addison goes to the police station just to say "Hi" to Officer Kevin, who is more than thrilled to see her. Back at Addison's place, Pete rings her bell. Of course, she's not home. Has he missed his chance with her forever?