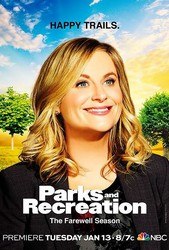 TV Info
---
Episode Premiere
March 08, 2012

Distributor
NBC

Genre
Comedy

Show Period
2009 - 2015

Production Company
Deedle-Dee Productions, Universal Media Studios


Cast and Crew
---
Director
Troy Miller
Screenwriter
Nick Offerman
Main Cast
Additional Cast
Synopsis
---
Buddy Wood, host of the number one morning show in Indianapolis, is coming to Pawnee to interview Leslie for his show. It's a great stroke of luck for Leslie, as an opportunity like this could completely change the momentum of her campaign. While Leslie models some killer potential outfits from Lady Place for her interview, Ben's more concerned about her being prepared for his hard-hitting questions.
Meanwhile, Andy prepares for his first-ever final for his woman's studies class. April and Ron are there for help and hold his hand through the studying process. When Andy wants to bail on the test altogether, Ron tells him to man up; adults face their fears head on.
When Buddy bails on the interview because of a news opportunity back in Indianapolis, Ben sees an opportunity for the gang to rest up and get an early start tomorrow. But Leslie's burnt out and suggests they all go grab a drink instead. Ben stands his ground and decides to turn in for the night, while Lesli, Tom and Ann sneak off to throw one back at the Snakehole Lounge.
After a few margaritas and a flaming shot, imagine Leslie's surprise when she gets a call from Ben: the interview is back on! And Leslie needs to hightail it to the Pawnee airport for the interview ASAP. Leslie's slurring her words and clearly is in no state to give a coherent interview. But this is a very important opportunity, and Leslie does her best to pull it together and head to the airport.
Andy mans up and takes his final, and he actually passes! April and Ron are proud of Andy's success and decide to celebrate by going out for lunch. They invite along Andy's professor, as April notes that she's just Ron's type: brunette and strong-willed. At the restaurant, the gang runs into Chris and invites him to join, and it quickly becomes clear that Chris and the professor are actually the compatible ones as they bond over health and fitness.
Despite a few word mix-ups, Leslie actually appears to be holding it together for her interview with Buddy Wood, and Ben is still in the dark about her inebriated state. The interview starts off smoothly enough, but things take a turn for the worse when Buddy pushes the subject of Leslie and Ben's relationship. Leslie gets stern with Buddy and lets it slip that she's had a few drinks. From there, the interview spirals out of control, as Leslie gets tangled in the microphone wires when she tries to storm off set.
After the train wreck of an interview, the team knows that Leslie's campaign is screwed unless they can find a way to keep it from airing. They decide to use up the remainder of Tom's hot-tub limo rental and road trip down to Indianapolis to beg Buddy not to air the piece. After an all-night drive, they finally arrive at Buddy's house, and Leslie begs him to keep the piece off the air. Buddy reveals that it actually doesn't matter; the Pawnee airport lost his bags and the tape of the interview along with it. The gang celebrates their lucky break with a bottle of champagne and heads back to Pawnee.
Chris asks the professor out, only to be shot down because she's not emotionally ready to date. Imagine Ron's surprise when she propositions him for sex immediately after. Ron arrives at work the next day wearing his post-coital Tiger Woods power outfit: a red shirt and black pants. He's in an unusually chipper mood because clearly, his evening went well. When Chris voices interest in asking the professor out again, April and Andy pressure Ron into telling Chris the truth about what went down. Though resistant, Ron mans up and tells Chris, for which Chris is grateful and understanding.
Back in Pawnee, Leslie can't believe her luck. What are the chances of Buddy's bags being lost at an airport as small as Pawnee's? Little does Leslie know, she's got a whole town behind her; the airport employees actually threw away Buddy's bag, knowing it was the key to keeping Leslie in the race.