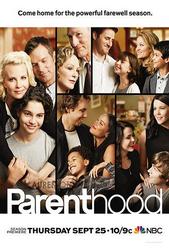 TV Info
---
Episode Premiere
January 01, 2013

Distributor
NBC

Genre
Drama

Show Period
2010 - 2015

Production Company
Imagine Entertainment, Universal Media Studios


Cast and Crew
---
Director
Dax Shepard
Screenwriter
David Hudgins
Main Cast
Additional Cast
Synopsis
---
It's Ladies' Night and the Braverman girls are kicking their heels on the dance floor. Kristina is partying like a rock star, and she's drunk enough to have lost her filter. When Sarah vents about her confusion over Sarah and Mark, Kristina can't help adding her two cents - has Sarah talked to Hank about where their relationship is going? Actually, she hasn't - she and Hank work, then fall into bed with each other. Kristina tells Sarah to demand Hank ask her on a date and take her to dinner "like a lady." This causes Sarah to pause. Does Hank respect her, or...? It's not long before this damper brings the party to a close.
Back at home, a sobered-up Kristina gathers her courage, picks up her razor, and starts shaving off her beautiful, long blond hair. It's a moment that comprises both the triumph of taking control of her fate, and the despair that comes with having no control whatsoever. Nevertheless, Kristina is feeling tentatively empowered when she wakes up Adam to show off her new look. Adam jumps out of bed alarmed, in a state of shock. When all he can say is, "Whoa, wow..." Kristina runs out of the bedroom in tears.
The next morning at work, Hank knows Sarah has something on her mind. She explains that what's going on between them is weird; Hank should ask her on a date. Hank plays along, but Sarah has to coach him on how to actually ask her out. Finally, it's set: dinner Thursday night at 8p, at a restaurant of Sarah's choosing. Across town, Jasmine makes a pancake breakfast for Crosby, hoping to butter him up. It turns out her mom lost her job and needs to borrow $5,000. Crosby is stunned, so Jasmine tells him to take a day to think it over. Later, Crosby complains to Adam. He doesn't want to set a precedent. What happens next month when Renee needs more money? Adam explains that this money isn't a loan, it's a gift. When Crosby married Jasmine, he married her family; now her problems are his problems, and giving Renee the money is the right thing to do.
Victor plays it cool when Julia picks him up from school but he has big news: he finally aced a math test! Julia couldn't be more thrilled, until Victor asks to show his test paper to his birth mother. Even though her head is covered with a bandanna, Kristina draws stares on her weekly shopping trip. Later she explains to Adam how uncomfortable she felt. Adam tries to problem-solve and make it all better, but Kristina walks away from the conversation, upset Adam can't comprehend where she's coming from. When Kristina's out of the room, Adam checks her laptop to discover she's been shopping for wigs online.
Julia and Joel sit down for what they know is going to be a tough talk with Victor. While they understand that he wants to tell his mom about his math test success, they have to clear something up. Victor can't talk to his birth mother because Julia and Joel have adopted him, so now they're his parents. Also, they're not the ones making this decision - the court decided this was the way it had to be because of his birth mother's drug use. Victor can't understand - he should still be able to talk to his mother, even if it's just as a friend! It's not fair and Julia and Joel both know it.
Adam enlists Sarah to help buy a wig for Kristina. Sarah tries to lighten the mood with fun and games, telling Adam they should be shopping with Kristina - it's too hard without her. But Adam insists Kristina is too embarrassed to leave the house. They should get serious and find a wig that looks like Kristina's real hair to help her feel normal again. In the end, he picks a wig that looks nothing like the hair Kristina shaved off. That night, Joel and Julia let Victor excuse himself from dinner without finishing his plate. When he plops the plate on the counter and himself in front of the TV, Sydney protests - why are they letting Victor off the hook?! And why does she have to finish her broccoli - even if she does like it? In an unprecedented flash of frustration, Julia tells her to just shut up and finish her dinner.
Crosby tells Jasmine he's been thinking about Renee. Quoting Adam verbatim, he agrees, they should give her the money. After all, Jasmine's problems are now his problems. But Jasmine has news. Renee's financial situation is a lot worse that she thought, and if they lend her the money, she's just going to need more money next month. Another option is to have Renee move in with them. They have a spare bedroom, even if it is Crosby's man cave. He can live without the space for a month or two. Crosby is not happy - not only will he lose his creative space, but Renee will take over their lives! Jasmine insists her mom will be out looking for a job, and she can help out with Jabbar, who couldn't be more thrilled to hear grandma is coming to live with them.
Looking like the cat who swallowed the canary, Adam presents Kristina with his wig purchase, claiming it's just a little something to hold her over. Unable to comprehend how Adam could possibly think the wig looks like her hair, Kristina is mortified and insulted. Adam bought her a hooker wig?! Clearly he's embarrassed of her baldness and thinks she looks disgusting. Adam explains that he was just trying to help, but the argument escalates and ends in Kristina's tears. The next day at work, Adam is surprised to discover all his appointments for the day are cancelled, and worse yet, Crosby's moving a truckload of his possessions into the studio. A very upset Crosby explains that Renee is moving in and it's all Adam's fault.
Sarah returns home from grocery shopping, only to spy Drew's laptop with a browser opened to Facebook photos of Mark at the teachers' New Year's Eve party. Sarah's blindsided to see Mark getting kissed at midnight, so Drew tries to explain that it's all harmless fun. Amber summons Adam in a panic: angry neighbor Marlyse called the fire department, and they're downstairs! Adam runs outside to find Kristina dressed to the nines and wearing a long auburn wig, lounging against a limo. She apologizes for treating him horribly. Even though his wig was horrible, she loves the fact that he tried, so she's planned a special night out as husband and wife (not husband and patient) - if he'll have her. Ever Kristina's accomplice, Amber presents them both with champagne, and shoots video of their send-off.
While Julia prepares dinner in the kitchen, Sydney peppers Victor, who's playing tee-ball, with questions about his birth mother. Did she do something bad? If she's not in jail, then why doesn't she come see him? When Sydney concludes Victor's mother doesn't love him because he's a bad kid, he hurls his baseball bat in her direction. The bat misses Sydney, but smashes the plate glass window in the door behind her, raining glass everywhere. Sydney lets out a bloodcurdling scream and both Julia and Joel come running. Terrified and filled with protective parental fury, Julia grabs Victor, yanks him into the house and dispatches him to his room, as Joel tends to Sydney.
Crosby installs a ceiling fan in his man cave in order to make Renee more comfortable, but he's none too happy about it. When Jasmine asks him not to take his frustration out on her, Crosby claims she railroaded him. This is his house, and he should be able to walk around in his underwear whenever he damn well pleases! Her patience exhausted, Jasmine reminds him that it's THEIR house. Besides, her mother isn't a monster, but a member of the family who loves them and needs their help. Crosby needs to get over himself and get with the program.
Sarah selects a very fancy white-tablecloth restaurant for her date with Hank, who can't help but make fun of it. $17 salads? Thank God he put on a tie! Realizing Sarah seems distracted, Hanks cuts it out to ask what's on her mind. Embarrassed, Sarah blurts out the story of the Facebook incident, then tries to change the subject. Never one for sensitivity, Hank rallies, promising Sarah he still gets jealous when he sees his ex-wife with another man; it's human nature. Sarah's grateful for this small kindness, so when Hank suggests they leave the restaurant - it's too snooty - she agrees.
While Adam's in the bathroom, Kristina sits alone at the bar of the very chic hotel where she's booked a room for the evening, when she's accosted by a cute and clueless 30-something named Luke. Salesman Luke is nothing if not friendly and flirtatious; he compliments Kristina's hair and buys the line that she's 27. Kristina goes with it until Adam returns, then 'fesses up. She's really a 34-year-old housewife. Offering to do Luke a favor, Kristina waves over the hostess, Laura, for an introduction. Not only is it a match made in heaven, Kristina's overjoyed to think she's "still got it" in more ways than one.
After putting the kids to bed, Joel tells Julia that Victor is very sorry for throwing the bat - and he thinks Julia hates him. It was an accident. Maybe when everything calms down, Julia should tell him that it's his behavior she's upset with, not him. Still furious, Julia can't separate Victor from his actions. They have a big problem: one of their kids seriously endangered their other kid, and she's not sure if she can live with it. Meanwhile, Hank and Sarah return to the loft over his studio with take-out Chinese and a bottle of wine for a night of conversation. Hank admits that he doesn't like listening to or looking at people. Eye contact isn't one of his favorite things, but when it comes to Sarah, he finds it hard not to look in her eyes. Sarah's even more charmed when Hank asks her out on another date...
Adam dons a velvet smoking jacket and utilizes the hotel's complimentary Kiehl's toiletries to ready himself for a night of romance. Unfortunately, Kristina has suddenly hit a wall and is feeling exhausted. She's wildly apologetic, but Adam could care less - he's having the night of his life. When his phone rings, Kristina insists he answer it or she'll never sleep. Luckily, it's just Amber, emailing the video she took earlier in the day.
The next morning, Sarah wakes up alone, so she gathers her things and gets ready to go. When she bumps into Hank on the way out, she explains that she thought he got freaked and left, but it turns out he went out to pick up the best croissants San Francisco has to offer. Sarah smiles again, realizing Hank got up early, in hopes of surprising her in bed with still-warm croissants. Julia knocks on Victor's door - it's time to go to school. Victor sits on his bed wearing his backpack, having locked his door. He wants Joel to take him to school. Julia explains Joel already left for work - won't Victor talk to her? No, he won't.
Crosby is getting Jabbar ready for school when Jasmine arrives with her mom and all her stuff. Crosby's stiff to start out with, but when Renee gives him a difficult but heartfelt thank you and apologizes for putting him out, he melts. With a tear in his eye, Crosby insists they're happy to have her, offering a hug and an invitation to stay as long as she wants. Across town, Adam and very chic, wigless Kristina walk through the lobby of the hotel. Who cares if she's bald? Not them.