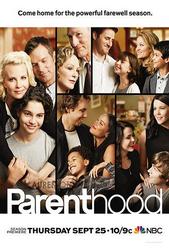 TV Info
---
Episode Premiere
November 09, 2010

Distributor
NBC

Genre
Drama

Show Period
2010 - 2015

Production Company
Imagine Entertainment, Universal Media Studios


Cast and Crew
---
Director
Allison Liddi-Brown
Screenwriter
Tyler Bensinger
Main Cast
Additional Cast
Synopsis
---
Sarah, Gordon and Adam wait on the results of the shoe clicker focus group. Unfortunately when the news comes in, it's not good. The shoe is officially DOA, dead on arrival. Crosby and Jasmine have officially signed on their new apartment. Jasmine asks Crosby why he would keep the boat if they're moving in together. Surprised by this request, Crosby reluctantly agrees to sell the houseboat. Adam, Zeek and Max shop at the supermarket. Zeek tries to encourage Adam to give Sarah's shoe clicker another shot at success.
Max, Adam and Zeek hop in the express checkout line at the supermarket. When Max notices the man in front of them has seven items over the allotted amount for the express line, he starts removing items from the man's cart. The man gets irritated with Max and then Adam. Adam tries to manage the situation, asking Zeek to take Max back to the chip aisle to grab a few more bags while he talks to the man in line. When they walk away, Adam asks the man what his problem is. The man responds by telling Adam he's sorry for him because his kid is clearly a retard. Without a second thought, Adam punches the guy in the face, knocking him straight to the ground. Adam, Zeek and Max return home with the groceries. Kristina can tell something's wrong, but Adam says it's nothing.
At the community center, Haddie helps Alex prepare boxes of household items for a homeless family who are moving into a new house. Alex invites Haddie to join him at the new house the following day to meet the family she's helped, but Haddie has some Junior Class President duties to attend to; a school pep rally needs her attention. Back on the houseboat, Crosby barbecues hot dogs with Jabbar. Crosby breaks the news to Jabbar that they're probably going to have to sell the houseboat to pay for the new apartment, but Jabbar doesn't understand. Jabbar tells Crosby, "You're a boat guy." This makes Crosby second-guess his decision to sell the boat.
Gordon grabs Sarah at the office to join him and Adam in a T&S tradition. When a shoe doesn't test well, Gordon and Adam typically go out and drink. But Adam turns down Gordon's offer, leaving Gordon to celebrate with Sarah solo. Adam needs to tend to business and doesn't have time to go out drinking. Back at school, Haddie makes a decision and ditches the pep rally. Amber catches her. Haddie leaves school and surprises Alex at the house. He puts her to work as soon as she arrives.
Zeek tells Camille about the incident at the supermarket with Adam and the man in line. Camille's shocked to hear that Adam actually punched a stranger. After moving the family into their new home, Haddie sits down and talks to Alex. The work she's doing at school as Junior Class President isn't important, compared to the work she does with Alex, which truly matters. After a moment of silence, Haddie leans in and kisses Alex. His response isn't what she hoped - he tells her it's not a good idea. Haddie leaves, embarrassed. When Haddie gets home, Kristina and Adam tell her that she has to let them know where she's going to be. Kristina was worried sick about her all afternoon. After hearing that Haddie helped a homeless family move into a new house, Adam feels better about the situation. Kristina isn't letting her off the hook so easily.
Gordon and Sarah are out celebrating. In a limo, Gordon shows Sarah design sketches for shoes that he pitched, but never got made. Gordon and Sarah then share a passionate kiss. Joel and Julia help Jasmine, Jabbar and Crosby move into their new apartment. Crosby asks Julia's advice on whether or not he should sell the houseboat. He's not happy when Julia tells him be a grown-up and sell the boat. Over on the houseboat, Zeek and Adam pack up boxes for Crosby. Zeek asks Adam to take a break and talk about what happened in the supermarket earlier in the week.
Zeek and Adam have a heart-to-heart about Adam's anger. Adam tells Zeek that he's angry at everything. He's pissed off that he has to hold Sarah's hand and get her a job. He's pissed off that his son has Asperger's. He's pissed off that he has to lay off seven people at work. He's pissed off he had to be the guy in control his entire life. Teary-eyed, Zeek tells Adam he's got his back, no matter what. The next morning, Gordon and Sarah wake up in the back of the limo. Sarah freaks out that she didn't call to tell her family she wouldn't be home. Back at Zeek and Camille's, Drew wakes Amber up to tell her Sarah didn't come home last night and hasn't answered any of his phone calls. They wake up Zeek and Camille. When Sarah finally gets home, she tries to sneak into the kitchen without anyone noticing she wasn't home. But when she enters, she finds everyone sitting at the kitchen counter, waiting for her. She apologizes for worrying them, but her apology doesn't have much impact on the group.
Jasmine and Crosby build a new bookshelf in their apartment. Crosby expresses his frustration. No one, including Jasmine, understands why selling his houseboat is such a big deal. Over at T&S, Sarah is meeting with Adam when Crosby walks in. Crosby asks Sarah and Adam to join him on the houseboat later that night for the boat's farewell party. At the community center, Haddie apologies to Alex for kissing him, in hopes that it won't interfere with her work at the center. After apologizing, Alex confides that he's a recovering alcoholic and a relationship isn't a good thing for him right now. He finds Haddie very attractive and likes her a lot, but he's only been sober for five months and needs to concentrate on his recovery first.
Julia, Adam and Sarah join Crosby on the houseboat to bid it farewell. Julia and Adam share stories of times the romantic nights they spent on the boat without Crosby's knowledge. Crosby admits that he's scared of screwing things up with Jasmine and Jabbar. After Sarah, Julia and Adam encourage him to take the next step in life Crosby puts up the "For Sale" sign. At home, Sarah apologies to Amber, Drew and Camille again for not calling and staying out all night with Gordon. Camille asks Sarah about Gordon. What's so special about him?
When Adam gets home from Crosby's, he finally confides in Kristina about what happened at the supermarket. Adam's angry at everything, and even more angry for being angry. He worries that he's just like his dad. Kristina encourages Adam to find ways to relieve his stress so he doesn't get to the point where punching a guy in a supermarket is an option.
Crosby is spending some quiet time on his empty houseboat when Jasmine comes over with a bottle of champagne to send off the boat the right way. Crosby's pleased that Jasmine recognizes how important the boat is to him.