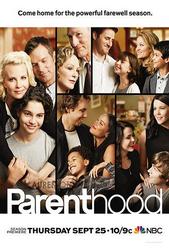 TV Info
---
Episode Premiere
September 14, 2010

Distributor
NBC

Genre
Drama

Show Period
2010 - 2015

Production Company
Imagine Entertainment, Universal Media Studios


Cast and Crew
---
Director
Lawrence Trilling
Screenwriter
Jason Katims
Main Cast
Additional Cast
Synopsis
---
Sarah wakes up to a leaking ceiling. Crosby pays Adam and Kristina an early morning visit to discuss Jasmine and Jabbar's visit from New York City. Max gets really excited and asks to have a sleepover with Jabbar while he's in town. While Adam introduces Max's behavioral specialist Gaby to Crosby, the phone rings. Camille asks Adam to stop by their house on his way into the office to help Zeek repair the leaky roof in the guesthouse. Although he's unhappy with Camille's request to wait for Adam, Zeek takes a moment to do what their therapist has recommended. He looks at her and says, "I hear you, I see you." Pleased with Zeek's enlightened moment, Camille smiles and continues with her morning routine.
At the playground, Joel and Julia watch their six-year-old daughter as she plays with friends on the jungle gym. Suddenly, Sydney runs up to her parents and asks, "Did I come from a vagina?" Caught completely off guard, Joel and Julia pause before answering. Julia tries to answer directly, while Joel tries to deflect attention from the question and offers Sydney ice cream. While Julia and Joel tend to Sydney's interest in sex education, Adam stops at his parents before heading into the office, just as Camille asked. While there, Sarah suggests Adam create a shoe with a built in clicker - a shoe clicker to help kids find their missing shoes, since both Drew and Amber are having trouble finding theirs.
Adam arrives at work to find his boss Gordon waiting for him. Gordon asks Adam into his office to talk, putting him on the spot by asking for new ideas to increase the company's profits. Adam pitches Sarah's shoe clicker idea as his own. To Adam's surprise, Gordon loves it. Sarah stops by Joel and Julia's to borrow an outfit for her interview. While there, she asks Joel to assist Zeek with the leaky roof in the guesthouse. When Joel arrives to survey the leak and get to work, he realizes the problem is much bigger than just a leaky roof. Zeek sets the ground rules as to how they'll handle this repair. Even though he's a licensed contractor, Joel decides it's better to remain silent for the time being and do it Zeek's way.
Haddie visits Adam at the office to ask for help learning to drive because of the difficulty she's having with Kristina. Adam's boss Gordon walks in on their family conversation, which makes Adam nervous, considering their earlier discussion about needing to separate work life and home life. Back at Zeek and Camille's, Joel finds it more and more difficult to bite his tongue while working on the roof project. Zeek won't take any of Joel's advice and wants to do everything his way and only his way.
Adam visits his parents after work to check on the leaky roof. After hearing Sarah's job interview went poorly, Adam reveals he pitched her shoe clicker idea to his boss Gordon, and he loved it. Completely shocked, Sarah wishes Adam luck with the idea. Back at home, Adam talks to Kristina about Haddie's driving lessons. Adam suggests Kristina might be the one who's not ready for Haddie to drive, not the other way around. Kristina disagrees and promises to take Haddie on the road when she proves to be ready. After processing Sydney's questions, Joel and Julia attempt to tackle the birds and the bees conversation. To their dismay, the conversation leads to more questions they aren't prepared to answer.
Sarah tells Zeek and Camille that Adam pitched her idea to his boss and he loved it. Zeek encourages Sarah to value her ideas and opinions, and suggests she ask to be involved in the shoe clicker design process. Kristina finally takes Haddie out on the road for her driving lesson. While driving, Haddie knocks the side mirror off the car by hitting a garbage can. Once they get home, Haddie, Kristina and Adam get into a fight about who should teach her how to drive. Back at Zeek and Camille's, Sarah finds Joel working on the leaky roof without Zeek. Joel has devised a plan to fix the leak without Zeek knowing. While there, Sarah asks Joel if he would build her a desk so she has some space to write down her ideas and work on projects. Joel happily agrees to make her a desk.
Crosby videoconferences with Jasmine and Jabbar to plan their visit to Berkeley, but Jasmine has other things on her mind. Back at Adam and Kristina's, Max plans his sleepover with Jabbar and asks Haddie for help. Gaby has prepared a sleepover to-do list for Max to work from. The next day, Sarah pays Adam a visit at T&S to ask for an opportunity to work on her shoe idea. Adam is caught off guard. Over at Zeek and Camille's, Joel finally loses it on Zeek, unleashing all his built-up resentment while they're on the roof.
Jasmine calls Crosby with bad news. She and Jabbar won't be able to make the trip to Berkeley for the weekend as planned. She's up for an understudy part in her dance troupe and has to stay in town. Crosby heads over to Adam's to break the bad news to Max - no sleepover with Jabbar. Having never seen Max get so frustrated, Crosby's caught off guard, so Gaby helps out.
Zeek shows Sarah the guesthouse roof, now fixed, and even gives Joel a little credit for helping. Over at Joel and Julia's, Joel shares his father-in-law's newfound respect for him. After reading 10 books on sex education, Julia feels she's prepared to handle the conversation with Sydney better than before. During a brief conversation about hypothetically having a boy, Julia latches onto the idea of having another baby. Seeming hesitant, Joel takes a breath and lives in the moment.
Haddie tapes the side mirror back to her dad's car. Kristina admits she may not be ready for Haddie to drive. After calling a truce on the driving discussion, Haddie joins Max in his bedroom for his first-ever sleepover. Since Jabbar couldn't come to town, Haddie fills in.
Adam pays Sarah a visit to apologize for stealing her idea and presenting it as his own. After clearing the hire with Gordon, Adam offers Sarah an internship at T&S to work on the shoe clicker idea. Sarah's thrilled about the opportunity to work and prove to herself that her ideas do in fact have value.