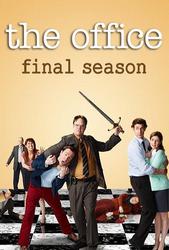 TV Info
---
Episode Premiere
April 26, 2005

Distributor
NBC

Genre
Comedy, Drama

Show Period
2005 - 2013

Production Company
Reveille, Deedle-Dee, NBC Universal


Cast and Crew
---
Director
Amy Heckerling
Screenwriter
Mindy Kaling
Main Cast
Additional Cast
Synopsis
---
Jan calls Michael and says they've created an incentive program for his employees to increase sales. At the end of the month, he can reward one employee with something worth up to $1000.
Michael wants to find out what motivates people more than anyone. Dwight says sex or torture. Pam tells him there's someone there to sell handbags. He tells her to go away, that is, until he sees the hot girl selling them.
Michael says he'll break his own rules and let the hot girl, Katie, set up shop in the conference room. Michael goes out of his way to impress her.
Kevin asks Pam if she's jealous that there's another girl around who is prettier than her.
Dwight is obsessed with the "purse girl." She meets all his criteria.
Michael introduces Katie around the office. While doing so, he tries to embarrass other employees as he introduces her so they can't squeeze in on his game.Michael says he lives by one rule - no office romances. But he also lives by another rule - just do it.
Roy tells Jim he should "hit that" - meaning Katie. In front of Pam, he says that he'd hit it if he weren't engaged. Pam is visibly upset by the comment.
Jim tells Dwight that Katie would be perfect for him. They're both salespeople. He says just keep talking to her no matter what. And worse case scenario - just buy a purse to fall back on. Jim psyches him up and has Dwight go hit on Katie. Dwight ends up buying a purse instead.
Michael interrupts Katie and tries to impress her by buying an espresso maker from Starbucks. He says it's the greatest incentive-izer in the office.
Katie tells Michael her ride bailed on him and he offers to give her a ride. She reluctantly accepts.
Dwight asks Michael's permission to ask Katie out. He says it's not against the rules but Dwight should know that he's giving her a ride home later. Dwight wants to know if that's all it is. Michael speculates it could be more than just a ride. Dwight asks him for this one favor - to promise it's just a ride home. Michael says no.
Dwight goes crazy watching Katie with the bags. He interrupts her selling and asks her out on a date. She says no in front of Angela. Dwight is crushed.
Pam says Jim is a great guy and like a brother to her. She and Roy make up right in front of him, prompting him to finally talk to Katie.
Michael has Ryan help him clean out his car for when he takes Katie home later. There's trash everywhere.
Jim finally talks to Katie and impresses her with his humor. He asks her out and they make plans for the weekend.
Michael says he's a ladies man and women are attracted to power. But at the end of the day, Katie tells Michael he's off the hook because Jim is taking her instead. Michael is despondent but doesn't show it.