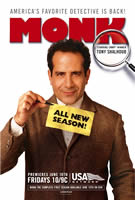 TV Info
---
Episode Premiere
January 27, 2006

Distributor
USA Cable Network

Genre
Drama, Comedy

Show Period
2002 - 2009

Production Company
Mandeville Films, ABC, NBC, UMS


Cast and Crew
---
Director
Philip Casnoff
Screenwriter
Jack Bernstein
Main Cast
Additional Cast
Robert Clendenin
David Hodges
Synopsis
---
Monk and Natalie join Captain Stottlemeyer at a junkyard to investigate the murder of a small-time drug dealer named Chicklet. There was a witness, a homeless man named Gerald, who saw the murder and fled the scene after flagging down a police car.
While Monk looks around, a cocky young police sergeant named Ryan Sharkey implies that he's having an affair with the captain's wife, Karen. Stottlemeyer punches Sharkey in the face, and then leaves in a huff. Karen emphatically denies having the affair.
The next day, Monk and the gang talk to a suspect, a noteworthy criminal named Michael Karpov. Chicklet was about to testify in court against Karpov, so Karpov would have had a motive for killing Chicklet. But Karpov defiantly maintains his innocence.
After saying good-bye to Karpov, the captain, still suspicious of Karen, asks Monk to follow her and find out whether or not she's having an affair. As a result of his fight with Sergeant Sharkey, Captain Stottlemeyer is removed from the junkyard case and put into anger management classes.
Meanwhile, Monk, who has reluctantly agreed to follow Karen, spots her having lunch at a restaurant with another man. Natalie tries to take a picture, but she's interrupted before she can get a clear shot of Karen's companion.
Then, on the other side of town, the homeless man, Gerald, is confronted by the killer from the junkyard. The killer zaps Gerald with a stun gun and throws him and his pet mouse Devo out a three-story window.
Unfortunately for the killer, Gerald survives the fall and winds up in the hospital, where he assures Monk and Lt. Disher that he would be able to identify the killer in a line-up. Lt. Disher, who's now heading the case, arranges for a lineup that includes Michael Karpov.
Back at police headquarters, Monk and Natalie inform Captain Stottlemeyer that they did in fact catch Karen having lunch with another man. Stottlemeyer is convinced that it's Ryan Sharkey, and angrily goes in search of the young sergeant.
Meanwhile, Lieutenant Disher has included Sharkey in the line-up with Michael Karpov. Gerald is about to identify the killer, when Stottlemeyer busts in. In no time at all, Stottlemeyer and Sharkey are fighting, and the line-up soon descends into a full-scale donnybrook.
After things get settled down, Monk notices something interesting about Ryan Sharkey. Sharkey, who had been eating an apple, has been chewing his apple on the left side of his mouth. Sharkey explains that this is because Stottlemeyer hit him on the other side of his mouth at the junkyard. But Monk is quick to point out that Stottlemeyer, who is right-handed, would have hit Sharkey on the left side.
Monk has solved the case! Here's what happened: Sharkey was working for Karpov, and Sharkey was the man who killed Chicklet in the junkyard. Chicklet put up a fight before Sharkey killed him, during which Chicklet knocked out one of Sharkey's teeth, on the right side of his mouth.
When Sharkey heard the police coming, he knew that his blood and tooth would soon be found at the crime scene, and he would need to explain this. He decided to start a fight with someone. He knew Captain Stottlemeyer had a temper and would be easy to provoke, and once Stottlemeyer punched Sharkey, Sharkey's blood and tooth could be found at the crime scene and nobody would question it. After Monk's summation, Gerald steps in and quickly confirms that Sharkey was the killer.
When Karen hears that the captain has been fighting again, she goes to the police station. The captain tries to apologize, but it's too late. Karen has brought divorce papers. The man she's been seeing? A divorce lawyer. Unfortunately, when this case closed, it also closed the door on the captain's marriage.