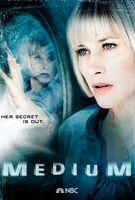 TV Info
---
Episode Premiere
April 13, 2009

Distributor
CBS, NBC

Genre
Drama

Show Period
2005 - 2011

Production Company
Picturemaker, Grammnet, Paramount Network


Cast and Crew
---
Director
Larry Teng
Screenwriter
Travis Donnelly, Corey Reed
Main Cast
Synopsis
---
Continued from "All In The Family" - In Allison's dream, Joe picks up Ariel from the ski trip she wasn't supposed to go on. While in the car they argue and get into a crash. Just as Allison wakes up from the dream, Joe and Ariel walk through the front door. Joe tells Allison he couldn't get Ariel to talk the entire ride home in the car, which is opposite of what Allison dreamt.
Marie turns five years old. Even thought it's Saturday, Allison has to go over to Devalos' house to do some work. Just as Allison heads off to Devalos', Bridgette tells Marie about a car accident that Allison was in while she was nine months pregnant with Marie. They were hit by a plumbing truck in an intersection.
Allison arrives at Devalos' house to find the front door slightly opened. She enters and eventually sees him standing in the living room, but not moving. As she enters, a man holding a gun shoots Devalos in the chest three times and then Allison. Just as the gun goes off, Allison wakes up in her car. She's nine months pregnant and has been hit by a plumbing truck -- the same accident scene that Joe had described earlier to the girls. Allison asks the plumber what year it is, he responds with "2004."
Joe rushes into the ER to find Allison with the doctor. He is shocked but happy that she and the baby are okay. In the car on the way back home from the hospital, Allison tells Joe she has returned to 2004 from 2009. But, Joe, not fully accepting her talent at that point, is hesitant and concerned about what she is saying.
Allison awakes from a nap on the couch after returning home from the hospital to a news conference on the television. Devalos is reporting on a case and alerts the public that Nathan Hunsecker has been arrested and charged with his wife's murder. Nathan is the man that shot both Devalos and Allison in 2009. Allison tries to explain all of this to Joe when he returns home, but he's not buying it.
Later that night in her dreams Allison sees Mrs. Hunsecker, Nathan's wife, meet a man she was having an affair with in a park. She tries to break it off, but he tricks her into following him into the park, where he kills her. The next morning, Allison calls the police station and gets an Officer Scanlon. Allison tells Officer Scanlon she knows that Nathan didn't kill his wife, but can't explain why.
Allison pays Devalos a visit at his local Tuesday lunch spot. She tries to explain to him that she works directly for him in the future, where he will rely on her talents, and that she has information on the Hunsecker case. She tries to prove she's from the future by explaining how she knew where to find him on Tuesdays. She tells Devalos that Nathan Hunsecker will kill him in five years for convicting him for a crime he didn't commit.
That night, Allison and Joe are packing her hospital bag when Officer Scanlon rings the doorbell and asks Allison to come down to the station for questioning. Despite his initial reaction at the diner, he sent a team to the park where they did find Mrs. Hunsecker's body, and she was in fact shot once in the head. When Allison can't provide a plausible explanation as to how she knew where to find her, he arrests her for obstruction of justice in the murder case of Mrs. Hunsecker.
Devalos explains to Allison that Nathan Hunsecker has admitted to second-degree murder and has taken a plea from the DA's office for his wife's murder. Allison tells Devalos that he is making a huge mistake taking Nathan's plea, as it will cost him both their lives in the future. While on the way home, Joe asks Allison to explain how she knows everything.
Nathan Hunsecker is meeting with his attorney to discuss the deal being offered by the DA's office. He's attorney tells him that his wife's body was found and that the DA is after him for the murder. To avoid the death penalty, he must take the plea. Hunsecker continues to tell his attorney he didn't kill his wife. The attorney turns out to be the man Allison saw kill Mrs. Hunsecker in her dream. Allison awakes from her dream.
The next day in court, the DA walks out with Hunsecker's attorney and Allison accuses him in the hallway after Nathan pleaded guilty. After Allison gets into a heated conversation, she goes into labor. Just as she is wheeled into the OR for a C-section, she awakes from a dream and is back in 2009. Joe has just returned from picking Ariel up from the ski trip again.
Before going back to sleep, Allison goes to speak to Ariel about time and how precious it is. She hopes that one day she will be able to understand why they didn't want her going on the ski trip. Allison then sets her alarm for much earlier to make sure she gets to Devalos' before sunrise.
Allison has told Devalos everything she learned from returning to 2004. Devalos then arrests Hunsecker's attorney, gets Nathan released from prison and tells him what really happened while apologizing for taking five years of his life. Nathan didn't want to believe it, but Scanlon shares the DNA evidence. Devalos and Hunsecker shake hands.
Allison, Joe, Ariel and Bridgette celebrate Marie's fifth birthday with cake and candles!