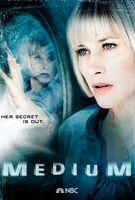 TV Info
---
Episode Premiere
January 07, 2008

Distributor
CBS, NBC

Genre
Drama

Show Period
2005 - 2011

Production Company
Picturemaker, Grammnet, Paramount Network


Cast and Crew
---
Director
Aaron Lipstadt
Screenwriter
Glenn Gordon Caron
Main Cast
Additional Cast
Rebecca Mozo
Marcus Chait
Lizette Carrion
Jane Lanier
Julie Dretzin
Synopsis
---
Little Ben Goldman's eyes widen as his father drags him through a toy store while yakking on his cell phone. A client pulls Ben's father into a phone conference, and when Ben pulls away to check out a marionette, his father lets go of his hand. A guy with a green denim jacket walks out with the marionette and Ben follows. Realizing Ben's gone, his father searches frantically. When Allison wakes up from this dream, Joe asks if she wants to call someone, but there's no one to call.
Allison and Joe wake up to the blaring strains of "Sixteen Going on Seventeen" from "The Sound of Music." Ariel is nervously preparing for auditions for the perfect part for her. She's not very confident since she's new in school and only a ninth grader. Allison tells her to wait to see that she didn't get the part before she gets upset, then notices a TV news bulletin that Ben is missing. There's a $20,000 reward for info that leads to his recovery.
DA Van Dyke is already consulting experts on his potential election, even though its six months away, and is refusing Allison's calls. Meanwhile, Scanlon is uncomfortable in his new job, Police PR in schools. Allison calls and begs him to not to hang up, even though he's not supposed to take her calls. She tells him about the green denim jacket, but Scanlon explains he's no longer a detective. He'll tell someone, but he can't control whether they'll listen or care.
Joe files for unemployment. At the supermarket, Allison's credit card is declined, adding to her misery. In the parking lot, she is drawn to a flyer on her windshield for Ameritip, which asks for help finding Ben, and offers $20,000 for info leading to his recovery. Allison calls and leaves a message using a false name. Later, Joe tells Allison that he was only awarded $240 per week in unemployment.
Allison has another dream: from a cage, Ben bounces to the beat of the Sugar Hill Gang, as his captor dances and begins stripping off his clothes. Allison wakes up horrified at the prospect of what's going to happen next. When DiNovi wakes up, she hears voices. Scanlon is practicing PR with puppets, and is hating his life. She reminds him that he's still a detective, advising him to go to the toy store after hours to work on the Ben's case. He can say the Mayor's Office sent him, and let her handle Van Dyke.
Allison gets a call from Cynthia Keener from Ameritip, who requests a face-to-face meeting. Allison is reluctant, but finally agrees to meet in the food court at the local mall tomorrow. Ariel runs up with big news - she's been called back for the play. Allison sits in the audience as Ariel nervously cases her older competition, Brooke, a shoe-in for the part. Ariel's friend Hannah points out Allison to Brooke, explaining that the reason she's there is that she already knows Ariel's getting the part.
Scanlon has the manager take him through the toy store after hours. Something red drips on his head from the mouse-infested storage floor above, and he finds Ben's bloody corpse in a doll box. Meanwhile, Ben's mother claims she just felt Ben's head on her chest - he came to say good-bye. Allison bolts awake with the knowledge that Ben is dead, but Joe doesn't think so, since he just watched the news. Allison calls Scanlon, but he doesn't answer, since Van Dyke has arrived on the crime scene.
Van Dyke wants Scanlon to keep his discovery out of the press until there's a lead, and he's going to wait to tell Ben's parents. Van Dyke assures Scanlon that a valuable man like him should be the leading investigator for his office, not lecturing students. In the morning, Allison is surprised to see nothing in the paper, and Ariel isn't as happy as expected about winning the part in the play. Joe calls his mother to ask for a loan.
Cynthia finds Allison at the mall without knowing what she looks like, explaining that she's intuitive. Although Cynthia wanted to become a nun, and was comfortable with vows of chastity and poverty, she had a problem with obedience. Then she became a cop, and later an investigator for Ameritips, where she's poor, chaste, and disobedient. Allison tells her about the green denim jacket, and that Ben's captor likes to dance. When Allison admits she wasn't on scene, Cynthia gets very mad and turns to leave.
Allison tells Cynthia to google her. She thinks Ben is already dead, since she saw his spirit visit his parents last night. Scanlon tells Van Dyke that they have no evidence. Ben was poisoned, and the poison leached all the fluid out of his body, but the lab doesn't know by what. Discounting Allison's green denim jacket tip, Van Dyke concedes to call Ben's parents and the media without a clue or lead.
Ariel finds Brooke in the auditorium singing "Sixteen Going on Seventeen," and her talent is undeniable. Ariel gives Brooke the part, and is surprised to learn that Brooke thinks Allison dreamt about it and made it so. Allison dreams about Scanlon finding Ben dead, but there's a dead mouse in the doll box instead of Ben. She's up at 6 A.M. calling Scanlon who still won't return her calls. Desperate, Allison calls DiNovi, who informs that Scanlon is already at the toy store, re-interviewing employees with keys.
Scanlon's interview is interrupted by Cynthia, who joins him for the duration. The interviews are interrupted a second time by Allison, who tells Scanlon about her mouse dream. Scanlon tells Allison that her dreams mean nothing to him, and she can't hang around, because he's just getting traction with Van Dyke. He agrees to answer her calls, and they both agree they miss Devalos. On a plane ride home, Devalos tells his wife Lily that he is going to open his own law practice.
Ariel insists that her director hear Brooke sing, and returns the part to its rightful owner. Scanlon is surprised when an unknown guy opens the store's warehouse door with a key, dancing to tunes on his iPod. It's the exterminator, back to pick up the mice he poisoned the other day. The poison makes them bloody and they must be removed before they stink up the joint. He wants to leave to get his other jacket. When Scanlon asks if the other jacket is green, the Exterminator pulls his gun, forcing Scanlon to shoot him.
Scanlon calls Allison to tell her that she was right about everything, and offers to talk to Van Dyke about getting her back on payroll part time. Allison's skeptical. She hangs up the phone to find Cynthia at her door with a check for $2500, by way of apology. Cynthia couldn't pay the entire reward since Allison's info didn't actually find Ben, but she wants to come to an arrangement, for which she'll pay using her own money. She thinks they can do each other a lot of good, since she's intuitive also.