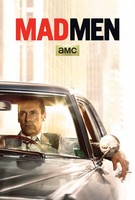 TV Info
---
Episode Premiere
March 25, 2012

Distributor
AMC

Genre
Drama

Show Period
2007 - 2015

Production Company
AMC


Cast and Crew
---
Director
Jennifer Getzinger
Screenwriter
Matthew Weiner
Main Cast
Synopsis
---
African-American protesters carry signs on the street in support of equal opportunity employment. Several Y&R employees lean out the office window and drop bags of water on them. Afterward, the protesters stride into Y&R -- a journalist in tow -- and catch the perpetrators red-handed.
At his new apartment, Don cooks breakfast for Sally, Bobby and Gene. Sally gives Don an early birthday present on behalf of the kids: a shaving brush. Megan walks in and greets the family. Later, Don drops the kids off at Betty's home but stays in the car.
In her bedroom, Joan rubs cream on her baby Kevin's bottom. When her mother Gail Holloway tries to help, Joan snaps but later apologizes: Joan says she hasn't slept and feels cooped up. Gail takes Kevin for a walk so that Joan can nap.
Peggy, Stan and Ken are in Pete's office to discuss the upcoming Heinz presentation. Everything is ready except for the coupon copy, which is Megan's job. (Megan and Don are both late.) When Don arrives, Roger shows him and Pete a newspaper article shaming Y&R for the water bomb stunt. Don suggests running a mock help wanted ad: "Sterling Cooper, an equal opportunity employer."
Megan confides to Peggy that she's throwing Don a surprise 40th birthday party. Peggy is skeptical, but Megan promises the party will inspire everyone to have sex. Peggy reviews the guest list, eliminating Duck Phillips.
Meanwhile, Joan's mother tries to dissuade Joan from going back to work. "Your husband's a doctor," she argues. Joan insists that SCDP needs her, and that she does not want to break her promise to go back.
Pete arrives at a lunch meeting with Mohawk Airlines to find Roger already there sharing drinks. Miffed at Roger for hijacking his meeting, Pete urges Roger to return to the office because of an "emergency."
In the conference room, Peggy's pitch for a ballet of beans fails to impress the Heinz executives. Don arrives and tells Heinz they will devise a new pitch. Peggy complains that he didn't fight hard enough for her idea.
Back at the office, Pete is overcome with anger over Roger's antics and accidentally walks into the pillar in his office. As his nose bleeds, he angrily tells his secretary Clara that Roger only flirts with her so that he can spy on Pete's calendar and poach potential clients.
On the evening of the surprise party, Don and Megan arrive at their front door to find late arrivals Roger and Jane bickering. Don feigns surprise at the room full of partygoers, and Roger confesses to ruining the moment.
As the guests become tipsy, Megan presents her birthday gift: She sings a French song, "Zou Bisou Bisou," and dances provocatively. The guests clap and whistle.