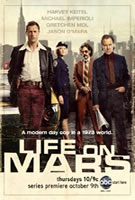 TV Info
---
Episode Premiere
November 06, 2008

Distributor
ABC

Genre
Drama, Mystery, Crime

Show Period
2008 - 2009

Production Company
20th Century Fox Television


Cast and Crew
---
Director
Michael Katleman
Screenwriter
Sonny Postiglione
Main Cast
Additional Cast
Steven Marcus
Emerald Young
Don Puglisi
Kay Walbye
Shirley Rumierk
Greg Butler
Babs Olusanmokun
Clarke Peters as Captain Bellow
Christian Wallace
Caleb Wallace
Renee Elise Goldsberry
Chad L. Coleman
Edi Gathegi
Jesse J. Perez
Synopsis
---
Over the radio, the words of disc jockey Brother Lovebutter fill the air, mourning the death of a young soul. Lt. Hunt and Sam arrive at a crime scene where a 9 year-old black girl, Keisha Davies, has fallen to her death from a six-story apartment building. Sizeable Ted tries to control the mostly African-American crowd gathering. Annie and Ray are also on the scene. Sam is startled to see that this was the girl whose picture he found and whom he had seen riding a bike in previous episodes.
Ray announces he has a suspect, a Puerto Rican named Angel Ramirez. He is the building maintenance man and Keisha enjoyed watching him work. The detectives are unhappy as this incident might worsen the already tense relations between blacks and Puerto Ricans in the city.
Sam and Ray rush to help Chris, who has chased Angel to St. Augustine's Church. Unfortunately, the priest, Father Tim, won't let them enter. Ray and Sam convince Father Tim they'll treat Angel fairly, and the priest escorts Angel, who wears a bomber jacket with a skull and halo on the back, to the detectives. In his back pocket, Chris finds a ripped piece of Keisha's desk. The detectives are rough with Angel as they take him into custody. Father Tim pleads again with the detectives to treat him fairly.
Suddenly, a black man tosses a pipe bomb towards the men. BOOM! The bomb explodes, throwing the detectives in all directions. Miraculously, nobody is hurt. Angel recovers quickly and runs off. Again, we hear Brother Lovebutter's voice, advocating violence among his listeners until Angel is caught.
All radios at the 125 are tuned to Brother Lovebutter and all televisions show the violence overtaking the city. Officers empty the cells of bums and vagrants to prepare for rioters. Sam runs into a wino, who mysteriously tells him he might already be dead, but just doesn't know it.
Hunt is furious about the pipe bomb and wants all resources directed towards finding whoever threw it. Sam asks why they can't look for Angel when three black men enter the squad room. The lead black man claims he knows who firebombed them. Seeing the lead man has a firearm, the detectives jump and draw their guns. Sam, however, recognizes him as a younger version of Fletcher Bellow, his Captain in 2008. Currently a detective, Fletcher tells them his two prisoners were responsible for the bombing.
Happy to see a familiar face, Sam warmly welcomes Fletcher. This rubs the 1973 Fletcher Bellow the wrong way, as he doesn't know Sam at all. The detectives question the two perps, whose tattoos betray their membership in the Black Liberation Army. The perps admit they don't have Angel, but there is a price on his head.
Fletcher meets the beautiful Criminal Defense Attorney, Denise Watkins, at the front desk. Denise treats Fletcher with disdain and asks to see her two clients. Sam knows Fletcher will marry Denise one day, but stops himself from telling him.
Instead, he heads to the Lieutenant's office and finds his fellow detectives filing out. Ray explains the officers have been given the "option" of killing Angel Ramirez if they find him. Sam is horrified, and enlists Fletcher's help in finding Angel.
At the church, Father Tim is more interested in why Sam has left his faith than answering any questions about Angel. Sam answers it's because his father left on his fourth birthday and never came back. Father Tim believes there's a reason Sam is searching for an Angel at this point. All he's willing to say is that Angel was seeing someone.
Sam and Fletcher convene in Sam's car. As they listen to Brother Lovebutter for clues, Fletcher discloses that his own father left when he was a child and he joined the force in order to straighten himself out. Sam relates that he was a troubled child, too, but a black policeman taught him right from wrong and helped him join the force. It's obvious he's talking about Fletcher. Brother Lovebutter interrupts them, putting out word of an East Village alley where Angel has been spotted. Sam and Fletcher rush to the scene, but find themselves surrounded in the alley by a dozen black men with guns. One of them, Suede, informs them they're now prisoners of the BLA.
Having tied up Fletcher and Sam at the BLA hideout, Suede explains that if the police capture Angel alive, he plans to exchange the cops for the Puerto Rican man. But if Hunt's men happen to kill Angel, they have no reason to keep the Fletcher or Sam alive. Denise Watkins enters the hideout, demanding Sam and Fletcher's release. As she leads the detectives down a hallway to see Brother Lovebutter, Sam pushes Fletcher to ask Denise on a date. Of course, given the inappropriateness of the situation, she rejects him.
At the end of the hallway, Denise opens a door. Sam and Fletcher are introduced to Brother Lovebutter... who happens to be a woman! Brother Lovebutter apologizes about the kidnapping, claiming she wasn't aware of that plan. Sam and Fletcher plead with her to stop broadcasting Angel's whereabouts so the police can do their job. They convince her to stop for 24 hours.
Before leaving, they borrow Lovebutter's microphone to broadcast a message, telling Angel to turn himself in. Angel immediately calls the switchboard. Sam and Fletcher listen to the background noise while Angel tries to tell his story, but Hunt interrupts by calling on the other line to threaten Sam. Angel hangs up. From the background noise, Sam surmises that Angel is at Port Authority to catch a bus.
Sam and Fletcher race to beat Hunt, Ray and Chris to Angel. They see someone wearing a leather jacket identical to Angel's. Hunt is the first to catch up -- he grabs the jacket and turns Angel around, only to see that he's caught Marta Ramirez, Angel's pregnant girlfriend.
The team questions Marta at the precinct. With Fletcher's coaxing, Marta that the only reason Angel is still in New York is to attend Keisha's candlelight vigil. She insists he would never have hurt the girl. Sam makes it a point to show his appreciation for Fletcher's work, but the only reaction is a racist comment from Ray. Sam is shocked that Fletcher refuses to fight the racism, but Fletcher explains he'll never get ahead by making waves.
That night, members of the African American community, the BLA, and the detectives of the 125th converge at the vigil. As people from the crowd yell out their condolences for Keisha, Sam begins to hear people yell, "We miss you, Sam" and other phrases, as if the vigil were for him. Some in the crowd begin to fight, and the vigil turns violent. Sam picks up a newspaper -- it's from 2008 and the headline reads, "Cop Killed In the Line of Duty." Sam searches for the article, but the newspaper in his hand suddenly snaps back to one from 1973.
Sam snaps out of his temporary delusion to see a figure on a rooftop. He and Fletcher race to the roof and find Hunt and Ray, guns drawn on Angel. As Hunt takes aim at Angel, Sam draws his gun on Hunt, causing Ray to aim at Sam, causing Fletcher to aim at Ray. The four detectives find themselves in a standoff.
The men lower their weapons as Sam convinces Hunt to at least let Angel tell his side of the story. Angel explains that Keisha and he were on the roof while he was painting. The girl was trying to catch a butterfly but got too close to the ledge. Attempting to save her, he grabbed her dress. But it tore and she fell. Angel blames himself for her death, for not acting fast enough.
Hunt believes the story, but doesn't think it would stop the violence in the city. He still believes the only solution is Angel's death. We cut away from the rooftop and hear a single gunshot.
Hours later, the violence has subsided as Angel's body, covered by a blood-stained sheet, is loaded into an ambulance. Sam enters the ambulance to pay his respects. There, he pulls the sheet off of Angel, who's not really dead. The "blood" was actually paint, and Fletcher is driving the ambulance. Angel tells Sam his intervention was a miracle; that he prayed to God, who sent Sam. Fletcher drives the ambulance to the Port Authority, where he and Marta can meet and escape the city.
Sam visits the church to speak to Father Tim only to find there's a police funeral in progress... in 2008. He expects to find himself in the casket, but it's Fletcher's body instead. He sees Maya consoling Denise. The wino from earlier approaches Sam, who explains that he heard Sam's prayers, and this is one last chance to say goodbye to at least one of his fathers. The Wino takes Keisha's hand and exits the church.
Back at the 125, Sam finds Fletcher, who was waiting for him. Sam appreciates the opportunity to say goodbye to his mentor. That night, Sam prays to God for help to find his way home.