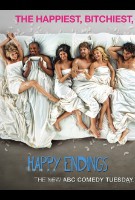 TV Info
---
Episode Premiere
October 26, 2011

Distributor
ABC

Genre
Comedy

Show Period
2011 - 2013

Production Company
Sony Pictures Television, FanFare Productions


Cast and Crew
---
Director
Fred Savage
Screenwriter
Daniel Libman, Matthew Libman
Main Cast
Additional Cast
Will Greenberg
Brock Charles
Marcus Folmar
Matt Besser
Synopsis
---
It's time for the Monster Mash Pumpkin Bash! Everyone is psyched to hit the coolest Halloween party in the city, except for those who are headed for the suburbs. Brad is bummed when he realizes that Jane volunteered them to housesit for some friends. More on that later.
Penny's boyfriend of three weeks dumps her after she asks him to be part of a "couples" costume. The fact that she wanted to go as a new mom while the guy acted as an infant strapped to her front-facing baby carrier may have scared him off. Max volunteers to be her baby. It's the only way he can get into the party since his Lady Gaga meat suit went bad.
Think the fact that Alex is violently ill is going to keep her away from the hottest Halloween party in Chicago? No way. She dons a super sexy Marilyn Monroe outfit. Alex looks completely shagadelic! We threw in some Austin Powers wordplay because Dave dresses up as everyone's favorite International Man of Mystery. Too bad people keep mistaking him for Elton John.
Penny meets a great guy dressed like Abraham Lincoln. Honest! They hit it off immediately, but it's hard for them to get any alone time with baby Max dangling by Penny's belly. The slow dances are truly awkward. Things get even more complicated when Max meets a guy he likes, too. They need to split up. The only way to do this is if Max dons the one-piece bathing suit Penny has on underneath her outfit. Good thing it's a costume party!
Alex's sexy Marilyn outfit along with her cold-induced raspy voice attracts a hot guy dressed as a Chicago Cub. Unfortunately, the beefy ballplayer thinks she's a dude in drag. Dave tries his best to break this to his ex, but Alex thinks he's just jealous. She changes her tune when Mr. Cub exclaims that he can't wait to see her penis.
Dave convinces Alex to make the most of things by taking part in the drag queen contest. She's good enough to take second place right behind Max, who was rockin' it in Penny's bathing suit.
Brad refuses to wear his egg costume during his suburban excursion. Now Jane feels a little foolish standing next to him dressed like a giant piece of bacon at Breezy Acres, which happens to be the name their friends bestowed upon their house. Brad is not feeling the love for the suburbs until he sees that there's a beautiful hot tub in the backyard. Too bad he can't dive in until they hand out all the Halloween candy.
Trick-or-treaters galore swarm to the front door. Brad has no time to deal with candy-craving kiddies. He wants to hit that hot tub. Now! Brad leaves the entire bowl of candy on the front porch thinking suburban children will follow the honor system. It's scary how wrong he was.
Brad and Jane hit the store for more candy. They return to find Breezy Acres breezier than before because someone stole the front door. Brad comes across a kid who happens to be carrying a door. But that's only because he's dressed a member of The Doors. Clever, right? Brad doesn't think so, as he swipes the kid's costume. The new door fits perfectly...except for that foot-long opening on the left side. Happy Halloween!