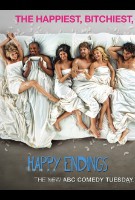 TV Info
---
Episode Premiere
May 18, 2011

Distributor
ABC

Genre
Comedy

Show Period
2011 - 2013

Production Company
Sony Pictures Television, FanFare Productions


Cast and Crew
---
Director
Joe Russo
Screenwriter
David Caspe
Main Cast
Additional Cast
Jen Kober
Amad Jackson
Travis Van Winkle
Roz Witt
Synopsis
---
Ever wonder what happened after Alex ditched Dave at the altar? We jump back a bit to the day Dave moved in with Max. The transition would have been a lot easier if there wasn't bird poop on the floor of his new pad. That means there's a live bird somewhere in the rafters. Hey, at least the place allows for pets!
Max tries to get his new roommate to embrace the change that's befallen him. It won't be easy. A way-drunk Dave has a rather pessimistic view of the future. He feels life would be different if he was more like Steven Seagal. He wants to find the guy who rollerbladed into his wedding and put him Under Siege. An intoxicated Max thinks it's a great idea to go Out for Justice. If only they knew where to find rollerblade guy.
Dave and Max break into Alex's shop (they are obviously Above the Law) to track down rollerblade guy's info. His name is Bo and he lives with his mother. It's hard to go Seagal on a guy with his mom in the next room. Bo is very apologetic and seems to be just as heartbroken as Dave. This makes it even harder to leave Exit Wounds on the dude. Exit Wounds, by the way, is probably the last semi-decent Seagal flick that was made.
Max can't take all the bleeding heart conversation, so he sucker punches Bo. Dave is shocked, then he's scared once he realizes Bo is more Seagal than the two of them will ever be. In other words, Bo knows jujitsu. This guy would be very Hard to Kill. Not good.
Alex believes her relationship with Dave was a love drift. It's a thing. She heard it in a book. To help get her life back in high gear, Alex signs up for an intense cooking class. Penny is her reluctant companion until she flirts with the recently-divorced guy flambéing next to her.
Alex tries to be Penny's wingman. Sadly, she's no Goose. In fact, Alex is the worst wingman ever. Soon cute cooking guy is reminiscing about his ex and scrambling for the door. Penny finally lets Alex know that she can't take any more girls' nights out. This isn't about Alex embracing life, it's about the fact that she can't handle being alone. Penny apologizes for being so harsh, but Alex knows it's the truth.
Jane is worried that she and Brad may be trapped in a love drift, too. She wants them to connect more by going to the same place where they had their first date. Brad would much rather stay home and watch The Bachelor. There's a long wait for a table at the restaurant, so Jane wants to kill time by talking about their darkest fears. Sounds like fun!
Later, Jane asks what their lives will be like five years from now. Brad believes they'll have a nicer house, kids and a robot (if that's an option by then). Jane is upset that her hubby isn't taking this date seriously. She storms out of the restaurant leaving a confused and famished Brad behind. Jane finally fesses up that she's worried about ending up like Alex and Dave. Brad assures her that won't happen.
At the end of an eventful night, the friends realize things are different now, but some things stay the same. Of course, we're talking about how nice it is to stay home watching The Bachelor or, perhaps, Under Siege 2.