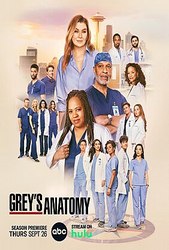 TV Info
---
Episode Premiere
May 08, 2008

Distributor
ABC

Genre
Drama, Comedy, Romance

Show Period
2005 - now

Production Company
Mark Gordon Co., Touchstone TV, ShondaLand


Cast and Crew
---
Director
Julie Anne Robinson
Screenwriter
Joan Rater, Tony Phelan
Main Cast
Additional Cast
Benny Ciaramello
John M. Jackson
Zilah Mendoza
Synopsis
---
The nurses at Seattle Grace, who've almost all slept with Mark, refuse to work with him any longer. This necessitates a visit from the nurses' union rep, whom Richard is surprised to see is Adele. To avoid potential lawsuits, the hospital issues a new "Date and Tell" policy, which means that everyone will have to submit a report if they're involved with a coworker.
Richard assures Adele that he's learned to delegate and even has an intern now. Of course, he doesn't, so he recruits George. George's first duty is enforcing the new policy by questioning everyone about whom they've been sleeping with. Rose says she doesn't need to fill out the form.
Alex is angry that Izzie is telling him to slow down with Ava, and she's sorely tempted to tell him that Ava isn't really pregnant. She refrains, even though he interprets her disapproval as a critique of his chances as a father.
Cristina's old feelings about Burke are stirred up when she learrns he's won a prestigious medical award. Meredith tells Cristina that Burke only won his award because of her. When that doesn't cheer her up, Meredith confesses she's in therapy over her breakup with Derek and that does make Cristina feel a little better.
The transplant case that Cristina's missing is that of a Kyra, a longterm heart patient who's been living in a plastic bubble for weeks but for whom they finally have a heart. Alex is running a fever, so he can't scrub in. Erica orders him to sit with the family while Cristina scrubs in in his place. Erica asks Cristina how she feels about Burke's award, assuming they finally have something in common, but Cristina doesn't say a word. Erica is not only jealous of Burke's winning an award she was also up for, but of Callie's rekindling her fling with Mark.
Mark asks Rose to speak to the nurses on his behalf, but she refuses. Mark knows that Rose has yet to sleep with Derek and says he hates women like her, who withhold sex to hang onto a man. Rose goes to George and, in front of Meredith, says she wants to fill out the form now. George points out, in front of Lexie, that Alex hasn't listed her on his form. She's horrifed when Alex says he forgot. Miranda is mad at Richard for exempting her from the questionnaire, saying that his deciding she couldn't possibly be sexually active is an insult.
Kyra's lung collapses, so Alex goes inside the isolation barrier to help her. He saves her life, but because he's exposed her to his virus, Kyra cannot have a heart transplant today. She starts to cry when told she has to stay in isolation, but Alex arranges for her children to be masked and gowned so they can visit her inside the bubble.
Richard orders Cristina to fill out the form, even though Burke is no longer at the hospital. She finally lets her feelings about Burke spill out, pointing out how she performed his surgeries when he couldn't and yet she gets no recognition. And now Erica barely lets her hold a clamp.
Meredith confesses to her therapist that she's having trouble concentrating on her clinical trials when she's with Derek. Reminding herself that he's with Rose now, she meets him to begin clinical trial #5 on a young military vet named Darren. His father has summoned Todd, a platoon buddy to be there for moral support. Todd is much more than a friend, as Darren's dad discovers when he catches them kissing and he orders Todd to leave.
Meredith encourages Darren to see Todd, who is still waiting for him, but he refuses, even turning down a possible final farewell before surgery.
The surgery is a success and Derek offers to stay with Meredith and monitor the patient over night. Meredith tells him he should go with Rose, who is waiting for him. Meredith watches Darren alone, but he crashes and dies. She's informing the father when Todd approaches and is devasted to learn of his death. Darren's father says goodbye to his son and, as he's leaving, nods at Todd that it's okay for him to do the same and Todd gives Darren a private farewell kiss. Derek brings Meredith a bottle of champagne for when they finally save a patient and can drink to all the ones they lost. Her therapist compares her to Darren, dying alone while her lover's in the next room, and wants to get at the root of why she and Derek couldn't stay together.
Erica tells Callie she's not mad at her for sleeping with Mark, but she is upset that she didn't tell her. Callie admits that she's been avoiding Erica and they both laugh when Callie tells her about Addison's idea that they were a couple.
George realizes he's been used when Adele remarks on Richard's "progress" at learning to delegate. George tells Richard he resents having given up a surgery and alienating all his friends to help the Chief get back together with his wife, and resigns as his intern. Richard says he'd like it to be a real job, one he think George would be perfect for. George keeps the job and Richard and Adele end up in bed together again.
Miranda gets the nurses to go back to work by telling them to just stop sleeping with him. Mark is upset about being labeled a "whore" by Miranda, while Derek admits he finally slept with Rose, but the whole time he was thinking of Meredith.