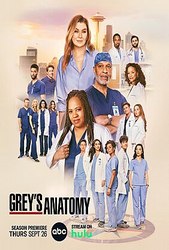 TV Info
---
Episode Premiere
May 01, 2008

Distributor
ABC

Genre
Drama, Comedy, Romance

Show Period
2005 - now

Production Company
Mark Gordon Co., Touchstone TV, ShondaLand


Cast and Crew
---
Director
Mark Tinker
Screenwriter
Stacy McKee
Main Cast
Additional Cast
Synopsis
---
Addison returns to Seattle Grace for a prenatal surgery and it seems nothing has changed. She comes across Meredith and Derek and assumes they're still together. Miranda assures Addison that several things have changed, including Derek and Meredith breaking up.
The case that has brought Addison back is extremely rare: a fetus's heart is growing outside its body. They'll deal with it in a two-step surgery: Addison will deliver the baby and Erica will work on the baby's heart.
Alex is assisting Addison on the surgery and has little time to spare when Ava shows up unexpectedly, even when she announces that she's pregnant. She next goes to the clinic, where Izzie's interns examine her. Izzie considers Ava's reappearances "stalker-like," but Alex lies and says he never slept with Ava.
Cristina is jealous of Callie's friendship with Erica, and Izzie is jealous when she finds out that George had a party that all her interns are now hungover from. She invites herself along when Lexie mentions that they're having another intern get-together that night to play darts. The other interns threaten to drop out if Izzie comes, since none of them can stand her.
Callie introduces Addison to Erica and announces that her divorce -- which is news to Addison -- is the best thing that ever happened to her. Addison asks Callie if she and Erica are a couple, since they really seem like one, and Callie nervously denies it. Callie asks Meredith and Cristina if anyone ever thinks they're a couple and they say no -- they're too busy having sex with guys for anyone to think that.
Fed up with trying to get on Erica's good side on her own, Cristina gives Callie an ultimatum: Make Erica put her on her surgery rotation or Callie has to move out of Cristina's apartment. Erica happily agrees to Callie's request, as long as Callie buys drinks at Joe later.
It's the first day of Meredith's clinical trial on Philip, which involves injecting a virus into his brain tumor. His bizarre behavior now includes trying to find a second husband for his wife, Jennifer. Meredith tells her it's just the tumor talking. His conditions worsens: suddenly he can't see and Derek decides they need to do the surgery immediately.
Addison wants to know what happened between Meredith and Derek, but all he'll admit is that he's now seeing someone else. He also says that he's afraid of disappointing Meredith since the surgery he's doing for her trial is experimental.
Before he's wheeled into surgery, Philip tells his wife he doesn't want to leave her alone, but he dies on the operating table. Meredith confesses that she got her hopes and Derek says he did too. Still, they shake hands and she tells him it was a pleasure working with him today.
During the fetal surgery, Addison asks Miranda who Derek's unlucky rebound woman is and is told that it's the nurse to her right, Rose. They successfully deliver the baby, but the mother is hemorrhaging badly, so Addison stays with her. Erica tells Alex that they could lose the baby if Addison doesn't join them soon, so Cristina offers her assistance. Even though Cristina has helped, Erica has praise only for Alex. The baby's heart is successfully enclosed inside its chest just as Addison joins them.
The baby and mother are both saved, so Addison wonders why Miranda is sad. Miranda says if she told her that Tucker left and that her heart is broken, she would fall apart.
Izzie helps a couple who are pregnant but don't want the baby: The mother is HIV-positive and thinks she can't have a baby without infecting it. She tells the couple they can still have the baby and the husband is overjoyed but the wife is furious since she refuses to take the chance of passing on the disease. She orders Izzie to schedule an abortion, as she'd originally requested.
George informs Izzie she can't come to the dart party as the interns don't want to get drunk with their boss. He reminds her she's no longer an intern herself. Realizing that she's been hiding from her duties, she gathers her interns and marches back to to tell the HIV-positive woman that if her only reason for having the abortion is her disease, she should know there's a 98 percent chance that her baby won't be infected. The woman is overwhelmed, but relieved to find that she can be a mother after all.
Richard offers to rehire Addison but she tells him he needs to fill her position: She's not coming back.
At Joe's, Addison's words are still on Callie's mind, so when Mark asks her to dance, she eagerly accepts.
Cristina asks Erica why she won't teach her. Erica tells her to stop seeking her approval. When Addison finds Erica's dismissal harsh, Erica says, "She reminds me of me." They watch Callie dance with Mark: Addison says, "He's pretty," and Eric says, "She's beautiful." Erica watches jealously as Callie leaves the bar with Mark. Before she leaves, Addison asks Meredith why she let Derek get away.
Just as Alex seems to be reconsidering his relationship with Ava, Izzie looks at Ava's paperwork: She's not pregna.