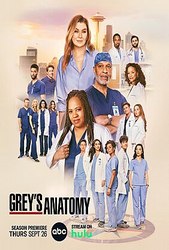 TV Info
---
Episode Premiere
April 24, 2008

Distributor
ABC

Genre
Drama, Comedy, Romance

Show Period
2005 - now

Production Company
Mark Gordon Co., Touchstone TV, ShondaLand


Cast and Crew
---
Director
Rob Corn
Screenwriter
Zoanne Clack
Main Cast
Additional Cast
Lauren Stamile
Clea DuVall as Jennifer Robinson
Steven Flynn
Troy Westbrook
Cheech Marin
Jason O'Mara as Phillip Robinson
Synopsis
---
Meredith is going to the hospital's counselor, but so far has refused to say anything. She admits she hasn't slept since her breakup with Derek but says that's not the reason.
George and Lexie have gotten an apartment together, but it's overrun by cockroaches.
All the residents are engaged in a surgical contest that is so intense, none of them have left the hospital in the last two weeks.
Derek admits to Mark that he hasn't yet slept with Rose. He insists that he's waiting until they're more serious. Mark, who has struck out lately on his own, wants to see Derek single again and suggests that they start their own contest, with women as the scoring system. Derek refuses.
Cristina, who's still trying to get on Hahn's good side, is astonished to find out that Callie is now one of her best friends and is even on a first name basis with her.
Izzie is 26 points behind the other residents as she's mostly been watching, and not participating in, surgeries. So when a man with a sprained ankle comes in, Izzie decides it's a "medical mystery" worth 80 points. She snatches up the patient, leaving Cristina, Alex and Meredith with nothing -- that is, until a car drives up. The driver, who drove straight here, says they were out camping and he tried to pet a bear cub, which led to his brother being mauled by the mama bear. Cristina is helping the injured brother out of the car when his intestines spill into her hands. The driver is not hurt, other than a severely bitten hand. High on pain meds, he tells Meredith that his new wife was his "rebound girl." The wife tells Meredith she never expected anyone as wonderful as him to marry her. She herself has a torn scalp, which proves to be easily stitched up.
During the surgery on the bear-attack victim, Alex and Cristina fight over who gets to stitch him up, since it's a point a suture, so Miranda says they can both do it.
Izzie quizzes the man with the sprained ankle about his symptoms and is sure she's hit the contest jackpot when he reveals other mild health complaints. She orders a battery of tests while George, who's bitter about not being able to take part in the contest, tells her it's probably just a sprained ankle. She diagnoses a swollen knee as well, so Callie advises a spinal tap. The man is now sure he's dying but Izzie assures him that he's in good hands.
Meredith hands George the points-rich scalp suture because she wants to work on the man with the hand injury. She suspects that his sudden marriage and his irrational impulse to touch a bear cub might mean he has a brain tumor. George feels she's also blowing a minor case out of proportion like Izzie -- or using it as a reason to see Derek.
Lexie starts assessing everything in the hospital as something she can take home to the apartment. She's eyeing a vase of flowers when she overhears flirty banter between Rose and Derek. After Derek leaves, Rose confesses that she's totally smitten but trying to play it cool. "I love him," she announces out of the blue, just in time for Meredith to hear. Meredith insists she's fine, but tells Lexie to stop stealing things.
Miranda calls Izzie on running unnecessary tests to win the contest, but Izzie convinces her that there may be something major here to diagnose.
Meanwhile, Meredith examines her patient and when she determines that he's lost most of his peripheral vision, she triumphantly shouts "Tumor!" The man thinks she's trying to make him feel better about doing something as stupid as touching a bear cub and she explains that his other symptoms -- including making sudden, rash judgments -- are indicative of a tumor. His new bride takes offense, realizing she's one of those rash judgments and insists they do an MRI to prove Meredith wrong.
A visibly impatient Cristina has been rushing from her suturing to update Erica on the surgery. Erica asks if winning the contest is more important than watching an important cardiac procedure and Cristina decides to stay.
Izzie is distraught that she can't figure out the "mystery" of her case and tells George that great doctors have an instinct about these things. She's sure about her medical instincts because lately her personal ones have been awful, she says bitterly, including sleeping with George.
Meredith shows George the brain scan that proves she was right about the tumor, partly to gloat but mostly to ask him to take the scan to Derek for her.
The bear-attack victim crashes and they can't save him. Richard informs the brother, who is devastated to have caused the whole situation. When Meredith tells him he has an inoperable tumor, he responds, "Good. I killed my brother." The wife asks Meredith if she's just a symptom too, like the bear cub. Meredith says she's the only one who can know that for sure.
Izzie's patient is outraged when he learns that his battery of tests have showed nothing more major than the flu. All Izzie can do is prescribe rest and run away before he throttles her.
Because she's solved a major medical mystery, Meredith wins the contest. Her prize is a sparkly pager, which gives her the right to take any surgery she wants from anyone else.
Down on herself for losing, Izzie welcomes Richard's criticism for wasting thousands on unnecessary tests. Instead, he tells her to be proud of her efforts and that he lost his own resident contest by two points.
Cristina finds Callie and Erica bonding over wine at her apartment and realizes she's not welcome to join in.
Lexie reveals her revamp of the apartment and says she's done it all for George, because she needs him to be her friend and this to be her home.
Meredith researches the kind of tumor her patient has and wants to do a clinical trial -- but she needs a neurosurgeon to oversee it, so she asks Derek. She tells him this is about saving lives and not about the two of them. And she finally starts talking to her therapist.