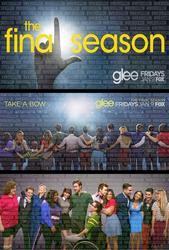 TV Info
---
Episode Premiere
March 07, 2013

Distributor
FOX

Genre
Comedy, Musical

Show Period
2009 - now

Production Company
Ryan Murphy Productions


Cast and Crew
---
Director
Ian Brennan
Screenwriter
Michael Hitchcock
Main Cast
Additional Cast
Valerie Mahaffey
Don Most
Vanessa Lengies as Sugar Motta
Samuel Larsen
Jacob Artist
Synopsis
---
In a black-and-white art deco fantasy sequence, Will and Emma duet Fred Astaire-style to "You're All the World to Me" from Royal Wedding, singing and dancing on the walls and ceiling. But Will wakes up with a start, revealing that it's all a dream after falling asleep with the TV on.
Will's inspired to assign his students a movie-themed assignment - singing songs from their favorite films - while Artie's already got movies on the mind and is about to make his first micro-budgeted film. Finn urges Will to amp up his search for Emma, but Will insists that she should have her space and that Emma will come back to him if and when she's ready. Sue reveals that Emma's used all her vacation days, but if she has any insight into her whereabouts, she refuses to tell Finn, so Artie advises him to pressure Emma's parents to give up her location.
Brittany and Blaine propose kicking off the glee club's guys vs. girls mash-up week with a shared movie number before the gender showdown, with Blaine offering up "Shout" as it appeared in National Lampoon's Animal House by Otis Day and the Knights (a performance that marks Glee's 500th musical number).
Santana suffers through a snowbound weekend in New York with her roommates geeking out over musical theater, and her open hostility unnerves Rachel - but not as much as her baby-themed movie marathon choices, as Rachel continues to sweat out the possibility that she's pregnant. Kurt opts for Moulin Rouge!, envisioning himself dueting with Blaine on "Come What May." Still, as they watch the real movie scene, Kurt tears up but tries to conceal the reason from possible new guy Adam, though Santana bluntly reveals that it was Kurt and Blaine's dream to sing the song to each other at their wedding.
Santana next expresses her misgivings about "plastic" Brody, revealing that she found a large stash of cash and a pager among his belongings. She's convinced he's a drug dealer, and when Rachel attempts to prove otherwise, Brody's evasive behavior only bolsters Santana's theory.
Rusty and Rose Pillsbury are lured to believe that an anti-ginger-bullying club founded by Emma is floundering, with Finn and Artie both posing as redheads to wheedle Emma's address out of them.
Paying homage to Tom Cruise films, Blaine, Artie and Joe don flight suits for their mash-up, leading off with Kenny Loggins' "Danger Zone," joined by Sam, Jake and Ryder stripped down to their tighty-whiteys on Bob Seger's "Old Time Rock & Roll." As the glee girls prepare their own number, Kitty apologizes for her attempts to bring down Marley, believing both of their relationships with Puckerman men will bond them together in the future. But Marley confesses that Ryder's kiss has thrown her, although she still likes Jake. A seemingly understanding Kitty suggests that men are like diamonds: "Collect as many as you can." The girls perform their mash-up of "Diamonds Are a Girl's Best Friend," done Marilyn Monroe-style from Gentlemen Prefer Blondes; and "Material Girl," from Madonna's own Monroe tribute video.
Adam asks Kurt if he and Blaine really did share the Moulin Rouge! number, and when Kurt's lingering feelings for Blaine are exposed, Adam explains that he can't compete with a fantasy. But when Kurt says he's trying to get over Blaine, Adam suggests they go to the sappiest movie they can find and make that their film.
Finn tells Will that Emma's been staying with her sister and tries to inspire Will to make a big movie-style romantic play to win her back. Will parks outside the house where Emma's holed up, singing Peter Gabriel's "In Your Eyes" complete with "Say Anything"-type boombox, with New Directions backing him up, and draws Emma to the window. Will and Emma try to work out just why Emma bolted from the wedding: she felt that she barely knew him anymore when he returned from Washington, D.C. Will suggests starting to get to know each other all over again, beginning with a Friday-night movie date.
Still pushing her Brody theories, Santana reveals to Rachel that she knows about her pregnancy test, and Rachel breaks down. Meanwhile, Jake has Marley meet him in an art classroom, where he confesses that he didn't come up with all his impressive Valentine's Day touches on his own. To prove that he is committed to their romance, he sings Marley her favorite movie song, "Unchained Melody," done Righteous Brothers style from the film Ghost, complete with pottery wheel - but Marley still can't help imagining herself with Ryder. She confesses that she always knew Ryder was the one and then reveals that she and Ryder kissed, prompting Jake to storm off.
Will announces the winner of the movie mash-up competition, once again proclaiming everyone a victor. He also asks to speak privately with Finn, thanking him for helping save the day with Emma. Finn breaks down and reveals that he impulsively kissed Emma, though it didn't mean anything, and urges Will to punch him for messing everything up: "I deserve it." But Will, thrown by the revelation, simply walks away.
Meanwhile, New Directions closes out their lesson with an Artie-led rendition of Kenny Loggins' "Footloose."