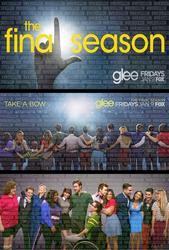 TV Info
---
Episode Premiere
February 14, 2013

Distributor
FOX

Genre
Comedy, Musical

Show Period
2009 - 2015

Production Company
Ryan Murphy Productions


Cast and Crew
---
Director
Brad Falchuk
Screenwriter
Ian Brennan
Main Cast
Additional Cast
Synopsis
---
A guilty Finn confesses to the visiting Rachel - who's in town for the Valentine's Day wedding of Will and Emma - that he kissed Emma in a heated moment. Rachel tries to calm him down, advising him to tap his acting skills by playing the part of supportive best man. Finn admits his fear of facing Will with Emma, but the stress of wedding planning has her in frantic OCD overdrive - she snaps at him to play his role and otherwise give her a wide berth. Will returns to McKinley from Washington D.C., and he asks Finn to sing a song in lieu of a best man speech, while the glee kids will provide the rest of the wedding entertainment.
Marley gives Jake an early Valentine's Day gift, and Jake fields less-than-helpful suggestions from his brother Puck, but Ryder offers a winning tip: stretch the gifting into a Valentine's Week. In class Jake offers a tribute to Marley with the glee guys backing him: the couple duets on Marvin Gaye and Tammi Terrell's "You're All I Need to Get By." Meanwhile, Finn and Rachel find themselves experiencing some familiar chemistry.
As the chapel fills up, Santana's still stinging from losing Brittany to Sam, while Quinn is feeling burned by men in general. Assigned to be the escort of Emma's niece Betty ("The Glee Project" Season 2 runner-up Ali Stroker), Artie's surprised to find the acerbic Betty less than thrilled to have him as her date, even though she's also in a wheelchair. Jake scores again with Marley by giving her peonies, her favorite flower, but Jake's successes are really fueled by Ryder's close attention to every detail about Marley. Kurt and Blaine have a steamy backseat hookup in the parking lot, but Kurt balks at labeling it a reunion.
As Emma preps to walk down the aisle, Sue shocks her by wearing an identical wedding gown - revenge on Will for letting Finn run the glee club. Emma has a panic attack as the big moment nears, with "Getting Married Today" from Company providing a musical backdrop to her meltdown as she jumps in a taxi and flees the church. In full bridal regalia, Sue walks down the aisle to deliver the crushing news to Will.
Finn's guilt weighs heavier when Will assumes responsibility for Emma's cold feet, blaming himself for leaving her alone so long. Will insists the already-paid-for reception should go on, and Santana and Quinn bond there in their anti-romantic moods. Ryder slips Jake some jewelry to give to Marley but is put off when Jake suggests that he and Marley will be going "all the way" after his successful Valentine's courtship. Jake assures him Marley is special and reiterates his promise not to hurt her, but Ryder's having trouble putting his own feelings for Marley aside.
Kurt and Blaine entertain the reception with Depeche Mode's "Just Can't Get Enough," while Rachel assures Finn that Emma's reaction was too extreme to be caused simply by his kiss. Artie takes another shot at Betty, breaking down her walls and scoring a dance with her. When Tina angrily tells Kurt she doesn't approve of the way he's been treating Blaine, Kurt accusing her of being "hagged out," creepily in love with Blaine.
Sue takes it upon herself to throw Emma's bouquet. It lands in Rachel's arms, prompting Finn to make a heartfelt pitch: despite her no-strings relationship with Brody, he believes he and Rachel are ultimately meant to get back together. They duet on Bob Seger's "We've Got Tonite," setting the mood for a series of romantic hotel hookups after the reception: Rachel and Finn, Kurt and Blaine, Jake and Marley, Artie and Betty, and - most surprisingly - Santana and Quinn.
Afterward, a happy Blaine wants Kurt to recognize they're back together, but Kurt remains noncommittal; Quinn tells Santana it was fun but most likely a one-time thing, though she's tempted back for one more round; Artie and Betty laughingly admit that neither of them knows if it was good for them; Marley apologizes for not going through with it, but Jake takes it in stride; and Rachel silently slips out while Finn sleeps.
Rachel returns home to find her apartment decorated with hearts and flowers by Brody - neither of them are entirely honest with the other about how they spent Valentine's Day. Tina admits to Kurt and Blaine that seeing their chemistry onstage has helped shake her out of her unrequited affection for Blaine, but Kurt can't help but downplay their relationship.
Marley gives Ryder a Valentine, admitting that she knows he played Cyrano for Jake and that his thoughtfulness was romantic - it'll be wonderful for him when it's for real with another girl someday. Ryder tells her it was real and impulsively kisses her, then apologizes. Both walk away confused.
Finn urges Will to stop moping and take action - it's the biggest lesson Will and glee club ever taught him. Will resists, wanting time to process what happened, but Finn promises to help Will find Emma and make things right. Betty surprises Artie at McKinley to apologize for her initial bitchiness and to tell him she was "the best she'd ever had," and Artie gets her number to take her out again. Artie tells her - as New Directions sings the Ellie Goulding song "Anything Could Happen." And as Rachel takes a pregnancy test, the sentiment is suddenly all too real.