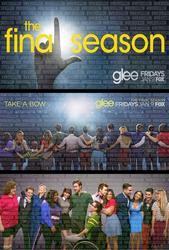 TV Info
---
Episode Premiere
February 07, 2013

Distributor
FOX

Genre
Drama, Comedy, Musical

Show Period
2009 - 2015

Production Company
Ryan Murphy Productions


Cast and Crew
---
Director
Paris Barclay
Screenwriter
Brad Falchuk
Main Cast
Additional Cast
Synopsis
---
Kurt realizes that ever since Rachel claimed victory at NYADA's Winter Showcase, her self-centered, demanding and prima donna-ish behavior has escalated to an all-time high, further encouraged by enabling sycophants in class. He decides that it's up to him to bring her back down to earth.
As Emma frets over wedding details in advance of Will's return from Washington, Finn is concerned that the inexperienced newbies of the glee club aren't fierce enough to want to crush their competition. Emma suggests using Will's tactic of pitting them against each other to bring out their competitive sides through "Diva-Offs," so with her help, Finn introduces "Diva Week." Unique embraces it instantly, promising to take Tina down - and when Tina fires back, Marley agrees that she needs to be challenged, and Brittany leads the group in a faceoff to Beyoncé's "Diva."
When tensions flare between Kurt and Rachel, he challenges her to a "Diva-Off" at the school's Midnight Madness event. Rachel cockily suggests that Kurt was only allowed to audition for NYADA because she was his friend, and he counters by saying that it was actually his performance everyone noticed. When he suggests that her victory in their high school "Diva-Off" was because he threw the competition to spare his dad embarrassment, her confidence takes a major hit.
Tina continues to obsess over Blaine, catering to him when he suffers a cold, and he proves that men can be divas too by doing his best Freddie Mercury - in full leathers - on Queen's "Don't Stop Me Now." Santana visits with her college cheerleading squad to provide a diva lesson with Ike and Tina Turner's "Nutbush City Limits" - but she also wants to call Brittany out for not telling her she's dating Sam, and to show off her new girlfriend. Privately Santana approaches Sam and warns him she intends to break them up, but Sam doesn't intend to give up so easily, and they Diva-Off to "Make No Mistake, She's Mine." It's a draw, but Santana vows she'll never let Brittany go.
When Rachel's entourage tries to slam on Kurt, she surprises them by standing up for him - but Kurt also gives as good as he gets. Meanwhile, Finn's crushed to learn via Facebook that Rachel is officially in a relationship while he remains heartbroken, but Emma's able to lift his spirits - and suddenly he finds himself looking at her differently.
Blaine's cold worsens, and Tina's belief in her own diva-ness wavers, but he offers to help her reclaim her mojo - even as he unintentionally fuels her unrequited feelings. When they're together, Tina does the diva-appropriate thing and is honest with him, confessing that she's falling in love with him and, although it might be tragically one-sided, the chance of having a relationship makes it worth it to her. His cold medicine makes him woozy, however, and he conks out during her dramatic reveal, leaving her to tearfully apply a menthol rub to his chest.
At Midnight Madness, Rachel and Kurt launch their Diva-Off to "Bring Him Home" from "Les Miserables," both transfixing their fellow students. In the competition's closest margin ever, Kurt wins, and even prompts the defection of some of Rachel's sycophants. Rachel's confidence is shattered.
Sue confronts Santana about the fact that she dropped out of college in Louisville, but it turns out she has a new path for her in mind: Sue wants to groom Santana to become her heir apparent as the Cheerios' coach. Meanwhile, Tina finally snaps and embraces her inner diva, refusing to settle for less than she deserves, and she tells Blaine off for not appreciating her to Madonna's "Hung Up"
When Rachel's ex-followers try to re-form their cult around Kurt, he rejects them and threatens to challenge them at the next Midnight Madness - "and we all know how that ends." But when Kurt tries to encourage Rachel to join him at an audition for a "Funny Girl" revival, he realizes that she's been completely demoralized.
Tina takes the Diva Week trophy, and Blaine makes peace by apologizing for being ungrateful for all her TLC. He admits that she's the person he feels closest to at the school and asks her to be his date to Will and Emma's wedding.
Kurt tries to force Rachel out of her funk by securing them auditions for "Funny Girl," but Rachel fears that overall she'll never be able to handle fame without it going to her head and causing her to lose her closest friends. Kurt advises her to rein in the nightmare side of her ego and just be the confident diva - her talents speak for themselves.
Finn catches Emma in the midst of a meltdown when she believes Will's only reluctantly signed off on her wedding choices. She escalates into a full-blown panic, feeling that everything has to be perfect, because the last time she let go her marriage to Carl was an instant disaster. As he attempts to calm Emma down, Finn impulsively kisses her, shocking them both and sending Finn running from her office.
Brittany tells Santana that she's not breaking up with Sam, and that Santana definitively needs to move on. She's learned that Santana paid her fellow cheerleader to only pretend to be her girlfriend, and she tells her that taking over for Sue is too small a dream for her right now. Santana should rise to embrace her talents, have a real girlfriend and also a best friend - her.
Taking Brittany's words to heart, Santana sings Alicia Keys' "Girl On Fire" as she leaves Lima behind and arrives in New York to follow her ambitions - and crash with Kurt and Rachel.