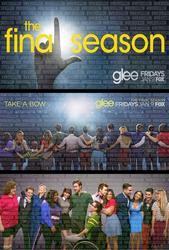 TV Info
---
Episode Premiere
October 04, 2012

Distributor
FOX

Genre
Drama, Comedy, Musical

Show Period
2009 - 2015

Production Company
Ryan Murphy Productions


Cast and Crew
---
Director
Alfonso Gomez-Rejon
Screenwriter
Ryan Murphy
Main Cast
Additional Cast
Synopsis
---
While she and Jake half-competitively compare notes in the cafeteria about being poor, Marley's surprised to learn that Jake has been studying dance. As that pair's flirting suggests a potential romance, Brittany and Blaine commiserate about the state of their own relationships with their absent loves, Santana and Kurt.
Rachel and Finn share a tense morning in the wake of his surprise arrival in New York. Finn reveals what's happened to him over the past four months: as planned, he'd enlisted in the Army but only lasted 16 days after accidentally shooting himself in the thigh with his rifle (which he'd named "Rachel"). After a semi-honorable discharge, he backpacked through Georgia, too embarrassed to tell Rachel what had happened. Rachel urges him to move in with her, audit her classes and possibly pursue his passion for acting. She insists that something's been missing in her life since they parted, and she's determined not to let him go.
Santana visits Brittany, insisting that she's enjoying college and wants to stay closer to Lima for their relationship. She notices Brittany's increasing exhaustion due to long hours spent reading a series of post-apocalyptic Christian novels.
Blaine and Kurt plan to be together in New York in two weeks' time, but Blaine is still bothered by Kurt's distraction with his heavy new workload at Vogue.com. Meanwhile, after attending some of Rachel's classes, Finn sees that she's finally found the place she belongs and worries that there's no room for him in her new world.
As Finn, Rachel and Kurt prepare to hit a karaoke bar, Blaine makes a surprise appearance in New York. When they run into Rachel's classmate/hookup Brody at the bar, Finn's concerns grow deeper when he sees their chemistry as they duet on Demi Lovato's "Give Your Heart a Break." The mood gets even more awkward when Blaine performs a very emotional rendition of the song he shared with Kurt when they first met, Katy Perry's "Teenage Dream" - Kurt clearly senses that something's wrong.
On the walk home, Finn reveals that he doesn't feel he fits into Rachel's new life. Finn questions Rachel about Brody, and she admits to kissing him. Meanwhile, Blaine drops an even bigger bombshell: in Kurt's absence, he'd hooked up with someone else - he insists that it didn't mean anything and he'd only acted out of loneliness. Both couples' frustrations overwhelm them, and they face an uncomfortable, tight-lipped night at home. Later, Kurt discovers Finn sneaking away in the early morning hours.
Kitty invites Marley and the other glee club members to attend her Left Behind Club's meeting- Kitty believes that the End of Days are imminent, and she wants to educate and convert her fellow students, even staging a fake Rapture to make her point. Marley can't take being around Kitty and tells Jake that she just doesn't like his girlfriend, while Santana tries to convince a stubborn Brittany to abandon Kitty's club.
Finn turns up at McKinley, seeking out Will. Blaine discovers Finn in the music room and reveals that he, too, felt compelled to leave New York.
Later, Will reveals to Emma that he's been selected to join the blue-ribbon government panel designed to improve arts education, and he wants her to join him in Washington, D.C., for several weeks. She's surprised that he simply expects her to leave her job behind - they argue, and when Emma thinks Will doesn't respect her decision, she storms off.
Santana calls Brittany to the music room, singing a moving version of Taylor Swift's "Mine" to her, but then reveals the painful truth: she believes that ultimately their long-distance relationship will become unworkable, and she opts for an "unofficial' breakup.
Meanwhile, when Kitty suspects that Jake's planning a breakup, she warns him about the repercussions - "I am like a bad Carrie Underwood song once I get going" - but her attitude prompts him to end their relationship anyway.
Rachel arrives in Lima to discover Finn on McKinley's performance stage, the site of so many of the key moments in their romance. She's angry - she admits that when he left her months ago, she hated him at first but then realized that stepping out of her way showed her "how a man loves." His four-month absence, however, has showed her otherwise. She tells him he's her first love, and she wants him to be her last, but she can't continue on the way they've been going.
As Rachel breaks up with him, Finn feels like he's lost everything important to him, but she offers him another scenario: "You have you, and that's better than anyone else on the planet, as far as I'm concerned."