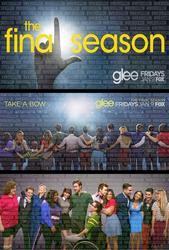 TV Info
---
Episode Premiere
September 20, 2012

Distributor
FOX

Genre
Comedy, Musical

Show Period
2009 - 2015

Production Company
Ryan Murphy Productions


Cast and Crew
---
Director
Alfonso Gomez-Rejon
Screenwriter
Brad Falchuk
Main Cast
Additional Cast
Synopsis
---
Facing a second senior year and missing Santana, Brittany plots to reinvent herself in her new captaincy of the Cheerios. But after calling Brittany's choreography to Britney Spears' "Hold It Against Me" "garbage wrapped in skin" and insisting that the Cheerios raise their academic standards, Sue kicks failing Brittany off as a poor example and puts Kitty in charge. "Tough love feels a lot like 'mean,'" Brittany laments after being ordered to "lose the high pony." Skyping with Santana, Brittany notices little room in her girlfriend's new life for her.
At NYADA, Cassie bars Rachel from tango instruction when the class is a boy short, but Rachel insists on participating so she may one day play Evita or Roxie Hart. Cassie scoffs, saying Rachel's not sexy enough to pull off the seductive dance. Will and Emma attempt to counsel Brittany, believing she's suffering deep depression and a loss of identity as a result of being left back. Zombie-like Brittany insists she's fine, but to bolster her spirits, Will builds preparations for the upcoming pep rally around "Britney 2.0," hoping another tribute to Brittany's idol Britney Spears will reinspire her.
Kurt and Rachel move into a roomy loft outside the city while Kurt plots his future: prepping to re-audition for NYADA's winter semester, he hopes to land a job at fashion site Vogue.com. When Rachel tells Kurt about Cassie, he recognizes her as "Crazy July - the biggest train wreck in Broadway history." Recounting the legendary tale of how in Cassie's big Broadway moment as Lola in "Damn Yankees," she assaulted an audience member who forgot to silence his cell phone mid-performance, Kurt urges Rachel not to give in: "If she wants sexy, give her sexy."
Unique, planning to become insta-besties with Marley, warns her against crushing on Jake Puckerman - she and Tina explain that he is a serial "Womanizer," using Spears' hit song. Nevertheless, Marley accepts Jake's offer to "hang out sometime." Meanwhile, Rachel asks Brody to be her tango partner in dance class; despite Cassie's ban on upperclassmen, Brody agrees to help her.
Brittany attempts unsuccessfully to shave her head: if she can't have a high pony, she doesn't want hair at all. In the aftermath, she assaults probing reporter Jacob Ben Israel with an umbrella, creating an ugly public scene. Blaine, Sam and Tina wonder if what their friend needs is to shine in the spotlight again.
Will makes another effort to get Jake to join the glee club, arguing that it gave Jake's even more troubled half-brother Puck a much-needed sense of community and friendship - but Jake rejects the offer. Marley tells Jake she sees him as a guy who got hurt and puts up walls to protect himself, but she feels she can just "be" at McKinley and suggests he try it too. Sharing a moment, he offers her his leather jacket to keep her warm.
As the pep rally's lead performer, Brittany insists on lip-synching: she argues that she's "been up every night yelling at shrubs that have been making fun of me" and needs to focus her energies on choreography. Meanwhile, Rachel arrives to dance class dressed in sexy "Bob Fosse chic," and with Brody's help, she performs a sensual routine to "Oops!...I Did It Again." Cassie pans the performance, prompting Rachel to snap and reveal her knowledge of the teacher's past, which leads Cassie to angrily ban her from class.
When the cocky football players make fun of lunch lady Mrs. Rose's size, her daughter Marley defends her, and a fight breaks out after Jake steps in to take her side. Will drags Jake from the fray and into the music room, where Jake is stunned to encounter Puck, summoned by Will and informed of their relationship. Puck confronts him, reminding Jake that he's not half the badass that Puck was and needs the glee club just as much as he did. Whether still-protesting Jake joins New Directions or not, Puck will now always identify with him as a brother.
Brittany absently performs her pep rally routine while also eating Cheetos and drinking orange soda - all leading up to her ultimate resignation from glee club. At NYADA, Rachel apologizes to Cassie, who reminds her that while she cracked under pressure on Broadway, Rachel cracked in class over minor criticism; if she's not careful, she'll end up just as unemployable as Cassie. Cassie can't yet permanently ban Rachel, so she allows her back into class on probation.
Sam recognizes the angle Brittany's been working all along: she's intentionally trying to hit rock bottom in order to make a glorious comeback along the lines of Britney Spears. With Santana gone, Brittany's glad to see that someone understands her, and Sam offers his support. Brittany informs Sue that she's legally obligated to reinstate her on the Cheerios: until a new class president is elected, Brittany remains in the post and has drafted - in crayon - an executive order forcing her return to the cheerleading team. Sue's impressed that Brittany has developed even the semblance of a plan, and with the revelation of an improved grade on her history exam, Brittany's back on the squad.
Brody confesses his feelings for Rachel, but she remains loyal to Finn, despite not having heard from him. Brody promises to respect her wishes, but guarantees that when they're together he'll be thinking of kissing her. Meanwhile, Marley promises to look out for new glee club member Jake, but is stunned when Kitty asks for Jake's jacket back - the two of them are dating now. Downhearted, Marley sings "Everytime" as she reflects on a future without Jake - sentiments echoed by Brittany wondering about her unavailable girlfriend Santana, and Rachel's increasing loneliness without word from Finn.