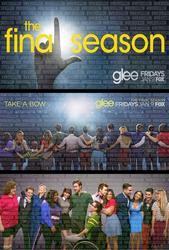 TV Info
---
Episode Premiere
May 01, 2012

Distributor
FOX

Genre
Comedy, Musical

Show Period
2009 - 2015

Production Company
Ryan Murphy Productions


Cast and Crew
---
Director
Michael Uppendahl
Screenwriter
Marti Noxon
Main Cast
Additional Cast
Synopsis
---
As her audition for the New York Academy of Dramatic Arts draws near, Rachel is determined to be prepared and laser-focused. She dedicates every free moment to honing her skill set - with some help from Finn - as the audition begins to dominate her life.Meanwhile, Finn is concerned when he overhears Puck telling a Cheerio that he may not graduate. Finn urges Puck to make sure that he gets his diploma before he heads to Los Angeles to start his dream pool-cleaning business. Puck admits that he was only trying to play on the cheerleader's sympathies to get "a sympathy pants massage." In reality, just one thing stands between him and his diploma: the European geography exam. And Puck feels confident that his flirtatious classroom banter with the teacher will get him a passing grade.
As class president Brittany considers senior prom themes (she favors an "Alien Abduction" motif), she and glee girls Mercedes, Santana, Sugar, and Tina notice that Coach Beiste sports a black eye. When Santana makes a joke about the coach being hit by her husband, Coach Roz Washington comes down hard on the girls, informing them that domestic violence is no laughing matter. Roz warns them about stepping out of line in front of her again.Later in the teacher's lounge, Sue becomes an unlikely ally with Roz - or "Black Sue," as she dubs her. The two set aside their differences and inform Will and Coach Beiste - who says that her shiner was the result of a punching bag mishap while working out - that his students are insensitive. Sue assures Will that "John Goodman" (Beiste), "Black Sue" (Roz), and "Original Recipe Sue" will handle it.
Kurt works on his own NYADA audition routine, performing "Music of the Night" in full "Phantom of the Opera" regalia with Tina as his leading lady in an elaborate set piece. Blaine loves it, but Kurt is concerned that it's too predictable and safe. He considers a more "ahead of the curve" approach that will set it apart.
Puck throws himself at his teacher, claiming that he's been crushing on her since the ninth grade. When he goes in for a neck kiss, she almost caves but regains her composure and insists that she can't be bought, even as Puck offers to "tickle her thighs" for a D+. She suggests that he might consider cracking a book like everyone else. Puck claims that he's too stupid, but she counters that he's simply lazy. Angry, Puck impulsively decides to drop out of school, storming away while singing Alice Cooper's "School's Out."
When Sue, Roz, and Coach Beiste attempt to lecture the glee girls about their insensitivity, the students counter that Sue's not one to talk, given that she constantly makes fun of them. The girls claim that they get the message, but none of them think their boyfriends would be capable of violence against them.
Roz tells the tale of her aunt, who married a man who seemed perfectly kind and decent on the surface, but he beat her behind closed doors even as she made excuses for his behavior. Sue tells them that since the only way to get anything into the girls' heads is to force them to sing about it, she makes an assignment: they must take popular songs that spring from violence against women and transform them into songs of female empowerment.In the workout room, Finn forces the glee guys to realize that Puck has been AWOL for several days, noting that "He doesn't even log on to 'Call of Duty' tourneys anymore." Finn tries to rally them to help Puck pass his final test "by any means necessary."
Rachel breaks an enforced silence to rest her voice in order raise an urgent red flag for Kurt: after hearing from Blaine that Kurt plans to sing "Not the Boy Next Door" from "The Boy From Oz" for his audition, she says he's making a mistake by choosing something controversial. Kurt insists that it's the first song choice that's genuinely inspired him. Rachel is also worried that - unlike her own choice of "Don't Rain on My Parade," which she's been singing since she was two years old - Kurt doesn't have time to properly rehearse his performance.
Kurt suggests that now is the perfect time to take a risk, but Rachael accuses him of self-sabotage - creating an excuse for not getting into NYADA - because deep down he doesn't think he's good enough. When Kurt admits that he's torn about the song choice, Rachael says she believes in his chances with "Phantom" enough that she'll be his leading lady in the number.
The glee girls perform the first song in their assignment, "Cell Block Tango" from the musical "Chicago," but during the performance Coach Beiste walks out. Afterward, Sue and Roz explain that the song choice - crazy women in lingerie singing about killing the men in their lives - completely missed the point.
In the teacher's lounge, Sue and Roz confront Coach Beiste about leaving, and they're shocked when she admits that her husband Cooter did indeed hit her. He'd been drinking, and it was over something as trivial as the coach not doing the dishes, she explains. The instant afterward he cried and begged for her forgiveness. Roz wonders why the coach didn't kick his ass, but Coach Beiste insists that she's not a violent person. When Sue tells her that she has to leave the house immediately, the coach breaks down, afraid that no one else will ever love her. Nevertheless, Sue insists that she'll be staying with her for the night.
As Puck cleans his client Mrs. Collins' pool, she suggests a quickie in the pool house. He tells her that it's a last cleaning on the house before he takes off for California. As he finishes the job, he turns around and is shocked at the man he sees. "Dad?" he asks.Just as Finn explains to the glee guys a detailed plan to intercept Puck on his rounds and stage an intervention, Puck walks into the music room. He's shellshocked after his encounter with his father, whom he hasn't seen or heard from in five years. Puck's dad is a high school dropout, and he's sunk to a new low: he asks Puck if he can borrow some money. Puck gives him the $500 seed money he'd saved for his L.A. move.
Now Puck says that he sees his potential future in his father's path, and when he imagines himself asking his own daughter, Beth, for money one day, it changes him. He tells the glee guys that he's committed to passing his test and graduating.
As they prepare for Kurt's audition, Rachel reveals which educator NYADA has sent to evaluate them: Carmen Tibideaux, one of the school's most acclaimed - and infamous - alumni. Tibideaux is a Broadway star and opera diva who has been named the Dean of Vocal Performance & Song Interpretation; she's traveling across the country to handpick her inaugural class. Her presence throws Kurt, but he soldiers on. However, he quickly realizes that Tibideaux has seen countless attempts at "Music of the Night" ("That and 'Impossible Dream' from 'Man of La Mancha' and 'Being Alive' from 'Company,'" she confirms).
In the moment, Kurt abandons his safe choice for "something a little more out there, but much more me." He performs "Not the Boy Next Door" (he had Tina, Brittany, and Mercedes on hand as emergency backup). His gamble pays off. Tibideaux is impressed with both his performance and his willingness to take a risk.
Before her performance, Rachel reassures herself that she's a star, telling Finn that she doesn't feel nervous. She takes the stage and sings "Don't Rain on My Parade." Shortly into the song, she blows a lyric, then loses her composure and stumbles again. Panicked, she prepares to restart, but Tibideaux refuses to hear her sing any further, ending the audition and leaving Rachel devastated.
As the glee guys help Puck cram for his geography exam, Puck's head is swimming with information he doesn't care about. Suddenly, a prompt from Finn results in a correct answer, leading into a hard-rocking rendition of "The Rain in Spain" from the musical "My Fair Lady."
Sue tells Coach Beiste she's disappointed that the coach didn't stay at her place as promised, asking, "What am I going to do with those nine whole chickens?" The coach explains that she spent the night moving in with her sister. It was a difficult choice, she says, but not as difficult as her next move: Coach Beiste gathers the glee girls in the music room and reveals the truth about her black eye.
After hearing the girls say they couldn't imagine their own boyfriends committing an act of violence against them, the coach admits that a week ago she wouldn't have imagined that her husband was capable of it either. The girls are stunned, and the coach gets emotional as she tells them that they opened her eyes - and possibly saved her life.
Puck's musical memory carries him through some of the final exam questions, but when he hits some that aren't referenced in "The Rain in Spain" he's on his own. Still, when he leaves the classroom he tells the glee club guys that he feels good about the effort. Without a dad, he tells them, his friends have been the male role models he needed all along.
Meanwhile, the girls ask Coach Beiste to join them in the music room. They apologize for not realizing domestic violence was happening to someone they care about, and they say they owe her a song, as they gather to sing "Shake It Out" by Florence + The Machine. However, the coach doesn't reveal the truth: she has secretly remained with Cooter, giving him a second chance.