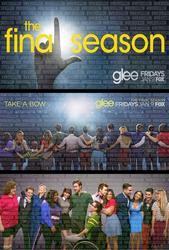 TV Info
---
Episode Premiere
April 17, 2012

Distributor
FOX

Genre
Comedy, Musical

Show Period
2009 - 2015

Production Company
Ryan Murphy Productions


Cast and Crew
---
Director
Bradley Buecker
Screenwriter
Matthew Hodgson
Main Cast
Additional Cast
Synopsis
---
Bored in the classroom, Blaine slips into an elaborate fantasy, singing and disco dancing to the Bee Gees' "You Should Be Dancing" from the classic 1977 film "Saturday Night Fever." As Blaine boogies with Brittany and Mike, the fantasy becomes a reality as the three of them audition the number for Will onstage. Blaine believes that it's a great fit for nationals' "vintage" theme - old but with high energy. Will responds enthusiastically, recalling how in his own glee club days his show choir took nationals with an all-disco theme, singing KC & The Sunshine Band's "That's the Way (I Like It)." There's only one problem: as far as the rest of the glee club's concerned, "disco sucks!"
As he tries to prep for nationals, Will is distracted by his concerns for three of his students. Finn lacks self-confidence; Mercedes is talented but needs a bigger vision, and Santana's ambition needs focus. Out of ideas, Will turns to Sue, who advises him to rely on a tried and true tactic: assigning the students an iconic album to perform. This time, she says, use the soundtrack "that defined a generation" - "Saturday Night Fever." Will loves the idea, but he needs to sell it the disco-hating members of the glee club. Sue suggests that they give the students a prize to fight for.
Mercedes and Kurt meet Wade Adams ("The Glee Project's" Alex Newell), who's a member of rival glee club Vocal Adrenaline and who professes to be their biggest fan. Wade promises that he's not there to spy; he has come seeking their advice. Vocal Adrenaline's coach Jessie St. James is running his show choir like a demanding drill sergeant, and the pressures from Jessie, his fellow students, and his family are weighing on Wade.
Wade explains how he escapes into a fantasy of being an entirely different person - a brash, confident, and stylish singer named Unique. When Wade reveals that Unique is a woman and that his dream is to take the stage at regionals in a dress and heels, he asks Kurt and Mercedes for advice.
New Directions discovers that the choir room floor has been replaced with Sue's own "one-of-a-kind, lit-from-within, shatterproof, Plexiglas dance floor," as Will announces the new assignment. He turns the tide of opposition from Rachel and the other students by explaining how closely the underdog story of John Travolta's character, Tony Manero, resembles their own. Sue ups the ante by revealing that the winner of the dance-off they're planning will receive a custom-crafted facsimile of Travolta's iconic white suit.
As the students demonstrate their moves to the Bee Gees' "Night Fever," they find that disco is more fun than they expected. Will then announces the finalists in contention for the suit: Santana, Mercedes, and Finn - the latter is a shock to everyone, including Finn himself.
Irritated when Will reveals that the dance contest was fixed, Santana, Mercedes, and Finn find out that their next assignment will be to perform a song that represents their dreams, and they'll have to explain to the class what their future goals are. They grumble about it, but Will is adamant. They're running out of time to make decisions about the rest of their lives, he says.
Mercedes is determined to prove something to Will, and she delivers a blistering rendition of The Trammps' "Disco Inferno." But even as she explains her desire to record inspiring pop music like that of Mariah Carey and Aretha Franklin, she begins talking herself out of her ability to actually make it in the music business. Mercedes doesn't know if she has the courage and determination to uproot herself and make her way in Los Angeles.
Meanwhile, Kurt tries unsuccessfully to persuade Rachel to put aside her fight with Finn and help him as he struggles with his assignment. She's still hurt by what Finn said to her.
Puck approaches Finn again, urging him to join him in the pool-cleaning venture in L.A. Puck admits that the move would be less scary for him if his best friend would join him. Finn declines, insisting that Puck will easily handle everything. Finn admits that he still doesn't know what his own dream is. Puck makes him promise to "make it as big as you are." Puck adds, "You owe it to yourself, and now you owe it to me."
When Sue calls out Kurt and Mercedes for consorting with an enemy from Vocal Adrenaline, they explain Wade's dilemma and are surprised when Sue suggests that Wade should go through with his dream of being Unique onstage. But Sue believes such a move would tank Vocal Adrenaline at regionals and clear the way for New Directions. She even gives them a pair of high heels, purportedly from Janet Reno, to deliver to Wade.
Santana performs the Bee Gees-penned song "If I Can't Have You" in the style of "Saturday Night Fever" singer Yvonne Elliman, directing the lyrics to Brittany. Will interprets the choice as Santana's ode to same-sex marriage equality and says it could be her path to becoming a lawyer to create that legal change. Santana cockily corrects him, calling it symbolic of her quest for fame. She scoffs at Will's disappointment, insisting that all of them dream of fame, but she's the only who will become famous - if it's the last thing she does. Her words seem to inspire Brittany.
Finn meets Rachel in the auditorium, where she wants to set aside their quarreling and expand their focus to include Finn's hopes for the future. "What if you dreams are bigger than mine?" she asks.
Finn doesn't feel confident, but Rachel tells him she's realized that although she'd always imagined her dreams would come true when she went "home" to Broadway, home isn't a place - it's a person. She promises that they won't follow her dreams until they've given his a shot. To show him how she feels, she sings the Bee Gees' "How Deep Is Your Love."
Emma provides Finn with a stack of career- and college-oriented pamphlets to give him guidance. Will wonders if Finn believes he'll find his dream in there somewhere. Finn appears optimistic, but after he leaves Emma's office he drops the pamphlets into the trash.
When Santana realizes that she's suddenly the center of attention at school, she's shocked by the reason: in hopes of helping Santana achieve her dream of becoming famous, Brittany's posted a sex tape of the two of them (intercut with a video of her cat, Lord Tubbington, "performing everyday household chores").
Will confronts Finn with the pamphlets from the trash; he knew Finn was just humoring them and followed him out. Finn says that he'd rather do anything than what the pamphlets described, but he doesn't know what he's supposed to do with Rachel being so supportive. He finally breaks down, admitting that he feels like a loser, unqualified to do almost anything.
Will insists that Finn watch his videotape of "Saturday Night Fever." He believes that Finn does indeed know what he wants to do with his life but is afraid try. He wants Finn to watch someone else following their dream when everyone else tells him it's impossible.
As Santana handles the indignity of the sex tape gone public, she tries to persuade Brittany to take it down, but Brittany is committed to supporting Santana's quest for fame. The next step, Brittany proposes, is to get Santana on a reality show, and she offers tips and techniques to get on "Hoarders" and "Fear Factor," such as eating a bull testicle.
Kurt and Mercedes make a backstage visit to Wade, regretting having sent him the high heels and attempting to persuade him to not take the stage dressed as a woman. Even though he's worn some flamboyant ensembles onstage himself, Kurt doesn't think that it's the time or place for Alex to make an even bolder statement. Wade says the difference is that Kurt always identified himself as a man and didn't need to go as far. Wade, however, feels that he does.
Jessie St. James spots Kurt and Mercedes and escorts them from the dressing room, assuming that they're Will's spies. When they explain that they're friends of Wade's, Jessie sees it as a reason to fire Wade from the glee club after the performance.
As Vocal Adrenaline takes the stage, Wade is front and center in full diva costume as Unique, singing lead on KC & The Sunshine Band's "Boogie Shoes." Jessie demands that Wade leave the stage, but Wade ignores him as the crowd showers him with loud cheers and applause.
Rachel meets Finn in the choir room, where he tells her that the "Saturday Night Fever" song he's chosen won't work without a dance partner - and, more importantly, his future plans won't work without Rachel. In a fantasy sequence, they're on the dance floor in front of the class, singing and dancing to the Bee Gees' "More Than a Woman."
Finn says that he's finally landed on a plan for his future. He explains how he connected to the Tony Manero character in the film and realized that he wants to move to New York with Rachel to pursue his own dream: he's applied to James Lipton's Acting Studio. Rachel cautions him to not do it just for her - it's more pressure than she can handle. He insists that's what he wants: to be an actor. He's not scared anymore, and he wants to see himself as the man that Rachel sees him as.
Kurt and Mercedes marvel at how Wade/Unique stole the show, and they recognize the power of a dream. Sam approaches Mercedes and offers to share something with her. On his laptop he calls up video that he shot of her "Disco Inferno" performance; it's a video that he's posted on YouTube. She's stunned to see nearly 500 positive comments, and she wonders why Sam did that for her. "Because I believe in you and what you could become," he answers. "And now complete strangers believe in you too."
With Santana and Brittany in her office, Sue explains her disappointment. It's not simply that Santana wants to be a star, it's that she doesn't care what she has to do to become famous. Santana admits that she was shortsighted and says she wants to do something of substance with her life.
Then Sue surprises her with a letter offering a full-ride cheerleading scholarship to the University of Louisville, where Santana can get the kind of education that will allow her to pursue big dreams and successes. Santana thanks Sue, but Sue reveals that the idea, in fact, was Brittany's.
Having each put themselves on a path for the future, Mercedes, Santana, and Finn are clad in the famed "Saturday Night Fever" white suits, strutting and singing to the Bee Gees' "Stayin' Alive." They're joined by Will, Sue, and the entire glee club - all equally decked out in Travolta's signature suit.