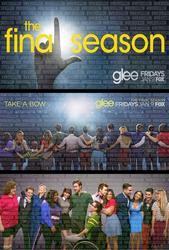 TV Info
---
Episode Premiere
April 10, 2012

Distributor
FOX

Genre
Comedy, Musical

Show Period
2009 - 2015

Production Company
Ryan Murphy Productions


Cast and Crew
---
Director
Eric Stoltz
Screenwriter
Michael Hitchcock
Main Cast
Additional Cast
Synopsis
---
Quinn's car accident resulted in a postponement of Rachel and Finn's justice of the peace-style wedding, leaving Finn wondering if they could tie the knot someplace special in Chicago, where the show choir nationals are being held. Rachel's concern about Quinn's fate makes her hesitate. Just then, Quinn appears in the hallway.
Quinn is in a wheelchair and accompanied by Artie. She maintains a cheerful demeanor, insisting that she's glad that she didn't end up as "a creepy memorial page in the yearbook." She says that her return to school is the happiest day of her life, prompting her to share an upbeat duet of Elton John's "I'm Still Standing" with Artie.
Quinn explains to the glee club that her accident was the result of texting and driving - the "stupidest thing I've done since sleeping with Puck" - and she wants to clear up the rumors: her spine has been compressed, preventing her from moving her legs, but feeling is coming back. With physical therapy she stands a decent chance at fully recovering; she pledges that she'll be back on her feet and dancing on the stage by nationals.
Sue is stunned when Principal Figgins announces that he's named swim coach Roz Washington as co-coach of the Cheerios. Roz has convinced Figgins that Sue's distracted by the numerous procedures she must follow to become a mother, and that she's lost the focus to achieve a win at the cheerleading nationals. Figgins explains that the school desperately needs the prize money a win would deliver, but a fuming Sue makes a counterproposal: If she can help the lead the glee club to a win at their competition and let the school claim that cash reward, she should be allowed to continue running the Cheerios on her own.
Sue assumes control of the glee club's Booty Camp and institutes a strict regimen of discipline and verbal abuse. After the students complain, Will insists that Sue dial down her drill sergeant routine and instead focus on inspiring and encouraging the students. Until now, Will thought that Sue had changed. Sue admits that she's highly hormonal and any attempts to understand her behavior are in vain.
Emma suggests that Sue consult her doctor to better balance herself, and Sue reveals that she's about to make a visit to confirm the sex of the child she's assured will be a girl. Unable to stand the thought of Sue going alone without moral support, Emma volunteers herself and Will to accompany her.
Kurt is shocked and overjoyed to discover that Blaine's visiting older brother is Cooper Anderson, a familiar handsome face on TV as the star of several musical FreeCreditRating.com commercials. Surprisingly, Sue is captivated when she meets Cooper, flirting shamelessly with him as he soaks up the attention. As the effect of Cooper's pseudo-fame overwhelms the small-town Ohioans of McKinley, Blaine is reminded of why he rarely mentions his brother.
Puck solicits suggestions for a fun, edgy activity for the group to do on McKinley's Senior Ditch Day when Rachel suddenly blurts out a tearful apology to Quinn, blaming her wedding for Quinn's condition and getting upset that the group is planning fun events while ignoring what happened to her. Quinn assures Rachel that she's not to blame, and she gently insists that this is the way things are and she is accepting the situation. Quinn won't be dwelling on it, and she doesn't want anyone else to either. She reassures Rachel with a hug and offers the winning suggestion for ditching: the group will go to the Six Flags amusement park.
Meanwhile, Puck takes Finn aside and proposes that, like Steve Jobs, Mark Zuckerberg, and Abraham Lincoln before him, he's not taken seriously in high school, but he will when he has the "big idea," which is to move his pool cleaning business to the seemingly more lucrative locale of Southern California after graduation. Puck wants Finn to join him as his business partner. Finn's honored, but he's planned to move to New York with Rachel. Puck tries to propose a hypothetical situation in which Finn didn't go to New York, but Finn won't consider it, so Puck asks him if he'll help him out by fixing the motor on a broken Jacuzzi, and Finn agrees.In a reluctant attempt to alter her coaching style, Sue presents the glee club with a guest lecturer she believes they can benefit from: Cooper Anderson. Cooper recalls when he too was a student with big dreams, which he has now achieved, and he offers a "master class" in acting to the members of New Directions. Everyone is thrilled, except for an embarrassed Blaine, who's reluctantly been drafted into an impromptu performance with Cooper for his friends. They reenact their "famous" dueling Simon Le Bon impressions from their childhood, performing a mashup of "Hungry Like the Wolf" and "Rio." Blaine does enjoy himself, but he is quickly brought back to reality by Cooper's increasingly inflated ego.
Over dinner at BreadStix, Blaine finally loses patience with Cooper when he's heard enough of his brother's supposedly constructive criticism. He flashbacks to a moment when Cooper critiqued his five-year-old dance moves. Cooper claims not to remember and offers an apology, telling Blaine that he wants to be closer to him, including at their master class.
Artie attempts to coach Quinn into tackling the steepest accessibility ramp at McKinley, but the incline looks too daunting to her. He's able to motivate her by telling her that he believes in her. Little by little, she's able to make it to the top. Artie tries to warn her about even greater challenges for a wheelchair newbie at the amusement park, but she tells him she doesn't want to miss out on Senior Ditch Day. Artie promises that she'll have a very special day if she agrees to come with him.
Cooper begins his master class with some unusual tips, advising the students that college is a waste of time and to avoid New York because Broadway is dead. Hollywood is where it's at for real actors, he explains while demonstrating proper headshot techniques. As Cooper's lessons become increasingly inane, Blaine grows irritated, but Cooper is able to convince the other students he knows what he's talking that about. Finally, during a poorly conceived acting exercise, Blaine loses his cool and blows up, but Cooper is too caught up in his own world to acknowledge what's happening.
As Puck and Finn repair the broken Jacuzzi, the owner flirtatiously hands out tropical drinks and offers to invest in Puck's business as a silent partner, "or a noisy one." Puck uses the opportunity to try to sway Finn, extolling the promise of opportunity in California for both Finn and Rachel, and it's clear he's gradually getting into Finn's head.
At the obstetrician's office, Will and Emma join Sue as she gets her test results. She is indeed having a hoped-for girl, but there are also some potential causes for concern.
When Cooper informs Blaine that he's landed an audition for Michael Bay's next movie - untitled, which Cooper is certain is code for "Transformers 4" - he's surprised at Blaine's subdued reaction. Blaine has finally reached his breaking point at his brother's all-consuming self-involvement, and he expresses his frustration as he sings Christina Aguilera's "Fighter."
Meanwhile, Quinn lightly takes Finn to task for carelessly texting while walking, saying, "That's how I got started." She tells him that she and Artie have planned their own special Senior Ditch Day activities.
Becky silently observes Sue from the doorway to her office until Sue acknowledges her. Becky tells Sue that she's heard about her baby. Sue initially bristles, wondering what Becky's heard until she says, "I heard it's a girl." "Just like you," says Sue as she hugs Becky, who surprisingly offers a parenting tip: "Try to work on your patience."
Artie and Quinn arrive at their Ditch Day destination, a skate park designed for wheelchair-bound and other unique athletes. Quinn's not sure she's ready for it, but Artie tells her to trust him. Quinn and Artie watch the athletes test their skill on the park's various challenges to the beat of the Givers' "Up Up Up," finally joining in the fun themselves, juxtaposed against images of their glee club friends riding roller coasters at the amusement park.
Quinn tells Artie that she had a very special Ditch Day. He says that he just wanted her to see people having fun who are in her situation. She's a little taken aback, assuring him that her condition is only temporary. He tries to explain that he's been where she currently is. But she won't hear him out, insisting that she's not like him. This isn't her life, she says. She's getting out of Lima to attend Yale, and she will walk again. "What if you don't?" Artie asks. "When are you going to stop pretending that this isn't really happening to you?"
Quinn's fellow God Squad member Joe Hart tells her that he's been praying for her. She's grateful, and again she's caught off-guard when he says he hasn't been praying for her to walk again, but to accept whatever her journey may be. She snaps at him, then quickly apologizes, telling Joe that she does find him inspiring. She invites him to join her in New Directions.
Sue addresses the glee club at Booty Camp, acknowledging her harsh treatment even as she delivers a new round of barbs, but she admits that she's realized that she wants the life growing inside her to soak up some of their persistent optimism and decency. She says she'll be nicer if they work harder.
After Blaine sits out the Senior Ditch Day trip, Kurt tries to cheer him up and tells him he understands the family friction. He tries to convince Blaine that he and Cooper can still connect, especially if Blaine reaches out in the most honest way he knows how.Blaine takes to the theater's stage and sings Gotye's "Somebody That I Used to Know," as Cooper listens and eventually joins in. "Best you ever sounded," says Cooper, who admits that he has been extremely hard on his brother - but only because he sees how extremely talented he is and wants him to succeed.
Blaine accepts Cooper's apology and is glad they had time to sing one last time before Cooper returns to L.A., but Cooper surprises him by revealing that his audition was cancelled. He hopes that he and Blaine will be more than brothers, they'll be friends. Then Blaine concocts a plan to put a memorable audition from Cooper on tape for Michael Bay.
Finn asks Rachel if she's considered what he'll do in New York, floating the possibility of the two of them going to Los Angeles instead - he'll work to support her ambitions. It quickly dissolves into an argument. She feels like he's not planning for a future together, and he feels their existing plans have been very one-sided. Rachel has no intention of going Hollywood, and she says that she can't go to New York without Finn. Finn tells her he wants her to be really sure she loves him for who he is and not who she wants him to be.