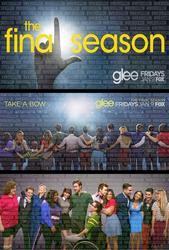 TV Info
---
Episode Premiere
January 31, 2012

Distributor
FOX

Genre
Comedy, Musical

Show Period
2009 - now

Production Company
Ryan Murphy Productions


Cast and Crew
---
Director
Alfonso Gomez-Rejon
Screenwriter
Ryan Murphy
Main Cast
Additional Cast
Synopsis
---
The former members of the Trouble Tones are still slightly disgruntled that they got beat by a routine that included a Michael Jackson song, mostly because they didn't get to participate themselves. Will suggests that maybe New Directions can revisit Michael Jackson for regionals. Blaine knows exactly which song they should take on, and he draws the rest of the show choir into a spirited performance of "Wanna Be Startin' Somethin.'"
Three days after proposing to Rachel, Finn is getting anxious for an answer. While Rachel does want to say yes, the proposal seems too fast and too soon. She wants to know why Finn has decided to ask her to marry him now. He explains that while he does plan to follow her to New York whether she gets into NYADA or not, he wants their plan to marry to tether them through the big changes to come in their lives. Rachel tells him that he'll always be the man for her, and she considers giving him an official answer. But Finn says that she was right not to want a deadline; he tells her to take a few more days to think about it.
As the students share their favorite memories and aspects of Michael Jackson's iconic career at the coffee shop, Rachel admits - at her peril - that she's never really personally connected to Jackson's all-pervasive appeal ("He was best friends with Liza Minnelli AND Liz Taylor!" huffs Kurt). However, Rachel thinks that because everyone one else agrees, Michael Jackson's music will be a great choice for regionals.
But Sebastian - the new captain of the Dalton Academy Warblers - shows up and throws water on their plan. Because Blaine had told him how excited New Directions was about performing Michael Jackson's music, Sebastian is also building the Warblers' regionals routine around an MJ set list. Sebastian then throws some barbs at Kurt, who's miffed that Blaine still maintains close contact with him. When Santana is ready to fire back, Sebastian gives as good as he gets and says that he's tired of playing nice.
The students fret about how to stop the Warblers, and Puck raises concerns about Blaine's true loyalties. Finn steps in with a cooler head, cautioning them not to worry so much about what's happened; they should focus instead on beating the Warblers, their toughest competition aside from Vocal Adrenaline. Will agrees and says that the class' latest lesson will focus on WWMJD: What Would Michael Jackson Do? Finn and Artie believe that Michael would fight back - like he did when MTV refused to air his "Billie Jean" video in 1983 - and Blaine suggests that Michael would take the competition to the streets.
Blaine and Santana meet in a parking garage with Sebastian and the Warblers to declare a "Jackson-off": the winner gets the King of Pop set list for regionals. Sebastian mocks them, scoffing at the notion that the two of them are bad enough to take on his show choir, but with a snap of Santana's fingers, they're backed by the rest of New Directions. They musically throw down to Jackson's "Bad."
As the dance reaches a crescendo, Sebastian has his Warblers unleash their secret weapon: a super-sized slushie they try to splash in Kurt's face. But Blaine leaps into the path and takes the slushie himself, then collapses on the parking lot floor.
Kurt tells the show choir that Blaine has suffered a detached cornea and will have to undergo surgery. Will is surprised that a slushie could do that kind of extreme damage, but Finn suggests that something more dangerous could've been hidden inside. Will says that without proof the authorities won't get involved. Kurt, however, believes that Sebastian is evil and should be expelled. Will says the Dalton administrators will investigate, and he cautions his students about seeking any kind of revenge, even though Artie in particular is enraged at the thought of dropping the matter, even at the risk of disqualification from regionals.
Artie insists that the glee club students are people and that they have every right to be sick and tired of the abuse heaped upon them. He demands that for once they should stand up for themselves. He doesn't want to hear that things will get better - he wants them better right now. Will tells Artie to take a break and rejoin the class later, but he's still fuming: In his mind, Artie rises from his wheelchair and walks out, joined by Mike as they fantasize about performing Jackson's aggressively angry duet with his sister Janet, "Scream."
Rachel asks Quinn for advice about "an adult problem": Quinn immediately thinks that Rachel is pregnant, but Rachel corrects her and asks for Quinn's opinion, revealing that Finn proposed. Quinn counsels her not to accept, and by example shows Rachel her early admission letter to Yale. Despite having relationships with Finn, Puck, and Sam and even believing that she loved some of them, by the time snow falls for her first college winter in Connecticut, she won't remember why. She advises Rachel to make the most of the next few months, but to consider not "dragging an anchor" from the past into the future.
Rachel's dreams are bigger than that, she says. She thinks it's a cruel thing to say, but Quinn insists that she's being as honest and thoughtful as she can be: to truly be happy in the future, Rachel will need to say goodbye to Finn - a sentiment punctuated by a fantasy sequence in which Quinn serenades her past loves to the Jackson 5's "Never Can Say Goodbye." The song ends in reality, as Quinn tells the show choir about her college news and thanks each of them for helping her find her way back onto the right path after hating herself for her bad decisions for so long.
Kurt meets with Santana to discuss dealing some real payback to Sebastian for what he did to Blaine, but they both agree that violence isn't the right answer; they'll beat him, but not by playing dirty. Meanwhile, Mercedes is text-summoned to the auditorium, where Sam has put her name up in lights - for the first time, but not the last, he says - and asks her to join him for their first-ever duet: if she wants, she can go back to Shane afterwards. Mercedes refuses, but when Sam begins playing "Human Nature," she's compelled to join him in song, ending with a kiss.
Kurt's dad, Burt, shows up at McKinley wanting to speak to his son, and Kurt's initially afraid that Blaine's taken a turn for the worse, but the real reason is also nerve-wracking: Kurt's letter from NYADA has arrived. Fingers trembling, Kurt opens the envelope and reads the letter - he's made the list of finalists. Burt tells Kurt how proud he is that despite everything that gets thrown at him, Kurt's proven that nothing can stop him. "On this day, at this moment, you won," says Burt.
Kurt shares his news with Rachel, who while happy for him immediately believes that her letter will never come; she hasn't even made it as a finalist. Getting emotional, she feels like she has no plan for the future - all she has is Finn. Later, as Kurt tends to the wounded, eyepatch-clad Blaine, Finn and Rachel make a visit. Blaine's down that he's missing Michael Jackson week, so the Kurt, Finn, and Rachel try to cheer him up with MJ's "Ben."
Santana confronts the Warblers, informing them that Blaine - with whom they were all once so close - could lose his eye as a result of their slushie attack. The other Warblers are shocked, but Sebastian coolly shrugs off Santana's confrontation, even as she insists that he confess to doctoring the slushie. He suggests that they settle things with another musical duel, this time to Jackson's "Smooth Criminal." At the end of their duel, Santana claims victory and demands the truth. Sebastian admits putting rock salt in the slushie that wounded Blaine - but not in the one that he then splashes in Santana's face.
Santana gathers the show choir to reveal that, using a recorder strapped to her "under-boob" she secretly taped Sebastian's admission of guilt and wants to expose him. Now, however, it's Kurt who doesn't want to. He argues that if Michael Jackson had taken on all his haters, he'd never have had time to create his music. So he wants to teach the Warblers a lesson instead - and he knows how.
As Kurt leads New Directions to the auditorium, Finn asks Rachel to hang back: he wants to add something he left out to his proposal and asks her to listen as a backing band joins him. "I feel like you hear me better when I'm not talking." Finn sings "I Just Can't Stop Loving You" to Rachel, and in the emotion of the moment she agrees to marry him.
In the auditorium, New Directions confronts Sebastian and the Warblers. They reveal that they're not going to continue to try to claim Michael Jackson for their regionals set list - as Puck explains, "We're taking the high road, which I was surprised to find out has nothing to do with marijuana."
Still, they want the Warblers to know that just because they can perform Michael Jackson, it doesn't mean they understand him like New Directions does, and to illustrate their point they perform "Black and White." To Sebastian's surprise, the Warblers get the point and join New Directions onstage. He greets the finish with a snide slow clap, even as his teammates urge him to give up the attitude.
Santana reveals that she's taped his confession, but Kurt gives Sebastian the tape, wanting to see Sebastian's face when they beat him at regionals - but they also don't mind exposing his treachery to his fellow Warblers.
Rachel meets Kurt as his locker with a surprise: her NYADA letter has arrived, and she too is a finalist. When Kurt asks her if she's told Finn yet, Rachel's joy turns to apprehension as she realizes the situation she's put herself in.