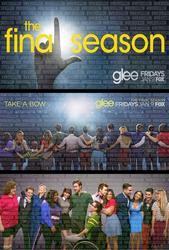 TV Info
---
Episode Premiere
November 29, 2011

Distributor
FOX

Genre
Comedy, Musical

Show Period
2009 - 2015

Production Company
Ryan Murphy Productions


Cast and Crew
---
Director
Tate Donovan
Screenwriter
Matthew Hodgson
Main Cast
Additional Cast
Synopsis
---
Santana is forced to face the consequences of slapping Finn after his actions outed her. Principal Figgins says that the school's policy of zero tolerance toward violence mandates that she be suspended (slushies, however, are not on the school board's list of suspension-worthy weapons). Her two-week suspension will prevent her from competing in sectionals. Will and Shelby agree that she deserves to be punished, but then Finn steps in and claims that all Santana did was "stage slap" him, resulting in no punishment for her.
Despite the fact that they've been at each other's throats, Finn admits to a surprised Santana that he finds her "awesome" underneath all her acting-out anger. He has a plan to help her show off her full awesomeness, and he wants her to rejoin New Directions - with all the Trouble Tones defectors - for a lesson he has in mind.
Meanwhile, Rachel frets about how to secure a victory for Kurt in the class presidential election, despite Brittany's increasing edge, thanks her empty campaign promises and free pixie sticks to buy votes. Kurt is considering pulling a "Kennedy," in the way John F. Kennedy allegedly used mob connections to stuff the ballot box to win the 1960 Presidential election, but Rachel wants him to remain true to his values.
Finn proposes a "Lady Music Week" for the two competing glee clubs, featuring music written by and for women; he wants Santana to be true to herself and her feelings for Brittany, and he urges the rest of the glee club members to show that they celebrate who she really is. Finn wants Santana to know that in a harsh world she has a group of friends that support who she wants to be. Kurt and Blaine demonstrate Finn's lesson by singing Pink's "F**kin' Perfect" to her, but Santana continues to react with her trademark hostility.
After her Congressional opponent Salazar's dirty campaign ad suggests that Sue might be a lesbian, she wonders how to counteract the gossip with "20 cc's of man-candy." She scans through her "Book of Booty Calls" for the right male partner from her past, and the list of famous names produces someone she believes can deliver her message of heterosexuality.
Exhausted from private sessions with her new boyfriend Cooter Menkins - weightlifting sessions, that is - an enamored Coach Beiste enlists the help of Will and Emma in tabulating the class election results.
Puck performs Melissa Etheridge's "I'm the Only One" and aims the sentiments at Shelby, which doesn't go unnoticed by Quinn. Telling him that her mother will be out of town for the weekend, Quinn invites him over. She reminds him that he told her he loved her when Beth was born, and she wants to try to rekindle their flame. Puck rejects her offer, however, saying that he thinks she's nuts and the most selfish person he's ever met.
Finn's hope that Santana is getting something out of his lesson is dashed when she insists that he's "forcing me out of the flannel closet." But Finn tells her that he doesn't want her to die as a result of denying her sexual orientation. A teen who recorded an inspirational "It Gets Better" video recently committed suicide, and Finn worries that Santana's attacks on others may one day turn into an attack on herself. She was Finn's first sexual partner, and he still cares and is concerned for Santana. He sings a slowed-down, haunting rendition of Cyndi Lauper's "Girls Just Wanna Have Fun" as his part of the lesson, prompting her to finally soften and give him a hug.
Coach Beiste is shocked and hurt to discover that Cooter out on a date with Sue as her hand-picked piece of man-candy. Sue claims that Cooter has been her regular booty call since the late 1990s. Cooter tells the coach that he really likes her, but her confusing responses to his advances have left him wanting something more.
On class election day, Kurt feels as if his future hinges on the outcome. The glee clubbers take full advantage of the secret ballot system by casting some unexpected votes.
Will and Emma counsel Coach Beiste to make a real play for Cooter and show him how she feels, prompting her to fantasize about singing Dolly Parton's "Jolene" to express how she doesn't want Sue to steal her man.
After Salazar's campaign ad airs, Santana is approached by Josh Coleman, the captain of McKinley's rugby team, who sees a lesbian as a "challenge" who just needs the right man to straighten her out. All of Santana's glee club girlfriends rally to her defense, chasing off Josh and blowing off steam by singing Katy Perry's "I Kissed a Girl." Santana reveals that she came out to her parents the previous evening and hopes to tell her grandmother before she sees the campaign ad, but the glee clubs' celebration is interrupted when Principal Figgins calls Kurt into his office.
With Kurt's dad, Burt, also called into the meeting, Figgins and Coach Beiste reveal that Kurt won the senior class election, but by a suspiciously wide margin - and there are more ballots than actual seniors. Kurt insists he didn't cheat, though he admits that he thought about it. A tearful Kurt believes that his future is destroyed as a result, and Rachel admits to Finn that she was actually the one who rigged the results because she wanted so desperately to help Kurt.
Puck rushes out of school when he receives an emergency call from Shelby after Beth lands in the hospital needing stitches to her mouth. Puck handles the doctors and reassures Shelby, causing her to drop her guard: the two end up in her bed together. But when Shelby realizes that she's made a mistake and asks him to leave, Puck is hurt and lashes out, telling Shelby he thought she was "an ass-kicker" but now believes she's too much of a coward to follow through with a relationship with him.
Santana reveals the truth about her sexuality to her abuela, baring her soul about how she's tried to suppress her feelings but has become too tired to wage war against her nature. She wants to share who she really is with her grandmother, but she's stung by rejection: her grandmother is more concerned about the taint of scandal than Santana's feelings, and she banishes her from her home.
Puck almost succumbs to angry rebound sex with Quinn, but he catches himself and realizes that during all the attempts to help Santana come to terms with herself, no one has taken the time to help Quinn, who's become a mess. He tells her that he expects that she, out of all of them, has the best odds of making something of herself outside of Lima. Quinn asks him to simply hold her as he spends the night, and in the warm moment Puck also confesses his tryst with Shelby.
The results of the Congressional election are in, with bad news for Sue: Burt has won the election, with Sue in a distant third-place finish. When Cooter wonders what the turn of events means for their relationship, Coach Beiste also confronts Sue about her intentions toward Cooter. After losing so much - including a large sum of money she bet on her own victory with a particularly shady bookie - Sue vows that she won't let Cooter go too.
Cooter says that he has feelings for both Coach Beiste and Sue, prompting the coach to admit that she's in love with him and to apologize for letting Sue swoop in and snatch him away. She tells him that she'll do anything to win him back, and she warns Sue that she won't give Cooter up without a fight.
The two glee clubs celebrate the success of Finn's lesson, and Kurt congratulates Brittany on her new office as class president. Meanwhile, Santana explains that while her struggle continues, she knows now that she's not alone. As Santana sings k.d. lang's "Constant Craving," the song's sentiments reflect the tension that lingers between Shelby and Puck, Coach Beiste and Cooter, and Kurt and his future ambitions. It also prompts Rachel to confess her election-rigging to Figgins, resulting in a notation on her permanent record, a week's suspension, and a ban on competing at sectionals.