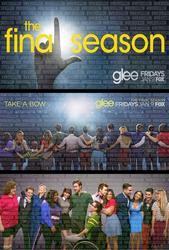 TV Info
---
Episode Premiere
September 20, 2011

Distributor
FOX

Genre
Comedy, Musical

Show Period
2009 - 2015

Production Company
Ryan Murphy Productions


Cast and Crew
---
Director
Eric Stoltz
Main Cast
Additional Cast
Ashley Fink
Iqbal Theba
Dot Jones as Shannon Beiste / Coach Shannon Beiste
Lauren Potter
Josh Sussman
Synopsis
---
Reporter Jacob Ben Israel stirs things up to kick off the new school year at McKinley, roaming the halls to ask what seniors will be doing post-graduation. Finn doesn't seem to have any plans at all, while Rachel has mapped out her expected career path. Mike's waiting for his parents to tell him which prestigious college he'll be attending, and Kurt is plotting a move to New York with Rachel. Meanwhile, we learn that Mercedes' summer fling with Sam ended when his dad found a job out of state, but she's got a big, beefy new boyfriend in Marcus, who seems devoted to her and her musical dreams.
Will and Emma have also coupled up, though in their new shared life Will seems to be putting some effort in handling Emma's regimented, controlled way of doing things.
Back at school, Will vows to lead New Directions to a national championship after losing focus last year. He and the glee club have a lot of issues to sort through: the fact the performer who took his slot in April Rhodes' Broadway musical won a Tony still stings a bit; Finn and Rachel's impromptu attempt at an onstage kiss is a viral sensation that's made New Directions the laughing stock of the show choir world; and Lauren Zizes has dropped glee club to preserve her cool factor.
To fire up the students, Will brings in a donated collection of repossessed pianos that he describes as castoffs like them - used, in need of repair, but still capable of making beautiful music. Will has painted them purple for his "Purple Piano Project," and whenever the students see them placed around the school, he wants them to sing a song and, hopefully, attract some new blood who just can't resist joining them.
Kurt and Rachel tell Emma that they plan to apply to Juilliard for the musical theater program, but she informs them that the program doesn't exist there. She suggests staying closer to home, but they insist on taking a risk and moving to New York, so Emma proposes that they try the New York Academy of the Dramatic Arts, a highly competitive school that's hosting a mixer for prospective students in Dayton.
Becky delivers some disappointing poll numbers to Sue, whose Congressional bid has her in ninth place with only six percent of the vote ("Well behind 'Undecided,' that rapist running from prison, and 'I don't care, please don't call me during dinner!'"). To boost her appeal to voters, Sue decides to claim a hot button topic she believes that everyone agrees about: hatred of school arts education programs, and she literally tears apart the first purple piano she discovers in the hallways.
Kurt tries to persuade Blaine to defect from the Dalton Warblers and enroll at McKinley so he can join New Directions. Kurt playfully insinuates that their sectionals competition might not be good for their budding relationship - but really he just wants more time together.
Quinn returns to McKinley a changed woman: her hair's dyed pink and she's sporting a nose ring, an "ironic tattoo of Ryan Seacrest," and an edgier attitude. She's quit the Cheerios and despite Santana and Brittany's attempts to cajole her into rejoining, she rejects the whole thing - she has a new group of rougher-edged friends called "The Skanks": Sheila, Roni, and Mac. Even Rachel's sincere pleas can't persuade Quinn to return to the glee club.
On "Sue's Corner," Sue blames America's failures on school arts programs and announces her election plan to suspend them and reject all funding until all students read at their appropriate grade levels.
Will angrily confronts Sue about her anti-arts platform, pointing out all of the real facts that indicate arts programs actually help students thrive in school. And he tells her that he takes this as a personal attack on his livelihood. This leads Will to get derailed into a discussion of his frustrating home life with Emma, which hasn't progressed sexually despite their otherwise intimate relationship. Sue rejects Will's pleas and promises to destroy him if he tries to derail her ambitions.
Sue makes Becky and Santana the co-captains of the Cheerios, but they both protest, insisting that they can't work together. Sue dismisses their complaints and demands that they support her nefarious plans. She wants them to destroy any purple piano they see. Sue pressures Santana to stay loyal to her: "You like to play both sides - which team are you on this year, the losers or the winners?" Santana declares herself to be on "Team Sue."
In the cafeteria, the glee clubbers are ignoring a purple piano despite Rachel's insistence that they follow through on Will's plans, but Finn convinces them when he suggests that no one will believe in them if they don't believe in themselves. Together they perform the Go-Gos' "We Got the Beat." The other McKinley students are unimpressed, and they use the opportunity to start a massive food fight against New Directions.
Upset and covered in lunch debris, the glee club complains to Will that they didn't inspire anyone to audition, but they're interrupted by the arrival of Sugar Motta (Vanessa Lengies), the daughter of the music shop owner who provided the pianos, and whose Asperger's syndrome allows her to express her uninhibited confidence ("I'm awesome, and when I saw you I thought, 'I'm so much better than you'").
Sugar auditions with a shockingly earsplitting, off-key rendition of "Big Spender," and while the students agree she doesn't have the talent to join them, Will reminds them of their open-door policy: anyone who tries out gets in. Rachel argues that if he wants to do whatever's necessary to get them the national championship, he won't let Sugar in to drag down the club.
Will later tells Coach Beiste he can't look kids in the face and turn them away from glee club. The coach suggests finding a token role in the club for Sugar, like she does for hard-luck football team wannabes who become water boys and equipment managers. But she also says that maybe Will should be more mercenary. If he can take the national title, he'll probably buy the glee club another decade of existence. Emma arrives bearing news of Sue's rising poll numbers, and Will plans to launch a counteroffensive against her war on the arts.
In the school theater, he and Rachel prep for their mixer by singing Harold Arlen and Barbra Streisand's jazzed-up version of "Ding Dong! The Witch Is Dead" from "The Wizard of Oz."
While Sue holds Cheerios auditions - with no intention of adding anyone new to the squad, "I just like to watch people cry" - Will and Emma confront her, tossing gold glitter in her face. Every sparkly grain, Will says, represents a kid whose dream will be crushed if she's elected and ends school arts programs. His passionate speech ends with dumping glitter all over Sue while Emma records the whole thing.
Blaine meets Kurt at McKinley and presses him to notice that he's not wearing his Warblers blazer: he's enrolled at McKinley. Kurt's both thrilled and freaking out, but Blaine assures him that he's there because it will let them spend more time together. By way of an "audition," Blaine tears into a purple piano performance of Tom Jones' "It's Not Unusual," joined by Santana and the Cheerios - though the piano is mysteriously engulfed in flames by the end of the song.
At the college mixer, Rachel and Kurt are enthusiastically greeted by a very chipper group of aspiring applicants, including the bubbly Harmony ("The Glee Project's" Lindsay Pearce), and a former Gerber Baby who's been acting "since I was a fetus." To Kurt and Rachel, the group seems so much more accomplished and eager to entertain, especially when they launch into a spectacular all-out mash-up of such musical theater staples as "Anything Goes" and "Anything You Can Do I Can Do Better."
Shocked by the high bar set by these performers, Kurt and Rachel doubt their ability to compete. Rachel's ready for them to resign themselves to a life of changed identities and community theater, but Kurt ends their pity party with a pep talk that puts them back on course to pursue their dreams and get into the school.
Although Will reluctantly drags himself out of bed to face what might be waiting for him at school, Emma's clearly feeling more passionate than ever toward him now that he's become as much a man of action as a man of words.
Will tries to gently let Sugar know she can't sing but she is welcome to find a role within the glee club. She's hurt and blasts him with a barrage of uncensored insults - "Not Asperger's!" she adds. Meanwhile, Sue informs Will that his attempt to YouTube shame her has only caused her to rise in the polls.
Will is pleased to introduce Blaine into New Directions, but Finn's a bit disgruntled, telling Blaine that their choir doesn't have the bells and whistles of the Warblers - or the "ball-hogging." Then Will makes a dramatic move: knowing that it was Santana who sabotaged the purple piano, he bans her from the glee club until she can be as loyal to the team as the rest of the members. Angrily, she leaves.
Rachel then proposes that the glee club secure the rights to a less controversial musical production than the ones they've attempted in the past: "West Side Story." Meanwhile, Kurt announces that he'll be running for class president. Tina observes that, like the purple pianos, the club members have had their guts ripped out, had crap thrown on them, and been burned up, but Will points out that the pianos are still making music, and so is the New Directions club. To bring his point home, Rachel begins to sing "You Can't Stop the Beat" from "Hairspray," and the rest of the glee club joins in.