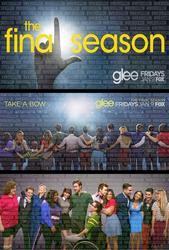 TV Info
---
Episode Premiere
May 24, 2011

Distributor
FOX

Genre
Drama, Comedy, Musical

Show Period
2009 - 2015

Production Company
Ryan Murphy Productions


Cast and Crew
---
Director
Brad Falchuk
Screenwriter
Brad Falchuk
Main Cast
Additional Cast
Synopsis
---
As striking images of New York City wash over her to the strains of George Gershwin's "Rhapsody in Blue," Rachel stands at the center of Broadway and takes it all in: "I made it!" She and New Directions have hit the Big Apple for the Nationals!
The students are thrilled to have made it to the top of the show choir heap and are eager to explore the city, though Finn reminds them that they still have two original songs to write. But before they buckle down, they share a lyric from Frank Sinatra's "New York, New York," until Rachel presents them with tickets to Broadway's longest running show, "Cats." But Quinn informs her that the show closed a decade ago, and Rachel realizes that she bought them from a crazy person. Checking into their hotel, Finn and Rachel discuss how Quinn's taking her breakup with Finn unexpectedly well, while Puck and Lauren try to score Manhattans at the bar until Will catches them and calls an emergency group meeting. He says that they need to be locked down until they finish their new compositions. But he also takes time to slip away to pursue his own Broadway agenda.
When Brittany's original song "My Cup" fails to impress, Quinn wants to break the lockdown and seek inspiration in the city: "We don't need to write songs for Nationals - New York's going to write them for us." The students hit the streets to explore, to the mash-up tunes of Madonna's "I Love New York" and "New York New York" from the classic musical "On the Town."
Finn tries to concoct a duet for himself and Rachel, and Puck and the glee boys push him to take a chance and ask her out again. As the girls stage a wild pillow fight, Rachel gets a text from Finn, asking her to meet him at Central Park's Bow Bridge. Meanwhile, Will takes to a stage in an empty theater as he waits for April Rhodes. He sings Matthew Morrison's (yes, that Matthew Morrison's) "Still Got Tonight," until being surprised by a veteran usher who tells him that he's seen a lot of talent come and go: "And let me tell you, kid - you've got it."
Rachel arrives at Bow Bridge, where a nattily dressed Finn hands her a bouquet and tells her that they're off on a "work date - strictly professional." They dine at Sardi's, where Rachel spots Broadway legend Patti LuPone - she falters at mustering the courage to approach the star, but she decides to do it for Kurt, who'd kill her if she didn't. LuPone receives Rachel warmly and, learning of the show choir's ambitions, makes her promise one thing: "Don't give up" (as well as quietly affirming that Finn is cute).
Basking in the romanticism of New York, they walk the city's streets, and when Rachel mentions that all they need is a street choir to serenade them, the New Directions boys appear to sing "Bella Notte" (made famous in Disney's "Lady and the Tramp"). Finn seizes the moment to lean in to kiss her, but she hesitates - he urges her to take a chance on him, but she tells him she can't and walks off.
The next morning, Kurt and Rachel slip away for a breakfast at Tiffany's, where they both agree they'll return to New York for college after graduation. Rachel worries that Finn wants to get back together - and she does, too - but he won't follow her as she pursues her dreams, and Kurt sees the age-old dilemma: love or career. Seeking inspiration standing outside the "Wicked" theater, Kurt decides that they MUST sneak inside; they're quickly discovered by a sharp-eyed usher who recognizes them as small-towners with Broadway dreams and gives them 15 minutes to fulfill their fantasy on the "Wicked" stage, where they duet on the musical's "For Good." Emotional, Rachel tells Kurt she realizes she doesn't have to choose between the stage and true love, because for her they're one and the same.
Quinn considers spilling the beans that Rachel and the others have sneaked off, but Brittany and Santana are afraid it will derail the team's chances at Nationals, which could be "our only chance to feel good about ourselves." Tearfully, Quinn wonders why the three of them, as the "popular" girls, aren't getting their chance at love and happiness like the others. Santana offers a certain kind of solace: a new haircut.
Back at the hotel, Will encounters his nemesis, ruthless Vocal Adrenaline coach Dustin Goolsby, who reveals that Will's bid for onstage success is "all over the Broadway blog-osphere." Dustin advises Will not to let his students know about his plans so as not to undermine their confidence, and he admits that watching his own students achieve and succeed has bred resentment: "I hate my kids." Will realizes that seeing New Directions grow and mature has been "the joy of my life."
When Will brings pizza to the students, he discovers that they've heard about his Broadway intentions - thanks, of course, to Dustin - and they insist that they're supportive, but he resolves not to leave them. He's had his moment on the stage and it was glorious, but he and the glee club have unfinished business. Thrilled with his choice, the students group-hug him.
As Nationals kick off (with the McKinley students both impressed and intimidated by the competition), Will confronts Dustin - who's buying consoling t-shirts for his competition - and promises that New Directions will kick Vocal Adrenaline's butts. Then Will purchases a t-shirt himself to send to Dustin after they win.
In the ladies room Rachel runs into an upchucking Sunshine Corazon, who reveals that her nerves are weighing on her: singing used to relax her, but the pressures of performing in Vocal Adrenaline have changed all that. Rachel refuses to believe her, anticipating a psyche-out, but Sunshine wants to know why Rachel hates her so much - she'd heard that New Directions welcomed outcasts, but Rachel was the only one who didn't make her feel safe there. Sunshine plans to flee to the Philippines Embassy and revoke her passport, believing it's her only chance to escape Vocal Adrenaline.
Rachel admits that she hated Sunshine because she was good, and she urges her to stay in the competition, promising to support her from the audience when she gets nervous. Vocal Adrenaline takes the Nationals stage and, after a thumbs up from Rachel, Sunshine leads her show choir in the original song "As Long As You're There," drawing a standing ovation from the audience.
Just before going on, Rachel congratulates Finn on his original song, but he's confused as to why she's not taking him back. Rachel tells him she is interested, but she can't let anything hold her back from pursuing her New York dreams: she loves him, but he can't change her mind.
New Directions takes the stage, where Rachel and Finn lead off duetting on his song "Pretending," pouring out their true emotions in song and ending with a climactic kiss that leaves the audience (and Jessie St. James) in stunned silence. The show choir then launches into their second original number, the energetic "Light Up the World," which gives everyone a turn in the spotlight.
Finn and Rachel are amazed at the success of the routine - and the kiss, which Finn calls "the kiss of the century." Jessie appears to disagree, however, calling the intimate moment unprofessional and insisting that the judges won't like it: it will cost them Nationals. Jessie says he's there for Rachel, and Finn tells him to back off, calling him jealous because their feelings were able to move the audience: "It was the Superman of kisses - it should have its own cape." The list of the Top 10 finalists is posted, but Will and the students are stunned to discover that they didn't make the cut.
Back in Lima, Kurt recounts the fallout for Blaine at the coffee shop: most of the New Directions members were outraged and/or crushed by the outcome, but Blaine notices that Kurt doesn't seem too upset: Kurt admits that he was thrilled just to have the experience, and Blaine tells him he loves him. Taken aback but thrilled, Kurt tells Blaine he loves him too, adding, "When you think about it, Kurt Hummel's has a pretty good year."
They're surprised to run into Sam and Mercedes, who nervously say they happened to run into each other there, and they discuss their summer plans: Blaine's trying out for the summer show at Six Flags, while Kurt plans to compose "Pip, Pip Hooray," a Broadway musical about Pippa Middleton. And as Mercedes and Sam slip away, she wonders, "Do you think they know?" Sam says that he doesn't think anyone knows, and they discreetly hold hands together.
Santana's still angry at Rachel - to the point of making a voodoo doll in her image - but Brittany tries to soothe her. This year wasn't about winning for Brittany; it was about acceptance. The glee club may fight and feud and steal each other's partners, but that sort of thing happens in families. Brittany knows that she'll be there for all the important moments to come in the students' lives. "I love everyone one in glee club, and I get to spend another year with everyone I love, so I'm good." When Santana asks about the two of them, Brittany tells her that she loves her more than anyone else, and because of that, anything's possible.
Rachel finds Finn moping in the library, feeling that as a leader he let the glee club down, but she tells him that expressing his feelings in the moment is part of what being an artist is all about. She asks what he was feeling at that moment, and he tells her he loved her and he would've done anything for one more kiss. It was worth it, he says - and Rachel agrees, because she knows in her heart that they'll have another shot at Nationals, and after that she's leaving for New York and never coming back.
Finn points out that graduation's still another year away, and he wonders if she has any plans until then. They kiss, and then Rachel leads him to the final glee club meeting of the year.
Will and Emma admire a banner hanging in the hallways, honoring New Directions for their 12th-place finish, and Will presents the glee club with a tiny trophy.