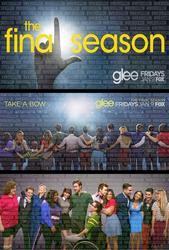 TV Info
---
Episode Premiere
May 17, 2011

Distributor
FOX

Genre
Comedy, Musical

Show Period
2009 - 2015

Production Company
Ryan Murphy Productions


Cast and Crew
---
Director
Bradley Buecker
Screenwriter
Ryan Murphy
Main Cast
Additional Cast
Jonathan Groff as Jesse St. James
Ashley Fink
Iqbal Theba
Josh Sussman
Lauren Potter
Synopsis
---
Will reveals that Jessie St. James will be acting a consultant while the glee club makes its final preparations for Nationals in New York. Finn doesn't trust Jessie, suspecting that he might sabotage their program so his alma mater will win, but Will insists that he's still making the final decisions himself. He wants to continue with original songs, and Finn thinks he and Rachel should share a duet. But Jessie suggests that while Rachel is a good choice, there are better singers and dancers in New Directions to duet with her: "You kind of sing and dance like a zombie who has to poop."
Will tells Jessie not to be so harsh, but Jessie believes that if they're committed to winning they should build the entire routine around the best performer. Will agrees to stage auditions to determine who it should be.
Sue is crazed in her desire to destroy the glee club's trip to Nationals, chewing out League of Doom member "Honey Badger" (aka Terri) for providing a pathetic excuse for a computer hacker to ruin New Directions' travel reservations: Terri's Sheets-N-Things co-worker and former Acafella Howard Bamboo, to whom Sue gives the super-villain name "Panda Express." ("But I'm not Chinese," says Howard; "Neither is the food at Panda Express," replies Sue).
They hack into Principal Figgins' computer and find an email with the travel plans and instead send a fake email to the glee club members from his account which will divert them to Libya. "Are we trying to get the glee club killed?" asks Terri. "Kidnapped and killed," replies Sue.
Becky and her mother approach Will about Becky becoming part of the glee club, as Sue has inexplicably kicked Becky off the Cheerios and does not want to see her anymore. Becky just wants to belong, and Will wants to help. But with the team so close to Nationals he doesn't have a place for her, so he invites her to join next year. Will angrily confronts Sue about cutting Becky, and Sue reveals her reason: Becky reminds Sue of her sister, Jean - who died the previous day.
Will is shocked as Sue explains that all their lives Jean was never expected to live very long, but after Jean turned 50, Sue thought that they'd have a chance to grow old together. Then Jean recently contracted a pneumonia. Sue wanted to stay through the night with her, but Jean told Sue to go home, only to die during the night. Will tries to comfort Sue, but she tells him to leave her alone.
As Rachel reflects on her first day signing up for glee club and her continued path toward stardom, she notices that Finn hasn't signed up to audition for lead vocalist. Finn tells her that he's worked hard for two years to become a better singer and dancer only to have Jessie wipe it all away in ten seconds. His confidence is shot, and he refuses to audition.
Emma helps Will pack up his apartment, certain that he won't be returning from New York despite his assurances that he'll be back by the end of summer break. But he doesn't want the students to know about his plans to extend his visit.
Kurt and Finn offer Sue flowers of condolence, and she wonders why they care after all her efforts to hurt them. Kurt explains that they both know what it's like to lose someone close to them, and Sue admits that she can't bring herself to go to the nursing home to sort through Jean's things - and she doesn't understand why she wasn't the one who died instead of Sue.
Finn and Kurt ask the glee club to try to help with a funeral service, celebrating the life of fellow outsider Jean, but Jessie thinks that they should keep their focus on Nationals. ("If a member of Vocal Adrenaline dies during rehearsal, they use them as a prop - like 'Weekend at Bernie's.' ") But, stepping up as the group leader, Finn insists.
Sue again pushes back Will's attempts to offer sympathy and someone to lean on, telling him that she's only agreed to let the glee club assist in the funeral because Finn and Kurt promised to clean out Jean's things.
Meanwhile, Jessie tries to persuade Will that his college class on judging for reality TV and the skills he learned on how to offer comments that are both "blistering and unhelpful" will be a boon to the auditions. Santana is up first, singing Amy Winehouse's "Back to Black," and Jessie slams her for failing to find the emotional truth of the song. Kurt performs "Some People" from the musical "Gypsy," but Jessie thinks that Kurt's drawing unwelcome comparisons to the female Broadway legends who've performed it.
Rachel defends Jessie's harsh critiques as motivated by respect for the integrity of the process, while Mercedes plans to sew up the competition with her rendition of Otis Redding's "Try a Little Tenderness." But Jessie slams her for not wanting to be a star bad enough, citing her lack of practice and choreography. Mercedes argues back that she simply feels her material in the moment.
Rachel then unveils the most difficult song she's ever attempted, "My Man," Barbra Streisand's closing number from "Funny Girl." Jessie asks if she'll be singing it to anyone in particular, and she says no, but Finn is front and center in her mind. This time Jessie can find no fault, prompting Santana and Mercedes to suspect that the competition is rigged, but Will says he'll be the one making the final decision - within a couple of days.
After sorting through Jean's effects, Kurt and Finn present Sue with a few items they're not sure what to do with: a Cheerios pompon and a videotape of "Willie Wonka and the Chocolate Factory," which Jean watched at least three times a week. Keeping only a stuffed animal Jean had since childhood, Sue instructs them to throw everything out despite any sentimental value. "I'm not short on memories of my sister," she insists amid a barrage of insults. She reveals that the real reason she let the glee club plan the funeral is because she was afraid no one would come, and she wanted Jean to have a full house.
The funeral is indeed full, but with people whose lives Jean had touched. Kurt and Finn tell Sue they created a Willie Wonka theme to funeral, inspired by how special Sue made Jean sound. Sue begins to address the mourners, but she becomes choked up and can't continue. Will joins her at the podium and reads Sue's moving speech for her, and New Directions sings "Pure Imagination" from Jean's favorite film as a video of Jean with Sue plays behind them. Clutching Will's hand, Sue offers a heartfelt thank you to the students.
Quinn joins Finn in his car to tell him how proud she is of how he handled the funeral, but he tearfully informs her that he's breaking up with her. He tried to fix all of his mistakes from the previous year, but he can't: Sue's speech about feeling tethered to her sister made him realize he doesn't feel that way about Quinn. Quinn tries not accept the breakup, saying she understands his confusion and immediately starts making plans for them as couple next year. But Finn stops her, asking if she feels anything anymore - and her tears reveal that indeed she does as she angrily storms off. Finn sits quietly in the car as he watches Rachel leave the funeral home.
Brittany tapes Jessie and Will's debate over the auditions as part of Jessie's reality show judging experience ("Maybe you can come on 'Fondue for Two' and judge my cat," she offers), but Will makes her stop. He's uncomfortable with the whole competition, feeling like he's picking a favorite one of his children. But Jessie insists that with Rachel in the spotlight, Nationals is in the bag.
Becky turns in her pompons and megaphone to Sue, but Sue tells her she only fired Becky in a hormonal fury of menopause that she describes as "womb rage." Sue brings Becky back to the Cheerios and names her captain next year. And before Becky runs off to tell her mother, Sue also requires a hug.
Sue offers Will good luck at Nationals, admitting to spending too much time and effort hating him and the glee club ("I alternate which one of those kids I hate the most," she informs him, "Right now it's the dancing Asian"). After what Will and the students have done for her sister, she's not able to hate anymore. Will, like Jean, has a pure heart, and Sue offers to be a friend to him.
Sue announces that she has bigger plans: She's running for a seat in the House of Representatives, prompted by the inequities of the health care costs Jean endured. She also reveals her plot to send New Directions to Libya. Terri then appears, offering first-class tickets to New York, having run a clever scam to get them for Will. She also reveals that she's moving to Miami to take a managerial position at Sheets-N-Things, and the two agree that they loved each other but weren't right together. Will finds Emma wearing one of his vests; she tells him that she hopes he finds his dreams in New York and essentially bids him good-bye.
Continuing his apparent bid to set things right after wronging Rachel, Jessie tells her that she's got the solo at Nationals. She's both elated and concerned that her opponents will hate her, but Jessie says they already do - and that's part of the price of fame. He'd been obsessed with fame himself, but now something matters more to him: Rachel. As Finn watches from the shadows, Jessie kisses Rachel. But instead of a posting announcing her victory, Rachel discovers it calls for an urgent show choir meeting.
Putting any in-fighting behind them, Will's decided that New Directions will perform original songs as a group, and the tensions within the group dissolve almost immediately. Finn thanks Quinn for not quitting glee club, but she tells him that if she did her big plans for New York would be ruined. "What plans?" he asks. "You'll see," she replies.