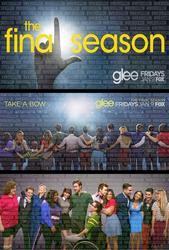 TV Info
---
Episode Premiere
November 23, 2010

Distributor
FOX

Genre
Comedy, Musical

Show Period
2009 - now

Production Company
Ryan Murphy Productions


Cast and Crew
---
Director
Carol Banker
Screenwriter
Ryan Murphy
Main Cast
Additional Cast
Synopsis
---
Kurt's dad, Burt, and Finn's mom, Carole, make a surprise at McKinley with a major announcement: they're engaged. Finn's a little shell-shocked, but Kurt's thrilled to take on the wedding planning (Burt's set on a honeymoon in Waikiki to stay in the hotel "where they put up the guest stars on Lost' ") and decides to recruit New Directions as the wedding band: "You're having a glee wedding!"
As Sue sends out stacks of her own mysterious invitations, she flashes back on the horrific beginnings of her tale: after one of her Sue's Corner segments on the homeless - as Sue "Cs" it, they're "outdoorsy" - anchorman Rod Remington reveals on air that he's engaged to co-anchor Andrea Carmichael. ("Don't worry, ladies. It's an open marriage.") Sue's incensed because her viewers know that she and Rod dated. Seeing the announcement as a humiliation, and feeling the need to find her life mate, Sue tries online dating and quickly realizes the only perfect match for her is: Sue Sylvester. As she places a stamp with her own image on an envelope addressed to Barack and Michelle Obama, Sue reveals that she intends to marry . . . herself!
Sam works out his healed shoulder in hopes of reclaiming the quarterback slot, even though Finn's been headlining the team's winning streak. Sam tells Finn that he's on the cusp of becoming the most popular guy in school; he believes that will insure immunity from teasing and slushee facials. Sam also professes his love for Quinn, offering her a promise ring to symbolize his intent to marry her one day. Quinn is a little freaked out and doesn't immediately accept the ring but offers him a "maybe."
Feeling threatened by Sam's bid to replace him, Finn seeks Kurt's help in crafting a grand gesture at their parents' wedding to remind everyone that he's a leader. Kurt thinks a memorable dance with Carole will do the trick. Finn thinks that he's the worst dancer in glee club, but Kurt convinces him he'll pull it off.
Kurt is confronted yet again by a menacing Dave Karofsky, who takes the wedding cake topper from him. Kurt and Will try to get Sue - still acting principal - to act on Karofsky's escalating threats, but she says Karofsky hasn't crossed a legally punishable line. Growing more afraid, Kurt tells them how hard it is to know what's going on in Karofsky's head, but he stops short of revealing that his tormentor is secretly gay. And even as Sue, who feels some sympathy as a victim of bullying herself, promises to expel Karofsky if he tries to harm him, Kurt points out that when she refers to him as "lady" that, too, is bullying.
Rachel rallies Quinn, Tina, and Brittany - the glee ladies with football player boyfriends - in hopes of defending Kurt, proposing they get their beaus to threaten Karofsky, though Quinn objects to both being romantically linked to Sam and using the threat of violence as a defense. Santana is annoyed she wasn't included; the girls don't consider her trysts with Puck to qualify as a relationship, and anyway Puck's probationary status could be violated by any physical confrontation.
As Sue fires her perplexed wedding planner after revealing she's marrying herself AND officiating the ceremony, she's surprised by the appearance of her long-absent and equally acid-tongued mother Doris (guest star Carol Burnett), a longtime Nazi hunter who's finally captured her last fugitive after 30 years of being an absentee parent. She wants to be a mother to "Suzie" and her sister Jean again, but her intensely critical nature keeps her daughter's defenses up. When Sue refuses Doris' offer to walk her down the aisle - Sue will be doing that herself - Doris decides that she'll sing at the wedding.
Finn quashes Rachel's plan for him to protect Kurt, arguing that confronting Karofsky will cause Dave to allow him to get tackled, lose games, and cede the quarterback spot to Sam. He thinks he can help Kurt more if he stays "on top," but Rachel tells him that she's never been more disappointed with him. Artie and Mike Chang, however, confront Karofsky in the locker room and insist that he stop bullying Kurt. When Karofsky attacks them, Sam jumps to their defense as Puck watches, then their fight is broken up by Coach Beiste.
The glee club girls comfort their bruised boyfriends but wonder why Finn wasn't involved; he claims he was still on the field during the fight. Kurt thanks them for their gesture, especially Sam, and Mike Chang calls Sam "the epitome of a leader." Will is concerned when he learns of the fight, but the students think they've sent the message to Karofsky.
At the rehearsal for Sue's wedding song, Doris tells Sue she doesn't think her daughter understood the sacrifices she made to be a famous Nazi hunter and offers a song selection to express her feelings. She sings composer Leonard Bernstein's "Ohio" from the musical "Wonderful Town," bringing Sue into duet and entering into a heated musical debate about why Doris left, but the song ultimately brings them closer together.
Kurt gives his dad and Finn dance lessons in the music room, and when Karofsky spies them and silently taunts them, Burt realizes that Kurt's being harassed. Kurt confesses all, and when he reveals for the first time that Karofsky threatened to kill him, a furious Burt throws Karofsky against the wall. Concerned for his dad's health, Kurt pulls him away, and Burt angrily asks why Finn hasn't intervened during Kurt's torment.
Kurt and Burt and Karofsky and his father meet with Sue about the death threat, but Karofsky denies Kurt's accusations and Kurt can't bring himself to reveal that Karofsky's secretly gay. Karofsky's father recognizes something troubling has been going on with his son; he has wondered why his grades have dropped and he's been acting out, and he recognizes that Kurt has no reason to invent his charges. Burt insists that Sue act to protect Kurt; she gladly expels Karofsky, but the resolution only gives Kurt greater fear of retaliation.
Helping Finn arrange his tie for the wedding, Santana suggests that finally going public with sleeping with her months ago would be the "coolness injection" he needs to keep his edge over Sam. But Finn knows the truth would hurt Rachel and prompt her to break up with him. Santana insists that Rachel is dragging Finn down, and when he gets angry with her, she suggests that she might tell Rachel herself, which would free Finn to be with her.
After reaffirming their love for each other, Finn and Rachel enter the wedding chapel singing and dancing to Bruno Mars' "Marry You," joined by the glee clubbers. Burt dances down the aisle, followed by his bride-to-be Carole; they exchange touching speeches about finding each other and becoming a family with Kurt and Finn, then rush straight to the wedding vows.
At the reception, Will sings Dean Martin's "Sway" during Burt and Carole's first dance, then brings Finn to the stage for his speech to the newlyweds. After toasting his mother, Finn points out that any coupling in the glee club has gotten a mash-up nickname and says that as brothers he and Kurt will now be "Furt." He apologizes for not manning up they way he should have when Kurt was being bullied and promises to always have his back in the future. As a thank you to Kurt for organizing the entire wedding, Finn unveils a special glee club musical number, Bruno Mars' song "Just the Way You Are," dancing with Kurt in front of the guests.
Doris and Jean gather for Sue's wedding as the, um, intended spouse strolls down the aisle in a bright blue track suit-style wedding gown. Sue performs the ceremony and exchanges "I dos" on her own behalf. Doris finally cracks, upset that she won't have a spotlight at the wedding, that Sue and Jean still resent her, and that the wedding is generally bizarre. Sue tells Doris she only finally began to like herself when she stopped trying to please her mother, and that Doris is, ultimately, more of a bully than a mother. Sue disinvites Doris from the wedding and she leaves, withdrawing her plan to send Sue to Israel for her honeymoon ("They love me there!") as Sue and Jean comfort each other.
Quinn offers Sam some salve for his bruises and reveals that she's now wearing his promise ring. Meanwhile, Burt is upset that the school board merely issued a verbal warning to Karofsky and will allow him back in school, and Kurt tells Sue he can't go back to being terrified all the time. Sue informs him that she's resigned as principal in protest and Figgins will be reinstated so she can be back in the hallways where she can have Kurt's back against bullies.
After Burt and Carole take Kurt aside for a conversation, he enters the music room and informs the glee club that he'll be transferring to Dalton Academy, where a no-bullying policy prevails - his parents are sacrificing their honeymoon money to pay for the tuition. His friends are upset, but Kurt insists he has no choice, leaving the music room for good.