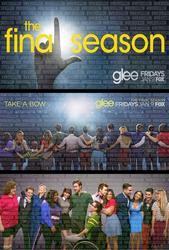 TV Info
---
Episode Premiere
November 16, 2010

Distributor
FOX

Genre
Comedy, Musical

Show Period
2009 - now

Production Company
Ryan Murphy Productions


Cast and Crew
---
Director
Ryan Murphy
Screenwriter
Ian Brennan
Main Cast
Additional Cast
Synopsis
---
Will is stunned to learn that Sue is suddenly the acting principal after Figgins is stricken by "a particularly virulent strain of monkey flu" from Borneo - the conniving Sue had maneuvered Figgins straight into a sneeze from flu-ridden AV Club president Lauren Zises, and she does the same to Will. Will tries to power through his symptoms, but when he sees the glee club in an illness-induced haze of Mini-Glees he succumbs. Sick at home, he's nursed by his ex-wife, Terri, whose tender mercies smother him at first, but she does ease his suffering with a "Singin' in the Rain" DVD.
Mercedes is curious about Kurt's budding relationship with Blaine, but he assures her that it's not a romantic situation, and she's distracted by the enticing - and unhealthy - cafeteria food. To replace Will during his illness, Kurt's eye is on Spanish teacher Holly Holliday (guest star Gwyneth Paltrow), who's working to put a little excitement into her classes - was that Lindsay Lohan she name-checked en Espanol? Kurt was impressed when Holly subbed in his English class, leading a musical rendition of the Saturday morning "Schoolhouse Rock" staple "Conjunction Junction," and she happily agrees.
Despite the glee club's plans to prank the sub, Holly eases past their practical jokes and sparks their interest with her knowledge of their performances. When the kids suggest that they haven't been singing the songs that THEY can get excited by, she says that she wants them to have fun. Have Will's '80s-era musical tastes - "There's got to be a Journey song we haven't done" - dominated their song choices? Holly seizes on Puck's suggestion to perform Cee-Lo Green's hit . . . um, let's call it by the radio-friendlier title "Forget You," and she hooks them hard with her inclusive, high-energy performance - except for the skeptical Rachel.
"Principal" Sue visits Coach Beiste and announces that the football team is being disbanded. But Sue reconsiders when the coach wonders exactly who the Cheerios will cheer for. Looking for another cause for which wield her power, Sue decides to ban Tater Tots.
Will's wild and crazy dance duet with Mike Chang on "Make 'Em Laugh" from "Singin' in the Rain" is revealed to be a flu-induced hallucination, and he's visited at home by a surgical-masked Rachel, who's annoyed by Holly's seemingly frivolous approach and her growing friendship with Sue (the two enjoy wine over an episode of "Animal Hoarders"). Rachel urges Will to recover quickly or lose the glee club to Holly.
The Cheerios enforce Sue's Tater Tot ban, to Mercedes horror. Mercedes confronts Sue and demands her Tots back, but Sue's sticking to her plan. Rachel threats to report Holly's unconventional lesson, but her plan backfires when Holly tells her, "You SUCK!" and urges her to do something that would just be a blast for her. Rachel's tempted by the opportunity to do one of her dream numbers, and after Holly offers to be her partner, she starts to change her attitude. Meanwhile, Will finds himself welcoming Terri's attentions, and the two share a moment of passion.
Mercedes is still fuming about the new lunch menu when Kurt reveals that he's set her up on a date to ease her left-out feelings over his relationship with Blaine. But she's miffed that Kurt's knee-jerk choice is one of the school's few black students as her match, and she instead throws herself into her Tater Tot protest, full-on "Norma Rae" style, and sparks a student revolt in the school.
Rachel and Holly perform together the jazzy "Nowadays" number from the musical "Chicago," complete with bright red flapper dresses and matching machine guns. Meanwhile, Kurt and Blaine hang out with Mercedes, while she zones out from their decidedly simpatico - and gay-centric - chatter.
Will returns to school, but Sue insists that he's no longer needed there. Assuming the full-time position of principal, she fires Will on the spot. He then confronts Holly about taking over his job, suggesting that her substitute status allows her to indulge in fun but not have to deal with the students' long-term needs. Holly argues that Will's not letting the glee clubbers have a voice. They butt heads, with Holly insisting that the kids are entirely into themselves and should be dealt with on their level (such as Tweeting praise to connect), while Will believes in guidance and sharing wisdom. She admits that she won't turn her back on the opportunity in front of her.
Holly joins Mercedes in Principal Sue's office, where the sub learns that her casual excusing of Mercedes from class resulted in Mercedes shoving Tater Tots up the tailpipe of Sue's prized 1979 Le Car, causing $17.000 in damage. Along with threatening Mercedes with a visit from her attorney Gloria Allred, Sue calls out Holly, who admits she has no idea what she's doing.
An emotional Holly turns to Will, and they commiserate over beers as she reveals she tends to check out when things get serious. Holly recalls her early teaching days, when she was more committed like Will until she encountered a troublesome female student named Cameo who kicked her butt in more ways than one, prompting Holly's more lax and laid-back approach to her job and her lifestyle. Terri walks in on Will and Holly bonding and assumes the worst, prompting Will to admit their reunion was a mistake caused by loneliness. He apologizes but turns her away for good; she vows that he'll regret his decision.
When Mercedes smuggles Tater Tots into the school, Kurt tells her she's substituting food for love - and substituting Kurt for a boyfriend. He assures her that she'll find someone and urges her to take care of herself in the meantime.
Then Dave Karofsky confronts Kurt about the kiss he forced on him. Karofsky threatens to kill him if he ever tells anyone about it, chilling Kurt to the bone.
Sue admits to Will that Holly is unfit for the job, and while he irritates her, he clearly has won the admiration of his students. She decides to reinstate him, as long as the glee club reimburses her for the damage to her Le Car. The kids enthusiastically welcome back Will but admit they'll miss Holly.
Inspired by his viewing of "Singin' in the Rain," Will wants to use songs from the 1952 film in the sectionals set list, and the students quickly suspect that he's already steering them away from the music they care about.
Will turns to Holly - now teaching history by performing Mary Todd Lincoln's bipolar rants - for help in modernizing his song selection, and the two of them team up to lead the glee club in a literally splashy modern/retro mash-up of "Singin' in the Rain" a la Gene Kelly and "Umbrella" a la Rihanna.