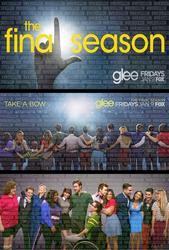 TV Info
---
Episode Premiere
October 05, 2010

Distributor
FOX

Genre
Comedy, Musical

Show Period
2009 - now

Production Company
Ryan Murphy Productions


Cast and Crew
---
Director
Alfonso Gomez-Rejon
Screenwriter
Brad Falchuk
Main Cast
Additional Cast
Synopsis
---
While making a sandwich with his George Foreman grill, Finn believes he sees the face of Jesus Christ pressed into the bread - a "Grilled Cheesus." He prays to the half of the sandwich he didn't eat, asking to win the first football game of the season (thinking that Artie is owed a win since he's lost the use of his legs) and, in exchange, promises to honor Grilled Cheesus in glee club. The team wins, to Finn's delight.
Kurt delivers a healthy lunch to his dad, Burt, urging him to take better care of himself. Kurt tries to skip out on Friday family dinner with Burt, Finn, and Finn's mom, Carole, for a "Sound of Music" sing-along, and Burt's disappointed that his son is making a habit of missing the tradition his mother started before she died.
Finn urges Will to let the glee club pay tribute to Jesus. Mercedes and Quinn agree, but Kurt dismisses the idea because of some churches' stance against gay people. Puck, calling himself a Jew for Jesus, sees genuinely spiritual songs as celebrating the life you are given, singing Billy Joel's "Only the Good Die Young" as an example.
Burt collapses at the auto shop, suffering a heart attack. Will and Emma accompany Kurt to the hospital, where he asks for a private moment with his comatose father. Kurt urges his dad to squeeze his hand if he can hear him.
Finn prays again to Grilled Cheesus, this time asking for an opportunity to touch Rachel's boobs. As the glee club consoles Kurt, Finn is hurt that he's the last to hear about Burt, feeling that they'd become "sort of a family."
Unable to decide what she should say to Kurt, Mercedes sings a spiritual song, Whitney Houston's "I Look to You." But Kurt reveals that he doesn't believe in God. He's unhappy with the idea that a divine power would make him gay but have him be mocked by those who claim it's a choice: "I appreciate your thoughts, but I don't want your prayers."
Will, Sue, and Principal Figgins debate whether or not Will should be teaching lessons in spirituality in the classroom. Rachel is concerned about Finn's burgeoning faith; she asks him for assurance that after she's 25, has won several Tony awards, and is ready to have sex and bear children, her family can be raised in the Jewish faith. Finn (not so convincingly) agrees, and his prayers are answered when Rachel rewards him by letting him cop a feel.
After Sue cajoles Kurt into complaining about Will's spirituality teaching so she can take it to the school board, she is angrily confronted by Emma, who demands to know what happened to Sue to make her such a tyrant. Sue reveals that as a girl she prayed over her older sister Jean's mental disabilities, but she eventually came to decide that no one was listening.
The glee club is divided after their spiritual lesson is prohibited, and Kurt's attitude escalates the bitterness.
Finn prays to Grilled Cheesus again, asking to be quarterback, but he feels ashamed when Puck tells him he's been praying for Kurt's dad at temple. Finn joins Rachel for a late-night picnic, where she sings "Papa, Can You Hear Me?" from "Yentl" as a prayer for Burt Hummel.
Kurt is upset when he finds Rachel, Finn, Quinn, and Mercedes singing prayers by Burt's bedside in the hope that one of their faiths will have the answer.
During the football game, Finn calls his own play in the huddle, resulting in Sam being injured. This puts Finn back in the quarterback slot - an unexpected answer to his prayers.
Meanwhile, a troubled Kurt tells the glee club that he needs to express his feelings in song. Missing his father's comforting touch, he sings a measured, emotional rendition of the Beatles' "I Want to Hold Your Hand," as he recalls their special moments together. Mercedes tells Kurt she's concerned that he's closing himself off to a world that might surprise him, and he agrees to join her at her church.
Finn confesses to Emma about his prayers going awry, and she points out that there are practical reasons why his prayers came true: "God works in all kinds of mysterious ways, but I'm pretty sure he doesn't spend a lot of time trying to speak to us through sandwiches." Finn is disappointed that he doesn't really have a direct line to God, but Emma reassures him that he's not alone in struggling with life's bigger questions. A conflicted Finn sings R.E.M.'s "Losing My Religion," further confusing the glee club.
At Mercedes' church, she asks the congregation for prayers for Burt and, subtly mocking Kurt, she urges Kurt to find something sacred to believe in before she leads the choir in a powerful version of Simon & Garfunkel's "Bridge Over Troubled Waters."
While playing checkers, Sue asks her sister, Jean, if she believes in God, admitting that she doesn't because of the cruelty Jean experienced. "God never makes mistakes," Jean tells her, offering to pray for her sister. "That would be nice," says Sue.
Feeling moved by his experience at Mercedes' church, a tearful Kurt tells his comatose father that he was wrong not to let his friends pray for him. "It wasn't about me, it was about you," he admits. He doesn't believe in God, but he believes in the two of them, and that's what's sacred to him.
As the glee club performs Joan Osborne's "One of Us," Will tells Sue that the students really wanted to sing the song and asks if she'll use it to get him fired. Sue tells him no. And Finn finally eats the remaining half of Grilled Cheesus.