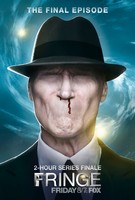 TV Info
---
Episode Premiere
September 28, 2012

Distributor
Fox TV

Genre
Sci-Fi, Mystery, Drama

Show Period
2008 - 2013

Production Company
Bad Robot


Cast and Crew
---
Director
Miguel Sapochnik
Screenwriter
J. H. Wyman
Main Cast
Additional Cast
Synopsis
---
New York City, 2036. Walter, Peter, and Astrid are in hiding after being removed from amber by Fringe agent Henrietta "Etta" Bishop, who is Peter and Olivia's adult daughter (as seen in Season 4's "Letters of Transit"). Peter wakes from a dream of the Observer invasion in 2015: As little Etta blows dandelion fluff, percussive blasts suddenly devastate the city, and Etta is separated from her parents.
Now the Fringe team must find Olivia. Walter awakens and ponders the light dancing on the wall. He's sharper - because Etta and her boss, Agent Simon Foster, replaced part of his brain - but more brusque. Walter explains that September scrambled each part of their plan to defeat the Observers in Walter's mind. That way, it was safe from mind-readers.
The team goes to Columbus Circle, where Olivia disappeared 21 years ago after retrieving the device that would reassemble those parts. The area is devastated, and Central Park is paved over with machines that pump out carbon monoxide because our air is too oxygen-rich for the "baldies."
The team finds a mountain of amber, but the people have been removed by "amber gypsies." Etta gives Peter a handful of shelled walnuts - worth $3,000 - to seal the deal on retrieving Olivia. But she's already been bought. Later, the amber merchant tips off Observer authorities.
Olivia's "owner" is Ed Markham, the former rare-books dealer. He's always been in love with her, and he hoped to figure out how to free her so she would fall for him. The team gets ambered Olivia into the van but is attacked by Loyalist troops (humans who've pledged allegiance to the Observers), and Walter is captured.
A revived Olivia tearfully greets her grown daughter. While Etta appeals to her friends in the resistance for help, we learn that Peter became so obsessed with finding little Etta that he refused to abandon that mission - not even to join the fight against the Observers.
Captain Windmark, the Observers' leader, begins his psychic interrogation of a defiant Walter. When Windmark scoffs at the concept of music, Walter retorts that it helps you shift perspective, to see things differently if you need to.
A Loyalist officer tells Etta that Agent Foster was discovered in amber, alongside someone named William Bell.
Etta's resistance friends explain that the device Olivia retrieved is a Transilience Thought Modifier, Model 11. It reassembles specifically marked thoughts and unifies them when needed, so you can hide from mind-readers.
Windmark realizes that Walter has been "partitioned." He perceives that the disparate ideas are a plan to defeat his people, but reassembling the ideas would take too much time. Instead, he digs into Walter's mind, leaving him a bloody mess.
The Fringe team uses the resistance's new device, which simulates death in a human, to sneak Peter into the facility where Walter is imprisoned. Peter and Etta rescue the badly damaged Walter. He's still himself enough to call Astrid "Afro" and ask if she has any music. And to tearfully reunite with Olivia.
Windmark spots Etta in the hologram footage of the escape and realizes she's the little girl he saw in Walter's mind.
The Unifier activates when Walter touches it . . . but he can't remember the plan. He can't even remember cutting off the ambered William Bell's hand for future use in entering one of Bell's storage facilities. He is angry and devastated to be letting the world down - again.
Etta says the ideas September planted were probably destroyed forever. The plan is gone.
Walter awakens again to patterns of light. In his underwear and robe, he ambles outside to a washtub where broken CDs flutter from a framework of sticks and string. He finds another disc in a battered gym bag and puts it into a wrecked taxi's CD player. In the driver's seat, he closes his eyes, listening. When he opens them, he sees a tiny bright spot: a dandelion growing in the rubble. Walter weeps . . . and smiles.