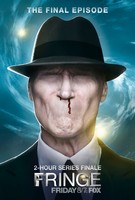 TV Info
---
Episode Premiere
May 06, 2010

Distributor
Fox TV

Genre
Sci-Fi, Mystery, Drama

Show Period
2008 - 2013

Production Company
Bad Robot


Cast and Crew
---
Director
Joe Chappelle
Screenwriter
Ashley Edward Miller, Zack Stentz, Nora Zuckerman, Lilla Zuckerman
Main Cast
Additional Cast
Sebastian Roch
Christine Chatelain
Patrick Gilmore
Juan Riedinger
Paul Herbert
Marie West
Synopsis
---
On the road in Washington State, Peter meets a waitress named Krista in a diner and they flirt. She doesn't show up at his motel that night after her shift. After Krista turns up dead with a piece of her skull opened by a surgical instrument, Peter is brought in for questioning by the local Sheriff Mathis. When Peter knows that part of Krista's temporal lobe missing and he sees Newton at the crime scene, Mathis enlists him for help in solving the case. Thinking Newton was using Krista to get to him, Peter calls Broyles but asks him not to tell Walter where he is.
Peter sees Mathis' partner Ferguson with Newton. Another dead girl named Gwynn appears, but Peter doesn't recognize her and doesn't his own connection to her. He questions Gwynn's sister, Heather, but she goes missing. Peter tests the two dead bodies for adrenaline spikes and plots them on a map to figure out where Newton may have killed them. This may lead them to find Heather.
Peter and Mathis track down a farmhouse in the area and find Ferguson strapped to a surgical chair. It's not the work of shapeshifters but a local psychopath using human pineal gland for virility.
Distraught by Peter's absence, Walter gets arrested and he worries that he will be sent back to St. Claire's. Olivia assures him that she won't let that happen. Walter can't function in his house, so Astrid helps get him back on track. Walter builds a device to detect objects from the other side in hopes that he can find Peter this way. Before he can finish, Olivia learns from Broyles that Peter is in Washington State. They head to the airport.
Newton visits a scared Peter with Walternate -- the Walter from the other side. Walternate asks his son Peter to come to the alternate universe because he needs his help. However, Peter won't be able to return to this world. Peter agrees to go.