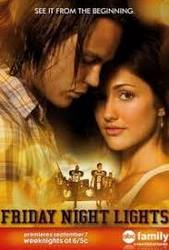 TV Info
---
Episode Premiere
October 19, 2007

Distributor
NBC, DIRECTV

Genre
Drama, Sport

Show Period
2006 - 2011

Production Company
NBC Universal, Imagine, UMS, Film 44, 101 Network


Cast and Crew
---
Director
Seith Mann
Screenwriter
Kerry Ehrin
Main Cast
Additional Cast
Whitney McCauley
Joey Truty
Steven Walters
Brittany "Nieko" Mann
Synopsis
---
Tyra and Landry wake up in his bedroom. She tells him this can't happen again and slips out the window without noticing Chad, Landry's Dad. Riggins spies brother Billy sneaking out of Jackie's house. Coach Taylor reluctantly leaves Tami and Grace to return to TMU. According to local radio, Taylor is a Judas who abandoned the team. Saracen runs into Taylor and apologizes for everything with Julie - they broke up and Coach Taylor had no idea.
MacGregor rides Riggins hard at practice. Riggins finally passes out and is taken away on a stretcher. At the hospital, the doctor says that Riggins was so dehydrated that he went into shock. He can't be released until an adult signs him out, and Billy can't be found. Riggins is surprised when Lyla pays a friendly visit, thanking him for helping her with Buddy. She can see that he's lost - she often feels the same way - and invites him to go to church with her.
Street plays murderball, telling his pal Herc about the experimental surgery in Mexico. Herc laughs and advises Street to be careful of people that will take his money and what's left of his dignity. At TMU, Coach Boyd shocks Taylor, telling him to get rid of a gifted but problematic player. They don't have time to waste. Taylor calls Tami and isn't too happy to hear Glen in the background, fixing the icemaker. Tami didn't know that Julie and Saracen broke up, but Glen says it's all over school.
Buddy signs Riggins out of the hospital. He's seen Riggins play hung over plenty of times - the problem is McGregor. The Panthers are sick of Smash getting all the attention as MacGregor reshapes offensive strategy around him. Saracen steps up to ask Smash why he's acting like he's the only one on the team, when it's falling apart. He needs to step up and be Captain. Smash gets angry. He's loving his big year, and his future's on the line. He's gotta do what he does best, and everyone else has to live with it.
Tami tries to bond with Julie, but Julie refuses to talk about her break-up with Saracen. When Riggins doesn't show up at practice, MacGregor sends Street to get Riggins pumped up. He finds Riggins drinking at home, "resting" per doctor's orders. Riggins wants to know if he's talking to his coach or his friend, and accuses Street of being a lousy coach. The argument ends with Street telling Riggins to go to hell.
Saracen asks Carlotta why everyone's laundry is done except for his. She insists she's not a maid, even if her skin is brown. Saracen explains his busy schedule, but Carlotta's busy too, maintaining her "A" in nursing school. She wants to help people. If she wants to help, Saracen wants to know why she can't help him. Landry's parents ask if he's met any new girls since he joined the team, but he says no. His father Chad notices that Landry isn't wearing his watch; it's been in the family for 60 years and his grandfather will want to see it when he visits soon.
Buddy calls Taylor. He needs to talk to him in person right away, but he won't say what about. He wants to drive halfway and meet. Riggins asks Billy if he's screwing Jackie. Billy admits that they've been together for about six weeks, and Riggins shouldn't be mad. How could a screw-up like him take care of a 33-year-old woman? Riggins walks out and goes to church, sitting next to Lyla for a sermon on how Jesus will forgive the past.
Smash makes time with a girl at the diner. Saracen yells at him to get back to work. Meanwhile Landry and Tyra shop for a watch that looks like his Grandfather's. If his watch is not found, Landry promises not to implicate Tyra in the murder. Riggins barges into Lyla's bedroom. Church made him feel part of something, but he's scared to feel so vulnerable. Lyla hugs him, and Riggins pushes into a kiss. Furious that he's playing her, Lyla kicks him out of her bedroom.
Taylor meets Buddy at a diner. Buddy tells him the team is screwed. Something's wrong with MacGregor. He's mean, and Buddy's not just saying that because he got kicked out of practice. He wants to get rid of MacGregor, but only if Taylor will agree to come back. Taylor thinks he's crazy, but Buddy goes for the jugular. Taylor's family is falling apart without him - they need him here in Dillon.
Tami leaves an angry message for Julie: it's 2 A.M., call home! Julie's hanging out with the Swede talking politics as a bunch of kids pass a joint. She doesn't smoke, but winds up making out with the Swede in his van in front of the house. Tami runs out and demands that Julie get in the house. Julie tells the Swede to drive, but he won't and Tami pulls her out of the car. Julie tells Tami to go to hell, and Tami slaps her. Julie claims that Tami got rid of her when she had Gracie and Taylor left, and runs into the house.
Chad stops by Applebee's for lunch, and asks waitress Tyra if she's dating Landry. He doesn't get it. What's a hot number like Tyra doing with his son? Tyra doesn't really know if they're dating, but she does know that Landry is a great guy - doesn't Chad know that? It's finally Friday night, and Taylor stops by the game - the Panthers are a mess. Street tries to advise MacGregor, only to be told there's no time to take advice from the team mascot.
MacGregor begins running all plays around Smash, reducing Saracen's role to that of decoy. After Smash makes the winning touchdown, Saracen snaps and attacks him. As all the players pile on, both Riggins and Taylor walk away. At home, Tami tells Taylor that she slapped Julie. She cries in his arms - what's happening to their family? Tyra comes through Landry's bedroom window to give him a romantic kiss. He tries to tell her she doesn't have to, but she tells him to hush. No one has ever cared for her so much.
Street throws a beer bottle at Riggins' door. He's come to put an end to their so-called friendship, and has quit the football team. He's an awesome coach; he just can't work with MacGregor. He's going to Mexico to have surgery, and when he can walk, the first thing he'll do is kick Riggins's ass because he's the worst friend ever. Riggins is pumped for a road trip to Mexico and the guys take off. Carlotta tends to a beaten Saracen, who enjoys her company far more than he realized. Taylor visits Buddy at the dealership to tell him that he wants his old job back.