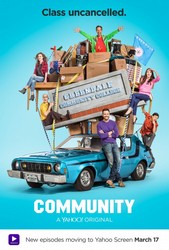 TV Info
---
Episode Premiere
March 11, 2010

Distributor
Yahoo, NBC

Genre
Comedy, Drama

Show Period
2009 - 2015

Production Company
Krasnoff Foster, Sony Pictures Television


Cast and Crew
---
Director
Ken Whittingham
Screenwriter
Karey Dornetto
Main Cast
Additional Cast
Synopsis
---
Professor Slater breaks up with Jeff. Jeff, surprised by the turn of events, is actually happy that he didn't have to do the actual dumping. As the dumpee, he doesn't have to wait to hook up with other girls like he would if he was the one doing the dumping.
Jeff sees a beautiful woman enter the cafeteria, and as a newly single guy, immediately goes to introduce himself. She lets him know that she is there for family day to join her stepfather. Pierce enters and does the formal introduction between Jeff and Amber, then tells Jeff there are plenty of other women to hit on.
Shirley introduces herself to Abed's dad while her kids run around the classroom with toy guns. Abed then brings in his cousin Abra, who wears a traditional burka.
After Spanish class, Pierce approaches Jeff asking him for help with Amber. Pierce sees Amber as his one chance at a real family, but is striking out and needs Jeff's help. When he rejects Pierce's idea to be his wingman with his own stepdaughter, Annie changes his mind. Jeff decides to go help Pierce after all.
Britta is introduced to Troy's grandmother. After lecturing Troy earlier that he should cherish his Nana, Britta oversteps and offends her upon their meeting. Nana then tells Britta to get her a "switch," a.k.a. a stick to beat her with. Britta decides to oblige and goes searching for a stick.
Senor Chang is joined by his older brother, Rabbi Chang. At the barbeque, just as Amber gets up to leave and say goodbye to Pierce, Jeff swoops in with three beers, ready to tell a great Pierce story called "Pierce Takes on the School Bully." Amber decides to stay.
Abed's cousin and dad sit with Shirley, Abed and her kids at the barbeque. When Abed's cousin asks her uncle for permission to jump in the bouncy house, he refuses. When Shirley's kids spill a drink on his shirt, he leaves the barbeque to go clean up.
When Amber leaves to use the restroom, Pierce tells Jeff he can leave. As Jeff tries to leave the barbeque he runs into Amber on her way back to meet up with Pierce. Next thing they know, they are making out in the hallway of the library. When Pierce finds them, he suggests they all participate in the Pictionary tournament in the student lounge.
Back at the barbeque, Shirley asks Abed where her kids went. When Abed's dad accuses her of being a bad mother, she fights back, calling him a jail warden for not letting Abra have a little fun. When she looks Abra in the eyes, she realizes it's no longer Abra under the burka, it's her son.
Shirley kindly asks Abed's dad to go grab some napkins while she sorts out this kid swap issue. When he walks away, Shirley lifts up the burka to find both her kids hiding underneath it. When she asks Abed where Abra went, he points to the bouncy house where she is jumping freely. Shirley is content.
Amber, Pierce and Jeff are playing Pictionary in the student lounge when things get a bit heated -- Senor Chang and his brother walk in just in time to see Pierce drawing a religiously racist symbol. Senor Chang, defending his brother's religion, jumps in and fights Pierce.
Britta brings Troy's Nana a switch as she requested. Nana then tells Britta to drop her pants and bend over her lap. Just as Nana starts beating Britta with the stick, Troy cries out for her to stop and Jeff, with Amber wrapped around him, enters the classroom but retreats in horror.
Jeff and Amber stumble into a storage closet while making out. In the process, Amber drops a piece of paper that Jeff picks up for her. Before handing it back, he reads the paper. It's a $25,000 check from Pierce. Jeff then realizes that Amber is only there to get money from Pierce, not because she wants a relationship with him.
Abed runs into Shirley with her boys in the student lounge. Abed tells Shirley that they aren't bad kids at all and that it was their idea to give Abra a chance to play in the bouncy house.
Jeff confronts Amber about the money. Although Jeff made his decision to be Pierce's friend, Amber decided to take the $25,000 over a relationship with Pierce. Jeff and Pierce share a touching moment -- Jeff can no longer hide from the pain of being dumped.