October 16, 2008 02:29:36 GMT
Six brand new images from J.J. Abrams' highly anticipated sci-fi movie expose several action acts, how the bridge of U.S.S. Enterprise looks, and the starship's crew in uniform.

---
A bunch of pictures from the much awaited "" has been unraveled. Found in six different sites, AICN, MTV, UGO, IGN, Joblo and TrekMovie, the newly-found images bring fans closer to the characters, action and adventure of the eleventh feature film of the famed sci-fi movie.

Most of the photos focus on exposing Captain Kirk and his U.S.S. Enterprise's crew, while the rest display Nero in his ship and the U.S.S. Kelvin under siege. Uncovering the film's still where Spock portrayed by tightly grips a man's neck, the picture from is posted on the news photo. For the rest, they can be seen after the jump.

The first one coming from UGO gives out as Pavel Chekov, as James T. Kirk, as Montgomery Scott, as Dr. Leonard "Bones" McCoy, as Sulu and as Uhura in the U.S.S. Enterprise's bridge. The next one from MTV lets out another take on the bridge.

Moreover, the IGN image hints that Kirk will be landing in an ice crater as he can be seen struggling to climb out from the crater, whereas the pic from Joblo unveils 's Nero, the Romulan villain, on the bridge of what seems to be his rouge vessel. The last photo is obtained from TrekMovie. It reveals the attack of the Captain Robau-commanded USS Kelvin, a Federation starship before Enterprise generation.

From the producer of hit monster movie "", J.J. Abrams, comes a new "Star Trek" movie chronicling the early days of James T. Kirk and his fellow USS Enterprise crew members during their time at Starfleet Academy. The Paramount Pictures will distribute the flick, which script is penned by Roberto Orci and Alex Kurtzman, on May 8, 2009.








(Courtesy of , , , and )


© AceShowbiz.com
Browse
Star Trek Pictures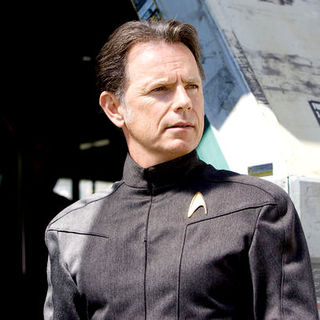 ---
---
---