July 11, 2005 02:33:11 GMT
Better than everyone's expectation, "Fantastic Four" surprisingly took in $56 million during its first three days

---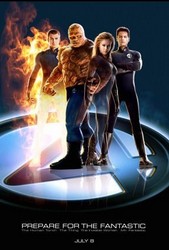 To everyone's surprise, "," the movie which is based on characters in the comic book stable of Marvel Enterprises Inc., surprisingly took in $56 million during its first three days. The had been in the works for 11 years movie has firstly been expected to reach only $30 million ticket sales, yet it did better and thus "Fantastic" soared to top the North American box office.

Apart, last weekend's champion, "," slipped to No. 2 with $31.3 million for the three days beginning on Friday and soon followed by "" with $10.2 million. At 4th was "" which raked in $10.1 million. Action thriller "Mr. & Mrs. Smith" slipped two places to No. 5 with $7.9 million, while "," opened at No. 6 with $6.3 million.

"," which ticket sales reached $5.5 million ranked at No. 7 after which at No. 8 was "" with $4.3 million. No. 9 was secured by "" with $2.9 million, while No. 10 was "," which took in $2.6 million.


© AceShowbiz.com
---
---
---
« Older Posting
"Pele Forever"
Newer Posting »
Long Live 2Pac