September 23, 2010 06:20:08 GMT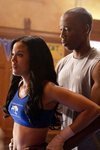 Love triangle would be the centric story in next week's episode of "". Lewis asks Marti out but she turns him down. Alice tells Lewis she will stop taking drugs if he helps her get back in shape as a flier, but then after a sweaty workout the two end up having sex.

Meanwhile, Savannah takes Dan to her parents' house for dinner and a fight erupts after Savannah's mom (guest star Teryl Rothery) demands that she stops seeing Dan. Wanda convinces Marti to give Lewis a chance so she tells him she's ready to date but he has second thoughts.

September 23, 2010 05:08:40 GMT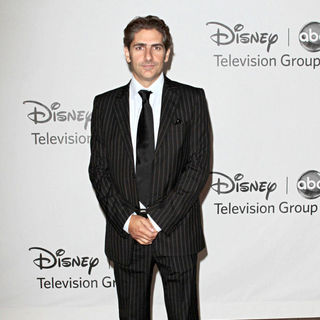 Actor was so determined to pull off his portrayal of a police detective in new U.S. police drama "". He enrolled in a training course to learn proper interrogation techniques.

The former "The Sopranos" star plays Detective Louis Fitch on the TV series and he reveals he turned to the professionals for tips on how to perfect the character. Imperioli says, "He (the teacher) was a veteran detective, teaches law enforcement people interrogation (techniques)."

September 23, 2010 04:58:54 GMT

HBO held two premieres on the same night for its two different programs. On Tuesday, September 21 night NYU Skirball Center was filled with the stars and producers of TV s "" while The Pacific Design Center Silverscreen Theater was crowded with the faces from documentary "Teenage Paparazzo".

At "Bored to Death" premiere, the stars were celebrating the imminent season 2 that begins airing this Sunday, September 26 as well as the release of season 1 DVD on September 21. and represented the main cast, accompanied by creator Jonathan Ames and HBO co-president Eric Kessler.

September 23, 2010 03:05:57 GMT

's breasts are the subject of controversy once more as parents are protesting against her segment on "Sesame Street". The singer is one of the guests in season 41, singing her tune "Hot N Cold" with Elmo while wearing a dress with transparent mesh and bright yellow bustier that clearly shows her cleavage.

The clip was previewed earlier this week on the show's YouTube channel. Immediately some disapproving people made comments such as "It would have been a great video, if she didn't look like a w***e", "You can practically see her t*ts. That's some wonderful children's programming" and "She shud concentrate on her singing and care less bout her chest lookin good for lil kids."

September 23, 2010 02:25:01 GMT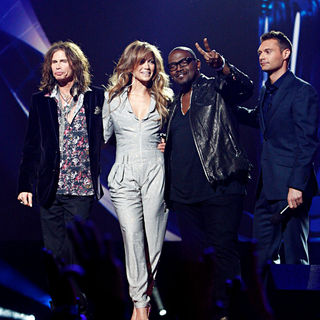 unveiled the new judges line-up of "" on Wednesday, September 22. As expected, and are the two new faces who would join original judge in the panel when the show debuts season 10 in January next year.

"Season 10 is like the remix. It is like a new beginning for what 'Idol' is. These two are so talented...I think it worked out the best it ever could," Jackson said at the press conference after the announcement. The new gang however admitted that the one and only is "irreplaceable".

September 22, 2010 09:23:18 GMT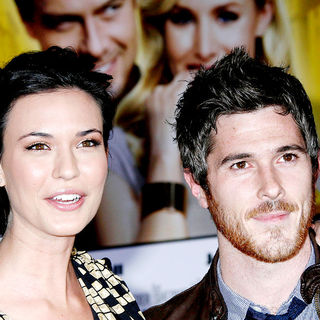 will get to channel his love to on TV screen. The real-life couple will share some scenes on Annable's starring vehicle "" as lovers, E! Online reported and ABC has confirmed.

This is somehow an echo to previous casting when Annable was still dating . The actress portrays Rebecca, who was initially thought as part of the Walkers clan before it was revealed that they were from different parents. They embarked on a secret relationship before coming clean and getting married.

September 22, 2010 08:19:33 GMT

"" opened to a strong number and for that it's granted a second season. HBO has renewed the new series starring after only one episode that attracted 4.8 million viewers. The cable has not absorbed such amount of rating since the 2004 opener of "Deadwood".

"All the ingredients aligned for this one, from and Steve Levinson's initial pitch, to Martin Scorsese's enormous contributions as director and executive producer, to the genius of Terry Winter and the expertise of Tim Van Patten, to a stellar cast led by Steve Buscemi," said president of HBO programming Michael Lombardo. "The response from the media and our viewers has been nothing short of amazing."

September 22, 2010 07:34:10 GMT

As expected is returning to "" and this means the series will be back for the tenth and final season. Months-long deals have been taking place to bring back the depicter of Detective Robert Goren so that USA Network could give the show a proper closure.

Announced at the same time, the casting and the renewal confirm that the "" franchise is taking a bow due to a decline in rating. The network has ordered 8 episodes for the final season which would start airing sometime in 2011. Deadline reports that the producers are still trying to bring back other "CI" alums including .

September 22, 2010 07:02:27 GMT

's ex-husband has been told not to audition for a spot on the new season of "" because he won't be welcomed. Ojani Noa was hoping to embarrass his ex in Los Angeles on Wednesday, September 22, as she makes her debut as a judge on the show, by showing up for try-outs at the Forum.

A spokesman for Noa told WENN he was even planning to perform one of Lopez's songs. But "Idol" bosses are keen to keep the Cuban-American away from auditions, according to reports. A source tells the Chicago Sun Times newspaper that producers are determined not to embarrass Lopez and they've reportedly hired 'screeners' to make sure Noa doesn't slip past security - even if he's in disguise.

September 22, 2010 06:43:47 GMT

The title to next episode of "" may suggest that Clay, who is between life and death, is the centric storyline, but what happen on the other side of life grabs the attention more. Mouth and Millie are back together and they are caught staring at the ceiling, thinking of what just happened on bed.

Mouth and Millie's relationship dated back in season 5 when she was still an assistant to Brooke. They found things in common but drifted apart as time goes by and she struggled with weight and drugs issue as a model. Millie then cleaned up and chose a different path of career.

September 22, 2010 05:03:11 GMT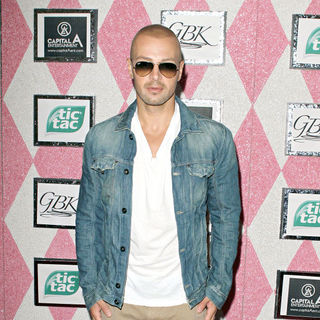 A bad case of influenza forced actor to scrap an appearance on U.S. TV personality ' daytime talk show on Tuesday, September 21. The former "Blossom" star was expected to join the outlandish Williams to promote his latest TV series "Melissa and Joey" but the 34 year old had to call in sick after catching a nasty cold from his eldest daughter Charleston.

But he delighted the studio audience by calling in from his sick bed to apologize for his absence. He told Williams over the phone, "I got it bad. I have two children and my four-year-old girl got it (the flu). I had to take her to school because my wife - we have a six month old girl - she had to be quarantined so she didn't get sick, so of course I took her (Charleston, to school) and I got it! Four year old cooties are the worst, man!"

September 22, 2010 05:02:48 GMT

's widow Lisa Niemi has heaped praise on her late husband's "Dirty Dancing" co-star for taking to the dance floor again for a TV tribute to the star. Grey broke down during rehearsals for "" on Monday night, September 20 when the emotion of what she was doing hit her - and the footage aired on the season debut.

The actress danced to "Dirty Dancing" tune "These Arms of Mine" with professional - and confessed the experience reminded her of dancing with Swayze in the movie. But she shone on the dance floor, and wowed Swayze's widow.

September 22, 2010 04:44:10 GMT

A casting news comes straight from the horse's mouth, is working with on a TV show. During a backstage interview with 's reporter at "" tour, Joe revealed that he was coming out of a studio to work on the secret project, not on his solo album.

"That day you spotted me, I saw the photo [of me leaving the recording studio]. I was actually doing something with Tom Hanks that day. A little bit of a different studio something," he revealed. "He's working on a new TV show, so you'll see that pretty soon, and he asked me to be a part of it."

September 22, 2010 04:12:39 GMT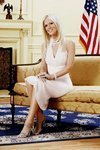 The news about Michaele Salahi being evicted from "" is too premature. The White House dinner party crasher was said not coming back for the second season for her reputation and her husband Tareq's are not doing the show any good. Bravo reportedly had learned that "not all press is good press".

However, in a statement to Pop Eater, Bravo's spokesman said, "We've had no discussions about a season two - including any casting - and won't until the freshman season concludes. Any speculation to the contrary would be absolutely premature. And let's face it, it wouldn't be a proper 'Real Housewives' franchise without the drama of casting rumors."

September 22, 2010 02:40:16 GMT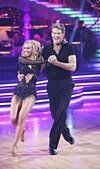 He might be the guy who saved people's life in red pants and the hunk who saved the world with his talking car, but can't save himself on the dance floor. The "Baywatch" actor is the first eliminated celebrity in season 11 of "" after scoring only 15 out of 30 with his Cha Cha Cha.

"Hey, we tried," Hasselhoff said when his name and partner Kym Johnson's were called as the eliminated ones. He said later on, before reprising his stiff Cha Cha Cha, "It's been a great ride. I feel bad for Kym because she worked so hard to try and get me where I was going. I'm just so proud that my daughters are here and got to see me go this far. So, it's great."