October 06, 2007 04:14:42 GMT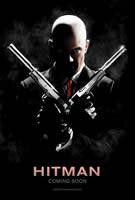 Over one month has passed since we last spotted the first theatrical trailer for "" surfacing on the net. Need not worry, though, as now you can grab something new from the thriller action on the net that turns out to be a TV spot for the movie.

Posted on , the clip can also be reached via page at AceShowbiz. Content is still full of explosive shots along with gun-banging sequence.

October 06, 2007 03:15:07 GMT

The premiere for Wes Anderson-directed "" in Los Angeles on Thursday night (Oct 4) felt distinctively different than other premieres it encountered before: it had star in.

The actor's presence subsequently surprised the crowds attending the event for this was his first big public outing since the suicide attempt he conducted in August. Skipping the red carpet and entered the Academy of Motion Picture Arts and Sciences' Samuel Goldwyn Theater, where the screening was held, through a private entrance, the bearded funnyman took the stage in an eruption of applause after Anderson introduced him.

October 05, 2007 09:55:38 GMT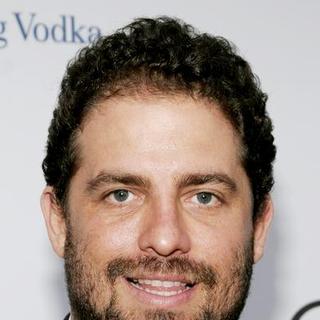 A surprising news has been brought up by IESB.net regarding the one to direct "." The site revealed that Brett Ratner has stepped in to take over the helming duties for the project previously assigned to "" director Len Wiseman, giving a guarantee that the scoop is one hundred percent fact.

Admitted to have contacted a source at New Line Cinema, the studio producing the flick, IESB further informed that though Wiseman is still attached to "", chance seems little for him to handle the task. The same source told that New Line apparently has concerns over the swelling budget of the movie and will most likely not move forward with it at all.

October 05, 2007 09:24:12 GMT

Filming on "" apparently has moved from Toronto to the neighborhood city of Hamilton, Ontario, and a number of new photos from the set, reportedly taken on October 4/5, 2007, have delightfully made their way to pop up on the net.

Courtesy of Superhero Hype!, the images shown seem to have similarity with those from Yonge Street where cars were spotted to get severely smashed down. An explosion was also clearly presented in one of the pictures as well as a police car, indicating that the scenes shot were for another action sequence in the movie.

October 05, 2007 08:40:34 GMT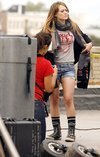 Quick move appears to have been made on "Greta" as recently was spotted to already shoot a scene for the project on Tuesday, October 2, 2007, as seen on the left.

Shots were reportedly taken from the old Asbury Park power station. Pic itself has been learned to be filmed primarily in Asbury Park, Ocean Grove, and Neptune, New Jersey.

October 05, 2007 08:02:32 GMT
Sure it will be such a big treat for moviegoers who are counting the day to watch "" in theaters. MGM has joyously posted online not only one but seven clips from the comedy which you can see here right at AceShowbiz.

All undoubtedly revealing more about the movie, the clips mostly center on the titular character, played by , who landed Oscar's best actor nomination this year for "." Take your time to check them all one by one.

October 05, 2007 06:36:56 GMT
Lots of goodies from -starrer "" can be checked out now as Warner Bros. Pictures has delightfully launched the for the post-apocalyptic movie, set to hit theaters December 14, 2007.

The most interesting feature in it could probably be the daylight meter which you can examine by submitting various U.S. postal codes. Others include photo gallery, teaser trailer, synopsis, and a news feed. In addition, there are also cool wallpapers and buddy icons as well as a screen-saver and poster that you can download for free.

October 05, 2007 04:46:00 GMT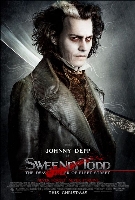 Finally moviegoers can now grab footage from 's latest starring vehicle "." Yes, the first trailer for the anticipated movie has already been made available on the net, still presenting the typically dark, dank, world of director Tim Burton.

Put on , the trailer seemingly contains all the great stuff that Burton has showcased in most of his works. Though so, it apparently tends to hide the fact that the flick is actually a musical feature, only including one singing scene by Depp.

October 05, 2007 03:43:50 GMT

What a wonderful job talents behind "" have managed to carry out. Previously amazed us with the teaser trailer for the project, they now are unleashing a cool new teaser poster online as you can see on the left.

Just like its predecessors, the poster still features the titular character himself, only this time the hero flashes burning energy blue eyes against the black background. Simple enough, but captivating indeed, so to say.

October 04, 2007 09:28:06 GMT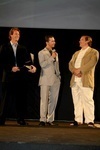 Looks like the principal duties in "" will still be handled by the same old names. The Hollywood Reporter has learned that director Michael Bay and star are delightfully reprising their respective tasks with duo Alex Kurtzman and Roberto Orci in talks to once again work on the script, this time alongside "The Ring" scribe Ehren Kruger.

Tom DeSanto, Lorenzo di Bonaventura, and Don Murphy are reported to also return to produce, and so is Steven Spielberg, who served as the executive producer for the project's predecessor "."

October 04, 2007 08:54:15 GMT

The chick flick finally gets its own theatrical trailer for sure. That's right, Fox 2000 as the studio producing "" has brought up the trailer for the movie online by now, which undoubtedly will delight fans of romantic comedy genre all around.

Posted on in both standard and HD format as usual, the trailer can also be accessed via AceShowBiz's section. Here you can take glimpses of lead female in various bridesmaid dresses while learning briefly about the movie's story.

October 04, 2007 08:10:23 GMT

After the nationwide online casting call, here comes the in-person audition for "", the upcoming biographical feature about famous rapper , Notorious Films, the studio behind the project, has revealed.

Hopefuls are expected to come to City Stages of 435 West 19th Street, New York, NY 10011 this Saturday, October 6, during which the audition will run from 10:00am to 1:00pm. More information can be looked up on the for the picture.

October 04, 2007 07:43:52 GMT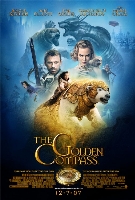 Start counting the day, folks, time is drawing near for a new trailer for "" to go up onto the surface. New Line Cinema has announced that an exclusive worldwide trailer for the fantasy adventure will be launched on October 9, 2007 during the opening of the celebrated Ice Rink at Rockefeller Center, New York City.

Slated to host the event is Sacramento-born actor who plays skilled "aeronaut" balloonist Lee Scoresby in the movie. The veteran thesp will lead a countdown to the unveiling of the trailer at 8:30 PM EST, which will be displayed on two massive LED screens placed on either side of the Rink for guests to view for the first time.

October 04, 2007 07:08:18 GMT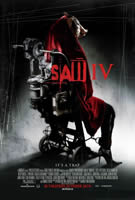 Jigsaw may be dead, but it does not mean the game he played is over, another clip for "" has indicated so.

Yes, a video featuring the killer in his famous mask has been posted on both MySpaceTV and YouTube for millions to see by now. This time, he's not asking you to escape from a vicious trap, but only demands you to answer his question: "What's on the tape?" and to see what he sees, though, so go check it out for yourself.

October 04, 2007 05:15:37 GMT

An unpleasant happening struck Steven Spielberg-directed "" as computers, photographs and proprietary information related to the project were stolen from a production office on the Universal Pictures lot, The Los Angeles Time has reported.

Things taken were learned to include over 2000 production stills and lots of sensitive paperwork, one of which being assumed to be a possible script for the movie. Thanks to Los Angeles Sheriff's Department detectives, the alleged thief, however, finally got apprehended with other suspects being sought.